Bitcoin fell Wednesday, almost alongside the US stock futures, as a rising number of coronavirus cases sent investors to the safety of the US dollar and Treasuries.
The benchmark cryptocurrency dropped 3.5 percent ahead of the New York opening bell. Its move downside came as a price correction that followed a 23 percent rally, suggesting that traders with short-term market outlook were locking their profits.
The Bitcoin's price depreciation also brought the cryptocurrency back in sync with the US stocks. Futures tied to the S&P 500 plunged 1.5 percent in the pre-trading session Wednesday. The sell-off sentiment also impacted safe-haven gold, which slipped 1.17 percent in spot markets.
Indexes and assets slipped lower on a raft of uncertainties. Worsening coronavirus pandemic hinted at introducing additional restrictive measures across the US and Europe, serving as a significant setback to the brittle economic recovery. As of Tuesday, the US cases had surged back above 70,000.
Bitcoin posts its worst one-day performance in over a month. Source: BTCUSD on TradingView.com
Bitcoin-Stimulus Combo
Investors also remained leery about the second coronavirus stimulus package. Their hopes of seeing a deal between the Democrats and the Republicans faded – another reason why they reduced their appetite for riskier assets.
Instead, investors moved back into the safety of the US government bonds. The yield on the benchmark 10-year Treasury fell from 0.760 percent to 0.778 percent on Tuesday. Yields move inversely to bond rates.
The US dollar index, which measures the greenback against the basket of foreign currencies, appreciated by 0.68 percent as investors remained worried about new lockdown measures. The dollar typically rises when traders pull out of Bitcoin, gold, and stock markets due to its status as a global haven currency.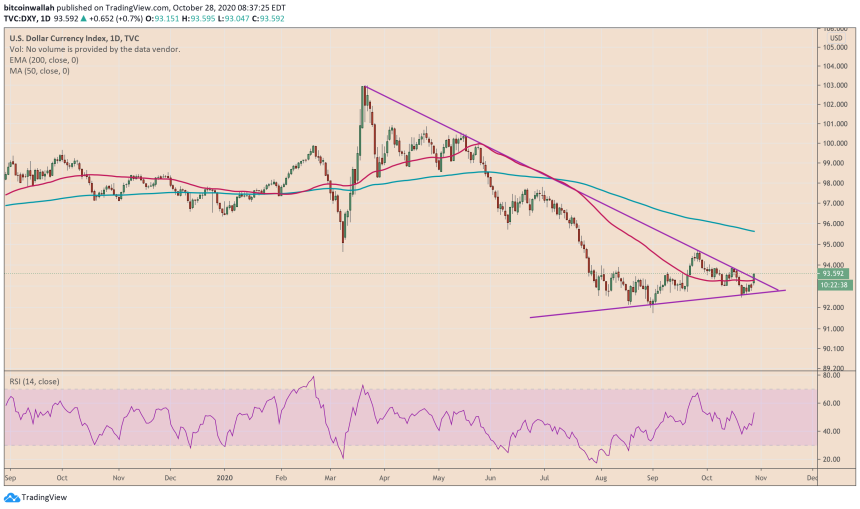 US dollar index breaks above its medium-term trendline resistance. Source: DXY on TradingView.com
Bulls All The Way
Calls for an aggressively bullish Bitcoin, meanwhile, kept coming. Many traders saw the cryptocurrency's latest correction as a natural response to its two-week rally, with some predicting an extended downside run before the next price rebound.
"To avoid deviation above the range high, $13,250-13,325 has to hold for support," said Michaël van de Poppe, an independent daytrader-cum-analyst. "If that breaks, $12,700 seems next."
Another trader – a pseudonymous Twitterati, meanwhile, reminded:
Above 13.5k is direct 16k. BTC will be quickly touching 16k if it is going up for the 13.5k breakout on weekly."
Bitcoin was trading at $13,226 at the time of this writing.