Bitcoin bulls have not let up the pressure since breaking $7,800 just 12 hours ago. As of the time of this article's writing, the cryptocurrency just broke past $9,000 for the first time in seven weeks. With this, BTC is up 15% in the past day.
The $9,000 price point has only been printed on the CME's Bitcoin futures contract and a select set of exchanges thus far, but considering the momentum that the cryptocurrency has seen, a market-wide $9,000 Bitcoin seems to be a matter of time.
From the lows of $3,700 seen during the March crash, the cryptocurrency has gained a jaw-dropping 140%, out-performing basically any other multi-billion-dollar asset within that same time period. It's a stark reminder of the resilience of this space amid tumultuous macroeconomic times.
What's Behind the Explosive Bitcoin Move?
Speaking to Bloomberg on April 29th, top executives in the cryptocurrency space weighed in on what is likely causing Bitcoin to rally so far, so fast.
Roch Rosenblum, the co-head of trading at GSR, remarked that the ongoing BTC rally is predicated on the macroeconomic environment, which he suggested is working in the favor of cryptocurrency:
"This latest run past $8,000 is as much about positive macro sentiment as it is about the upcoming halving. We're starting to have a lot more certainty, as more countries begin to share their plans to reopen the economy in May. This clearer path forward helps explain why stocks and Bitcoin stabilized over the last seven days, along with today's burst."
Zac Prince, a co-founder of BlockFi, took a slightly different approach. While he attributed some of the recent positive market trends to the halving, the industry executive remarked that the "current market dynamics and driving a bolstered interest [for] digital currency."
This was a comment made in reference to his belief that the Federal Reserve printing money to the tune of trillions of dollars and stablecoins seeing adoption are creating a perfect storm for Bitcoin to push higher.
Bloomberg Warns of Correction
Although BTC is experiencing these positive fundamental trends, Bloomberg warned in the same article that the bullish moves the cryptocurrency has undergone could soon be reversed due to technical and fundamental factors.
The GTI Global Strength Indicator — a measure tracking an asset's trends — recently exceeded a reading of 70 for Bitcoin, suggesting that "it may be difficult for the token to notch additional gains in the short-run."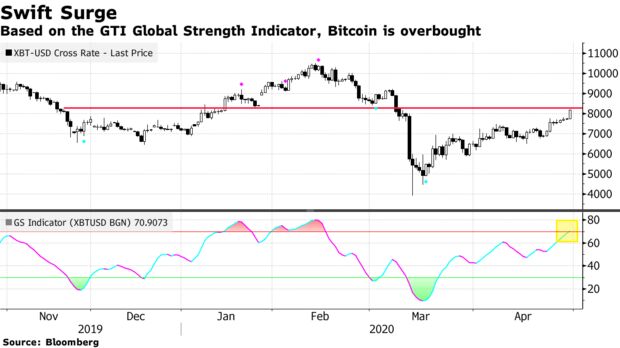 Craig Erlam, a senior market analyst at Oanda, echoed the sentiment from a fundamental standpoint, remarking to the outlet:
"The Bitcoin halving in under two weeks may explain some of the bullish activity by speculators. But you have to think that an event that has been in the diary for so long will already be priced in. This could see some of these moves faded as we hit halving day."
Featured Image from Unsplash