Bitcoin has recovered most of the losses it posted yesterday. After facing some immense turbulence that sent it reeling below its crucial support, the crypto has since been able to climb back into its long-held trading range.
This recent price action has been far from bullish, with the continued tests of $9,000 leading many to suspect that a sustained break below this level is imminent.
That said, it does appear that there are a few factors suggesting that an upside movement could be imminent.
From a technical perspective, one analyst is even noting that there is a reasonably clear path forward for Bitcoin to rally up towards fresh yearly highs of $12,000 in the coming weeks.
As for what could fuel this type of rally, it does appear that the recent decline sparked a resurgence in the amount of trading activity from BTC whales. Their buying pressure could help lift the markets in the days and weeks ahead.
Bitcoin Recovers from Latest Selloff, Continues Range-Bound Trading
At the time of writing, Bitcoin is trading up just under 2% at its current price of $9,140.
This is the price level at which it was trading at just before the dip seen yesterday that led it down to lows of $8,900.
Although BTC did hover beneath $9,000 for many hours, the buying pressure in the upper-$8,000 region did prove to be enough to stop it from seeing any intense downside.
The reaction to this latest dip has been rather tempered, and its lack of strength does seem to point to underlying weakness amongst buyers.
Nevertheless, the recent movement did spark a surge in buying activity from at least one Bitcoin whale on Bitfinex.
NewsBTC reported about this development yesterday, citing one trader who noticed the influx of buying activity from at least one so-called "whale."
The below chart shows that the whale(s) stacked a significant quantity of buy orders between $8,600 and $8,800. This helped support BTC's price and stopped bears from perpetuating yesterday's decline.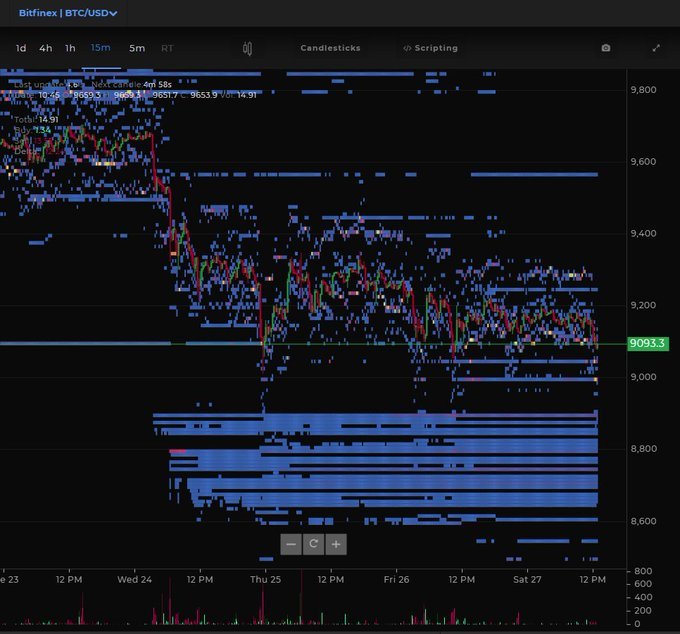 Image Courtesy of Jonny Moe.
Here's the Simple Path Forward for BTC to Rally to $12,000
Despite currently being somewhat weak, one analyst still believes that there is a simple path forward for Bitcoin to rally up towards $12,000.
He notes that this possibility hinges entirely on the assumption that buyers will be able to continue defending the $8,800 to $8,900 region.
The trader contends that a defense of this level could allow it to "crawl" up towards $10,000, with its momentum accelerating once this crucial resistance is broken.
"I think, if we hold $8,800-8,900. From here to $9,600 -> then flip $9,300 -> crawling back up with acceleration above $10,000 and then $11,500-12,000 test," he explained.
Featured image from Shutterstock.