Bitcoin has been under pressure over the past three days after peaking at $12,500 earlier this week. Some argue that the retracement is purely based on technicals. But if you check the charts, there seems to be an evident inverse correlation between the value of the U.S. dollar (as calculated by the Dollar Index) and BTC.
When the dollar rallies higher, the value of Bitcoin (and gold for that matter) has decreased. The drop to $11,500, where BTC trades as of this article's writing, was seemingly spurred by a leg higher in the value of the U.S. dollar.
Bitcoin may get crushed further, though, as analysts have noted that the world's reserve currency may be bottoming.
This comes after the USD was hit heavily due to trillions of dollars worth of stimulus by the U.S. government and the Federal Reserve.
The U.S. Dollar Bottoming Could Harm Bitcoin Bull Case
The U.S. dollar may be finding a bottom after crashing from the March highs, which were spurred by a rush for liquidity as the pandemic began to spread.
One cryptocurrency and foreign currency trader shared the chart below, which suggests that the Dollar Index may be forming a bottom pattern. He says that this does not bode well for the bull cases for Bitcoin, Ethereum, gold, and silver:
"$DXY finally finding support? Keep an eye on this chart, if we regain that top level expect $BTC, $ETH, $Gold and $Silver to fall further."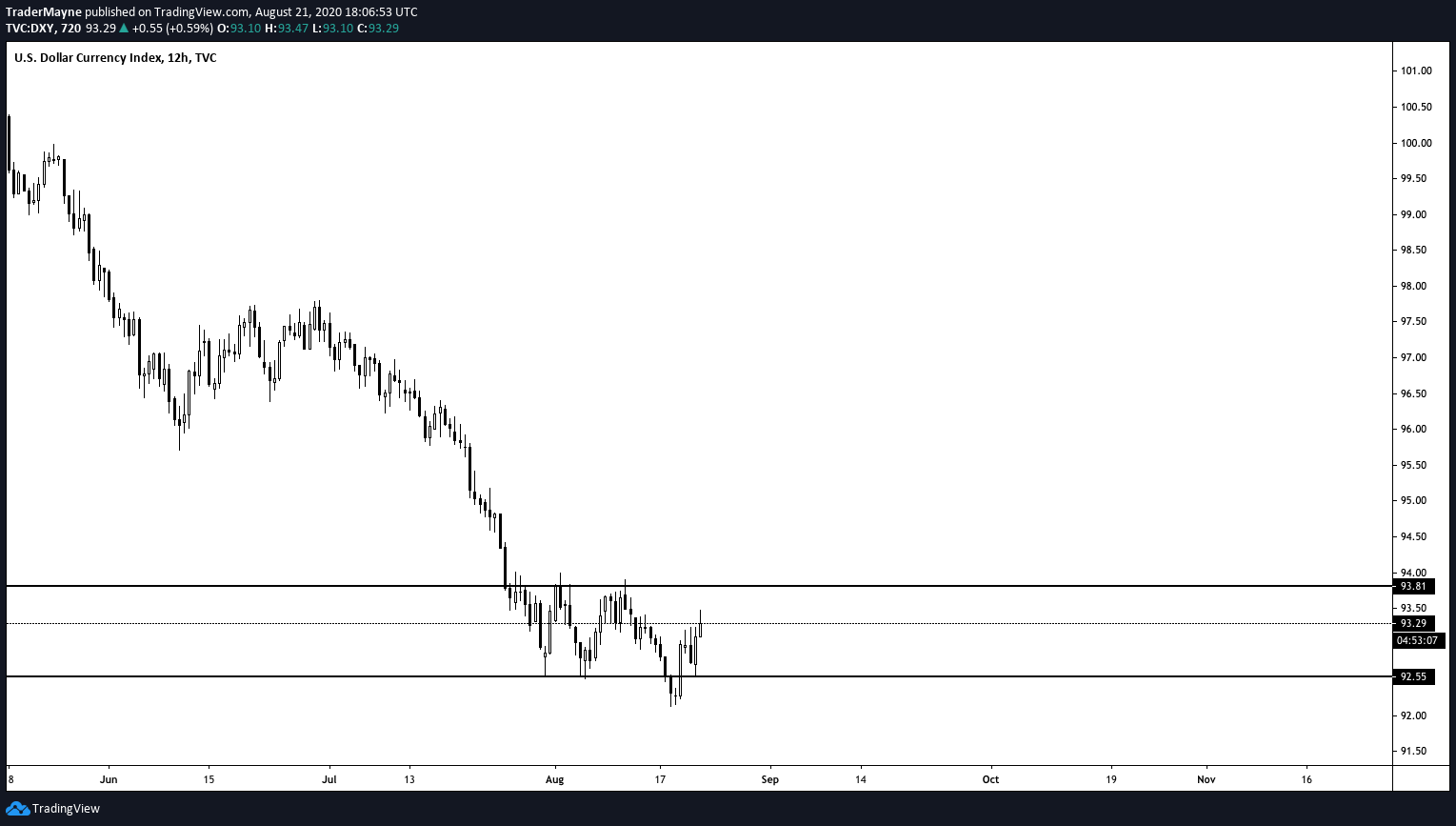 Chart of the DXY over the past few months with a range analysis by crypto trader "Mayne" (@Tradermayne on Twitter). Chart from TradingView.com
This sentiment was echoed by other analysts. Another market commentator noted that the dollar's recent price action is eerily reminiscent of a bottoming pattern — a trend could suppress BTC:
"Could be a bottoming formation for the dollar, which would be bad for $btc. I've personnaly taken a lot of profits and i'll wait for a bit to see what happens."
Could Change With Stimulus & Election
While the U.S. dollar may catch a bid in the near term, this could change if the U.S. government moves ahead with another stimulus package. A key driver that suppressed the dollar over recent months, analysts say, was the trillions in spending for stimulus packages.
What could also hurt the U.S. dollar is uncertainty around the presidential election just months away. Each candidate may have policies that put the value of the currency into the question.
If the U.S. dollar continues its descent, Bitcoin should continue to move higher as investors seek stores of wealth.
Photo by Giorgio Trovato on Unsplash
Price tags: xbtusd, btcusd, btcusdt
Charts from TradingView.com
Analysts Think the U.S. Dollar May Bottoming—and That's Bad for Bitcoin