There are a lot of loopholes in the conversation around bitcoin and its annual energy consumption rate, says a clean energy specialist.
Professor Katrina Kelly-Pitou of the University of Pittsburgh wrote that researchers overestimate their findings of the cryptocurrency's higher power consumption rates. Stating that banks annually consume more energy than bitcoin, its so-called alternative, one should not worry much about the cryptocurrency's energy-intensive features. Excerpts:
"Bitcoin mining uses an excessive amount of power: somewhere between an estimated 30 terawatts hours in 2017 alone […] Indeed, this is a lot, but not excessive. Banking consumes an estimated 100 terawatts of power annually. If bitcoin technology were to mature by more than 100 times its current market size, it would still equal only 2 percent of all energy consumption."
Wrong Discussion
In retrospective, minting new bitcoin tokens requires the solving of a programmable puzzle using energy-intensive computer hardware. Miners that can provide more power have a better probability of solving the code. All they need is a state-of-the-art computer and access to unlimited electricity.
Bitcoin's underlying algorithm receives criticism for promoting power wastage and increasing the earth's carbon footprint. A Forbes article published in May last year stated that the cryptocurrency increased the global energy consumption rate by 2 percent.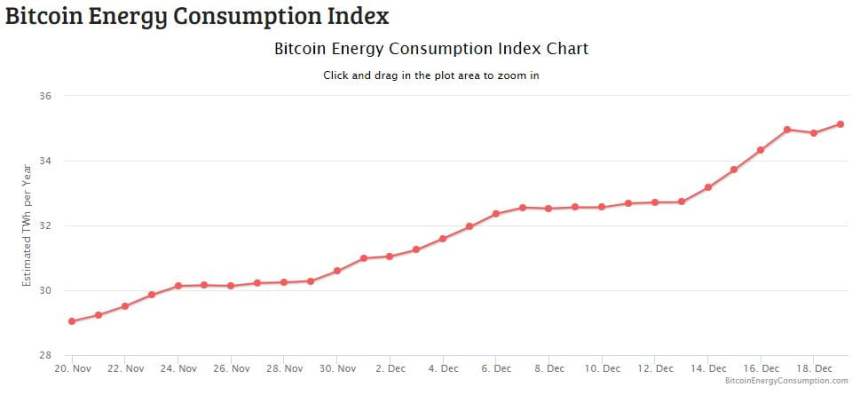 Professor Kelly-Pitou believes that conversation around bitcoin mining is heading in the wrong direction. Instead of discussing how much the cryptocurrency consumes every year, researchers should talk about meeting bitcoin's requirements using renewable methods. The researcher compared fossil-based mining farms in China with a 100% renewable energy-based fields in Ireland, stating that the source of electricity played an essential role in determining whether bitcoin mining is good or bad.
"Rather than discussing the energy consumption of bitcoin generally, people should be discussing the carbon production of bitcoin, and understanding whether certain mining towns are adding to an already large environmental burden," – she wrote.
Bitcoin Miners are Clean Energy Lovers
A miner is also a businessman whose profit margin increases if his input costs go down. Professor Kelly-Pitou stated that many of these businessmen are already shifting their bases to areas that offer clean, cheaper energy. It is up to the government and energy companies to innovate their energy supplies using green solutions. The miners, in the end, would pick a town that has it.
"Increasing energy consumption is bad only if we aren't shifting toward less carbon-dense power production,"  she added. "So perhaps people should quit criticizing bitcoin for its energy intensity and start criticizing states and nations for still providing new industries with dirty power supplies instead."
https://twitter.com/crypto_reddit/status/1145713507566071810
The Cambridge Bitcoin Electricity Consumption Index reflects the cryptocurrency consuming 6.98 gigawatts at this time of writing.