Since the lows that were experienced in March, both Bitcoin and the S&P 500 have been on a steep recovery.
The leading cryptocurrency peaked at over 170% from the price of the March lows, while the S&P 500 gained from ~2,150 points to a recent high of 2,950 in dramatic fashion.
Assets around the world have been rallying on optimism regarding the reopening of the global economy as the spread of COVID-19 slows.
But there are technical and fundamental signs that the rally may be unfounded. For instance, while the S&P 500 is already ~12% shy of its all-time highs, data shows that earnings in the U.S. are collapsing, which may hurt both Bitcoin and the S&P 500.
S&P 500, Dow Jones Show Bearish Signs
Analysts are charting a bearish reversal in the S&P 500, Dow Jones, and the economy in general.
By the end of the Tuesday trading session in the U.S., leading stock indices saw their worst trading days in a while, with the S&P 500 posting a 2% drop. This may be the start of a more broad bear trend.
One popular Bitcoin trader shared the below chart, noting how the S&P 500 is currently seeing resistance at four key levels: the 0.618 Fibonacci Retracement of the all-time high to the March lows, the 100-day moving average, the 200-day moving average, and the psychological 3,000 level.
He suggested that there's a good chance these levels get "front run" and prices revert lower.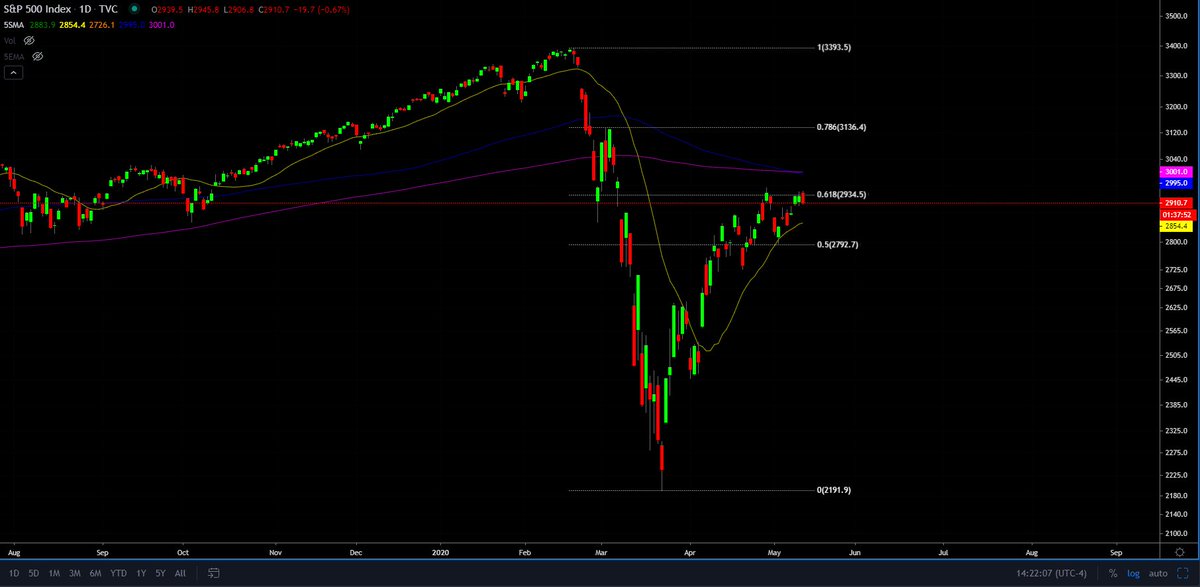 This bearish skepticism was shared by others, who made observations like the Dow Jones is trading in a clear textbook top, the S&P 500 is printing an accurate Wyckoff distribution, and certain stocks are showing signs of "tiredness" amongst bears.
Fundamentally, things are not much better for equities.
This chart below from Compound Capital Advisors' Charlie Bilello shows that the S&P 500 is on pace for its lowest "quarterly GAAP earnings since Q1 of 2009."
S&P 500 on pace for lowest quarterly GAAP earnings since Q1 2009. $SPX pic.twitter.com/QCtEHXehzm

— Charlie Bilello (@charliebilello) May 11, 2020
Bitcoin Could Plunge With Stocks
The Federal Reserve of Kansas City noted that during periods of economic "stress," Bitcoin has a positive correlation with the S&P 500 index to a level "significant at the 5% level."
On the other hand, during periods of stress, the prices of the 10-year Treasury bonds and an ounce of gold have a slightly negative correlation to the S&P 500.BitMEX's chief executive Arthur Hayes has corroborated this narrative. He wrote in a recent newsletter:
"Could the price retest $3,000? Absolutely. As the SPX rolls over and tests 2,000 expect all asset classes to puke again. As violent as the Q1 collapse in asset values was, we have almost 100 years of imbalances to unwind the ancien régime."
Photo by Johannes Plenio on Unsplash