Bitcoin remains range bound in lower timeframes trading at $54,277. The first cryptocurrency by market cap records almost no gains in the daily chart, but a massive 23.9% in the 7-day chart.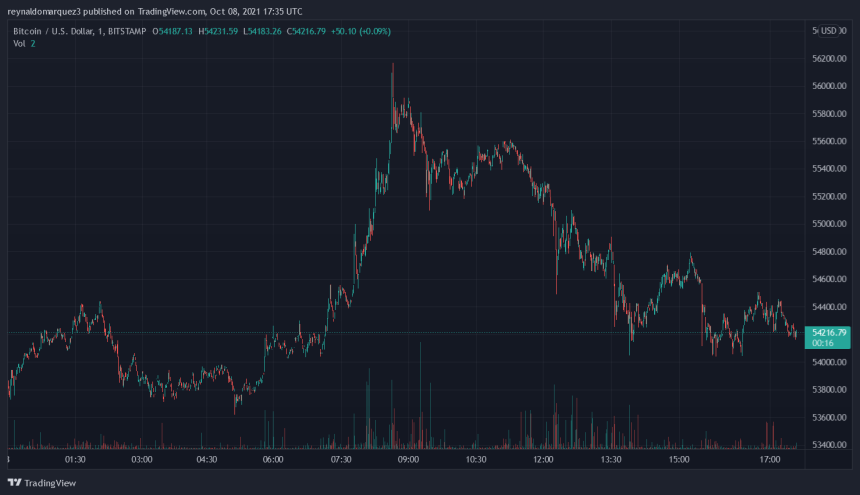 The general sentiment in the market has flipped bullish, as investors seem to be waiting for further appreciation in Q4, 2021, a period that usually works for the bulls.
Related Reading | PepsiCo Chief Financial Officer: We Don't Intend To Invest Cash In Bitcoin
Investment firm QCP Capital believes BTC's price recent returned to the mid $50,000 was due to a "short squeeze". Triggered by a high number of liquidations in short positions, the big move to the upside has its origin on Chinese crypto exchanges.
In addition, QCP Capital found that institutions were behind Bitcoin reclaimed of the $50,000 as evidence by the uptick in the Chicago Mercantile Exchange (CME) open interest and the increase on the premium for these derivatives versus the price of BTC in the spot market. QCP Capital claimed:
The unusually large premium indicates an overwhelming amount of outright buying. Both factors combined lead us to believe that there has been large institutional buying of BTC in the past week.
Additional factors seem to have worked out in favor of the Bitcoin bulls, as noted by the investment firm: the dissipation of uncertainty around Chinese real state company Evergrande, the very likely approval of a BTC ETFs based on CME Futures, BTC gaining more prestige as an investment vehicle, and others.
Related Reading | TA: Bitcoin Starts Corrective Decrease, $53K Holds The Key
Gonna start a thread laying out a case as to why @EricBalchunas and I are putting odds at 75% for a Bitcoin Futures ETF coming to the U.S in October. Here's where we view the odds of the ETF getting first approval 1/x pic.twitter.com/LRrzG9XLX1

— James Seyffart (@JSeyff) October 8, 2021
However, QCP Capital points out some potential obstacles that could prevent BTC from reaching its previous highs and beyond. First, the high amount of leverage in the crypto market as shown by the BTC Futures Aggregated Open Interest, 3x times more than in October 2020.
In previous months, BTC's price has taken significant downside action when the leverage in the futures sector reaches a certain point. In addition, QCP Capital said:
The options market continues to indicate downside nervousness in spite of the spot rally. ETH risk reversals (RR) continue to be skewed to the downside (puts are more expensive than calls). BTC has only just turned from a persistent downside skew to neutral.
What Could Work Out For The Bitcoin Bulls
QCP expects some short-term bearish price action for Bitcoin. As seen below, the Tom Demark Sequential, a metric used to measure if a price move has been overextended to a certain direction, flashed a TD 13 sell signal on October 7th.
A separate report by investment firm CoinShares stated that there are 3 factors lineup for more appreciation in Q4, 2021: regulation, adoption, and the macro environment.
On a previous occasion, the BTC Bulls have some but not all of these 3 factors in their favor, the report claimed. About regulation, CoinShares believes the U.S. is "starting to warm to crypto" due to certain statements provided by the FED and SEC Chair, Jerome Powell and Gary Gensler, on cryptocurrencies.
Related Reading | 2.1 Million Salvadorans Actively Using Chivo Wallet, El Salvador's President Claims
In addition, El Salvador's effect on driven BTC adoption could have been underestimated. Following the launch of the Bitcoin Law many countries, such as Ukraine, Brazil, Paraguay, and others, have expressed their desire to make BTC legal tender and could drive a new wave of institutional adoptions. The firm said:
From an institutional perspective, our most recent survey representing US$400bn of assets under management (AuM), highlights growing institutional participation. Average portfolio weightings in digital assets now represent 1.1% of AuM, although this varies considerably across different institutional investor types.
Finally, the macro-environment factors with high inflation, rising commodity prices, worsened employment conditions, and others could continue to be a tailwind for store of value assets, such as Bitcoin (BTC). CoinShares said:
(…) it is likely that bitcoin will appreciate against those currencies, even if its purchasing power were to remain stagnant.