On-chain data shows the Bitcoin spot and derivative exchange reserves have both shot up recently, a sign that could be bearish for the price.
Bitcoin Spot And Derivative Reserves Register Growth
As pointed out by an analyst in a CryptoQuant post, the open interest and the funding rates are also heating up in the BTC market. The "exchange reserve" is an indicator that measures the total amount of Bitcoin that investors are depositing into wallets of centralized exchanges right now.
This metric has two versions; one is for the spot exchanges, while the other is for the derivative platforms. Usually, investors deposit to spot exchanges for selling purposes, so an increase in the reserves of these platforms can suggest selling pressure is rising in the market.
And as holders use derivative exchanges for opening positions on the futures market, a rise in this reserve can lead to higher volatility (the effect on the price can be in either direction).
Now, here is a chart that shows the trend in these Bitcoin exchange reserves over the last month:
The values of all the metrics seem to have seen a rise in recent days | Source: CryptoQuant
As displayed in the above graph, both the spot and derivative exchange reserves have increased in value recently, suggesting that investors have been making deposits to these platforms. The increased spot reserves suggest an elevated selling pressure in the market, while the derivative reserves imply an overheated futures sector.
The chart also includes data for two other metrics, the open interest, and the funding rates. The "open interest" is an indicator that measures the total amount of futures positions currently open on derivative exchanges. This metric takes into account both short and long contracts.
The graph shows that this metric has also trended up recently, further suggesting that the futures market is currently overheated. The other indicator, the "funding rates," tells us whether there are more shorts or longs in the market.
The Bitcoin funding rates are favorable now, implying that the longs are overwhelming the shorts. Generally, whichever way this metric swing tells us which of these contract holders is more at risk of a liquidation squeeze.
So far, there hasn't been any long squeeze in the market, but rather a short squeeze as the price has been able to keep up the momentum. There have been some high liquidations during the past day that may have helped calm the overheated futures market for now, but since there is increased selling pressure on the spot exchanges, BTC is still at risk for a short-term pullback.
BTC Price
At the time of writing, BTC is trading around $19,100, up 14% in the last week.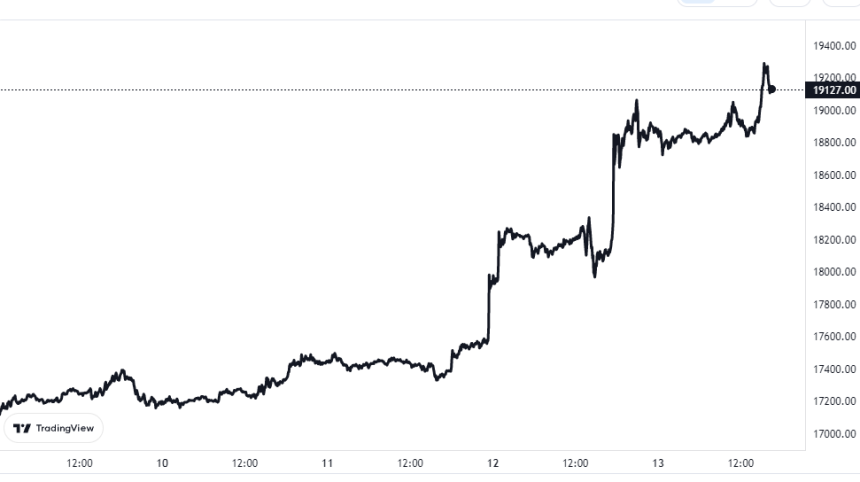 Looks like the value of the crypto has surged in the last few days | Source: BTCUSD on TradingView
Featured image from Thought Catalog on Unsplash.com, charts from TradingView.com, CryptoQuant.com