Bitcoin briefly surged above $50,000 on Tuesday after MicroStrategy announced that it would offer $600 million worth of convertible senior unsecured notes expiring on February 15, 2027, to purchase more of the flagship cryptocurrency.
"MicroStrategy also expects to grant to the initial purchasers of the notes an option to purchase, within a 13-day period beginning on, and including, the date on which the notes are first issued, up to an additional $90 million aggregate principal amount of the notes," the Nasdaq-listed software firm further added.
In retrospect, senior convertible notes are securities that represent loans/investments in an underlying asset. MicroStrategy has projected Bitcoin as a de-facto asset while allowing investors to convert the bonds into the company's shares. Meanwhile, holding onto them would earn investors an annual yield, determinable at the time of the offering's pricing.
The announcement helped push the Bitcoin price above $50,000 for the first time in its lifetime. As of 0730 New York time, the BTC/USD exchange rate had established a record high of $50,645. Nevertheless, a stronger profit-taking sentiment near the local top ensued an immediate correction downward.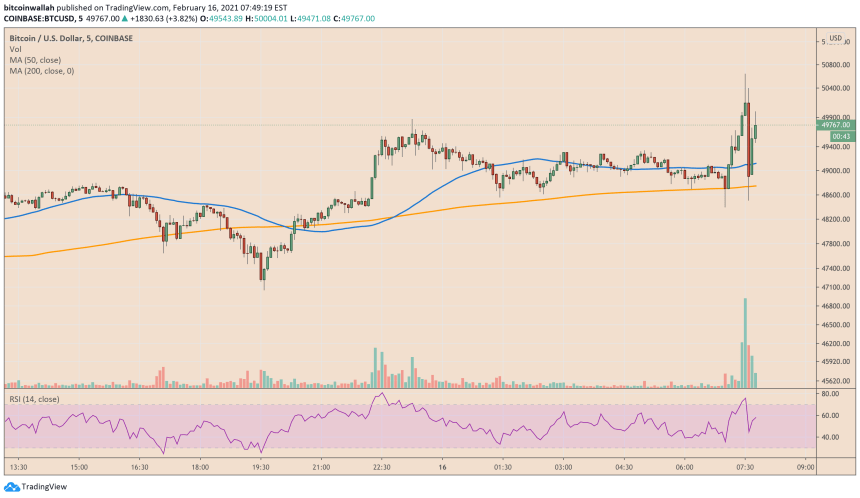 As a result, the pair plunged to as low as $48,400 in sessions ahead.
More Bitcoin Adoption Incoming
Many analysts, however, anticipated the price rally to continue further into the month, based on hard evidence of Bitcoin's growth as an institutional-friendly asset. In February alone, US carmaker Tesla revealed a $1.5 billion worth of BTC sitting in its company reserves. And Twitter expressed the likelihood of making a copycat investment into the cryptocurrency.
Meanwhile, Bank of New York Mellon announced that it would start offering Bitcoin custodian services via the same platform that its customers use to manage traditional securities and cash. Mastercard also revealed its plans to incorporate crypto payments into its existing services by the end of 2021.
Mohamed A El Erian, the chief economic adviser at Allianz, said that the market would see more companies that would add bitcoin to their balance sheets because there will be no other way to mitigate risks from the Federal Reserve's unlimited quantitative easing policies.
"So, it's part of the distortion of financial markets that we see more generally," he added.