The past few days have seen Bitcoin trade in the low-$9,000s seemingly with a downside skew. The cryptocurrency has tested $9,000 time and time again, as bears prepare to push the asset under that crucial support to confirm a bear trend.
Yet an analyst that made an extremely accurate prediction has suggested that Bitcoin may soon see some bullish relief and rally to the upside.
Bitcoin Could Soon Revisit $10,000 Range, Analyst Says
After a brutal multi-month retracement from $20,000 to the $6,000 region, Bitcoin flatlined in the middle of 2018.
Many saw the price action as bullish: analysts said that because the cryptocurrency has held the $6,000s without faltering, it was primed to rally back into a bull market. The sentiment was so rife that when BTC rallied from ~$6,300 to $8,200 in August, some investors began to speculate that new all-time highs were likely.
But one trader predicted that the bear trend would bottom at $3,200, writing in June 2018: "I'm calling a bottom at exactly 3.2k with a 200 dollar leeway either side."
Six months later, he was proven correct when BTC bottomed at $3,150.
His latest forecast is that Bitcoin is primed to rally over the coming days. Referencing the chart below, which suggests that BTC is breaking out of a textbook bull flag, the analyst opined:
"Longer-term, this is defo beginning to feel distributive, however the long slow grind down from 9600 feels corrective. a 4h close above 9400 would be a bull flag breakout to 9900, IMO."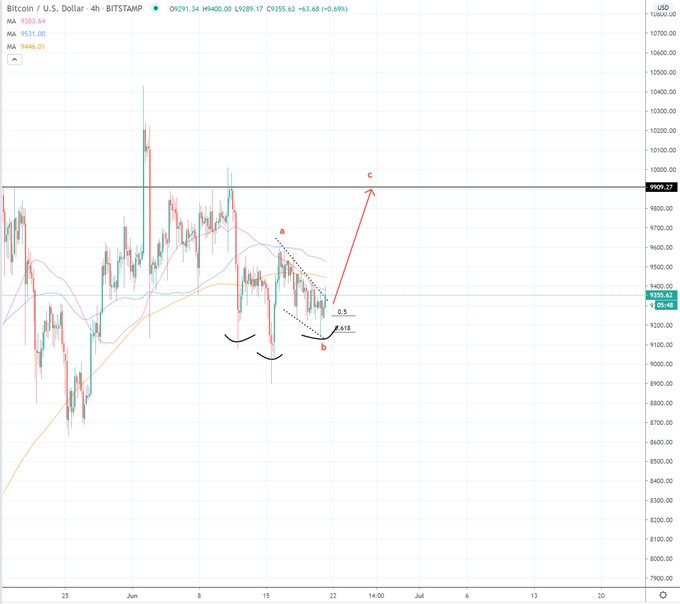 Bitcoin short-term price analysis by trader "Smart Contracter" (@SmartContracter on Twitter). Chart from TradingView.com
A rally to $9,900 would be a 6% rally from the market price of BTC as of the time of this article's publishing.
There Will Be A Correction… Eventually
Yet that's not to say that the analyst expects Bitcoin to break past and hold above $10,000.
The same trader noted days prior to the abovementioned analysis that Bitcoin is primed to see a 20-30% retracement in the coming weeks due to weakness in the S&P 500, which BTC has traced amid the ongoing recession.
He's not alone in sharing that opinion.
Jeremy Grantham, a prominent stock trader, told CNBC last week that equities are reaching bubble territory. This comment was made in reference to the fact that stocks have been nearing all-time highs while the economy is in its worse condition in modern times.
Grantham is known for calling the tops of previous stock markets, such as that seen in 2008-2009 and the one before that during the Dotcom Boom at the turn of the century.
Featured Image from Shutterstock
Price tags: xbtusd, btcusd, btcusdt
Charts from TradingView.com
Bitcoin Could Soon Revisit $10,000, Analyst Who Predicted 2018's Bottom Says