It has been a rough day for the benchmark cryptocurrency. After flashing some signs of weakness, Bitcoin briefly dipped below $9,000 earlier today before incurring enough buying pressure to propel it back above this level.
This decline led BTC down towards its 200-day moving average, which has so far been defended by bulls.
The 200-day MA has historically governed both uptrends and downtrends, with breaks above this moving average previously sparking rallies, while the effects of breaks below it have been dire.
That being said, this MA is still at grave risk of being lost as the cryptocurrency continues showing signs of weakness.
One analyst is even noting that a break below this level could be imminent as the cryptocurrency breaks below a key technical pattern.
Bitcoin Flashes Signs of Weakness as Bulls Defend Against Dip Below $9,000 
At the time of writing, Bitcoin is trading down just under 5% at its current price of $9,120.
This marks a notable decline from recent highs of $9,800 that were set yesterday just prior to the cryptocurrency's recent decline.
It does appear that there were two primary factors driving this movement.
The first is the series of rejections that BTC has faced at $10,000 over the past several months. Although none of them were enough to spark any sustained downtrend, they all signaled that the cryptocurrency lacked sustainable buying pressure.
The second factor that seems to have triggered the movement was the 50 BTC transaction stemming from a previously dormant wallet from 2009.
Some investors speculated that this wallet belong to Bitcoin's pseudonymous creator – Satoshi Nakamoto – but later data revealed that this was not the case, and the wallet likely belonged to an early adopter or miner.
Nevertheless, the technical damage has been done and the cryptocurrency is now at peril of revisiting the $8,000 region.
BTC Nears 200-Day Moving Average; Will It Break Below It? 
This price drop led Bitcoin down towards its 200-day moving average for a brief period of time.
This moving average currently exists within the upper-$8,000 region, and buyers ardently defended against it dipping below this level during the downturn seen earlier today.
One analyst recently offered a chart showing the MA relative to Bitcoin's current price position, noting that he is closely watching to see how it reacts to this level.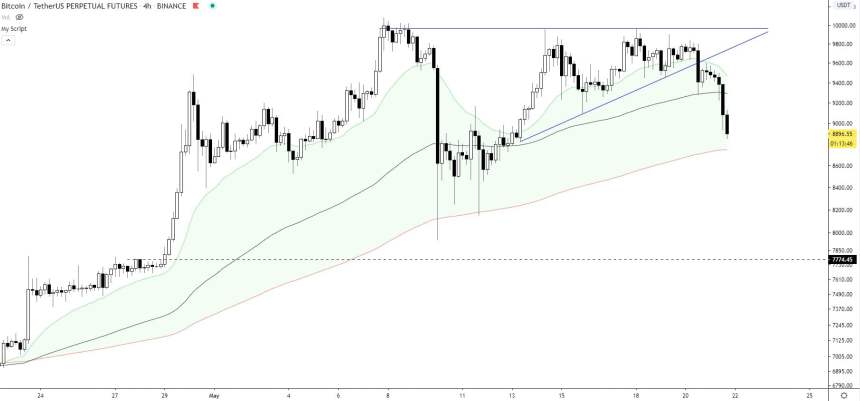 Another respected analyst also explained that one technical indicator seems to indicate that a dip below this ever-so important moving average could be imminent.
He mused this possibility while pointing to a net indicator, adding that the crypto's uptrend will be over as soon as Bitcoin dips below this level.
"Quick tip for the superguppy on the 4H. When BTC dips below the net, it usually taps the 200EMA. When the 200EMA gives out, it's over."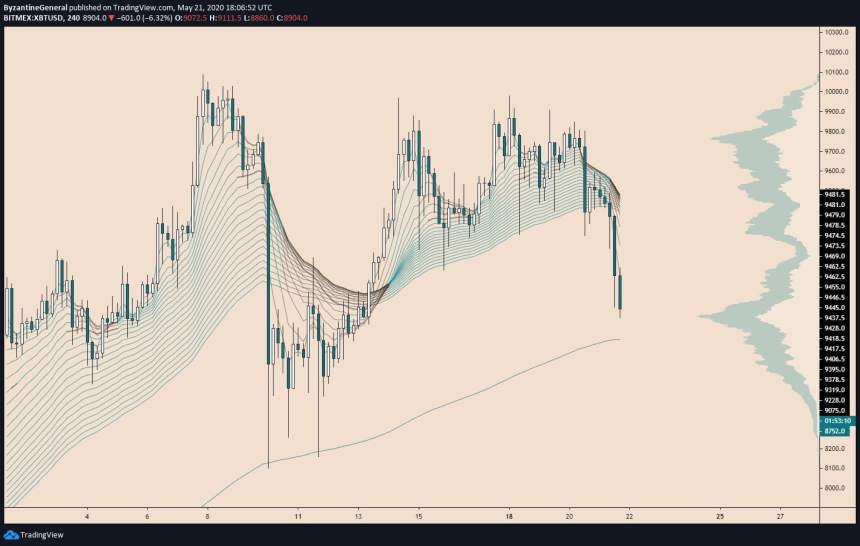 Featured image from Shutterstock.