Even though Bitcoin (BTC) was rejected at $45,500, hope for another substantial advance in the cryptocurrency market has reappeared. Bulls are now aiming to beef up their defense at the $43,000 support level.
According to TradingView data, after reaching a weekly high of $45,500 early on Feb. 8, bears were able to lower the price of Bitcoin to $42,900 during afternoon trading as investors realized profits and prepared to place bids at $38,000. At the time of writing, the pioneer token is worth $44,091.
Bitcoin Steadies At $44k
Bitcoin (BTC) bulls have successfully returned the main digital currency's price to the $44K support level, boosted by encouraging occurrences. Most notably, the Canadian subsidiary of accounting major KPMG recently announced that it has integrated BTC and ETH to its corporate treasury. In addition, Tesla Inc reported in a recently filed 10-K that it possessed nearly $2 billion in BTC at the end of last year.
The quick rise caught many traders off surprise, as headlines across the crypto community predicted the start of a lengthy bear market, but such grim predictions may have been premature, according to data from a recent Glassnode research. According to the blockchain research company, "prices have bounced off a number of fundamental levels that have historically signaled undervaluation or a "fair value" price."
The founder and CEO of multi-strategy firm Banz Capital, John Iadeluca, commented on this trend, saying:
"Tesla's 10K SEC filing update was released yesterday, reaffirming notions that Tesla held onto their BTC holdings amidst declines in Bitcoin's price to the lower 30 thousands. Combined with the news of KPMG Canada adding Bitcoin onto its balance sheet, encouraged a sharp rise in positive Bitcoin price sentiment."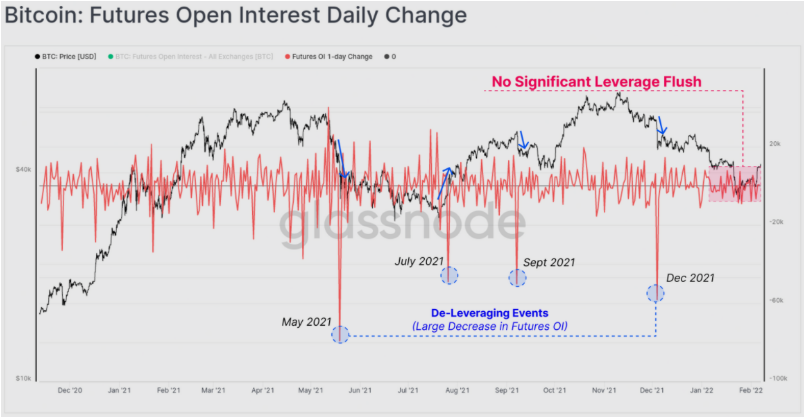 Bitcoin futures open interest daily change. Source: Glassnode
Glassnode observed that during earlier instances of severe price losses, futures open interest (OI) experienced huge drawdowns or "de-leveraging events," as evidenced by the large downward red spikes on the graph above, a feature that is strikingly absent from this recent price decline. The firm said:
"This may indicate the probability of a short squeeze is lower than first estimated, or that such an event remains possible should the market continue higher, reaching clusters of short seller stop-loss/liquidation levels."
Related article | Valkyrie Bitcoin Mining ETF "WGMI" Approved For Nasdaq Listing
Bitcoin In Longest Rally
Bitcoin new rally is BTC longest streak since last September.  After the recent dip, investing in several of these risky asset groups has become considerably more comfortable.
While the market isn't out of the woods yet, there is still much uncertainty on a number of fronts, including how swiftly the Federal Reserve can act to combat increasing inflation.
Meanwhile, veteran traders, notably the pseudonymous Twitter user Pentoshi, are seizing the opportunity. This includes collecting some earnings and repositioning yourself for what the future holds. Pentoshi put it this way:
"Taking the last highs now. Looking for one last spike up but $44,000–$46,300. In my opinion, good spot to close longs out and re-evaluate."
BTC/USD trades $44k. Source: TradingView
Despite BTC's increased sense of optimism in terms of pricing, some traders remain gloomy on the top cryptocurrency. Allen Au, a Bitcoin expert and Twitter user, shared a graph depicting the last price action's impact on futures markets. Following a drop in open interest, there was a $71 million liquidation of Bitcoin shorts. Au described this as a "short squeeze" that will most certainly continue to promote price increases. In addition, he stated:
"Perpetual futures funding rates are negative despite BTC breaking above $44K. Traders are still bearish about BTC."
Related article | As Bitcoin Price Jumps Above $40k, Tesla Reveals Holdings Tapped $2 Billion
Featured image from iStockPhoto, Charts from TradingView.com