Bitcoin resumed its uptrend ahead of the New York session Monday as traders weighed their risk-on opportunities against the US President Joe Biden's stimulus plans and its potential bearish impact on the US dollar.
The flagship cryptocurrency reclaimed $34,500 after rising by as much as 6.83 percent, while its market capitalization pushed past $636 billion. Its move upward came after a depressive Friday and weekend session, wherein the price fell to as low as $28,372 at one point in time.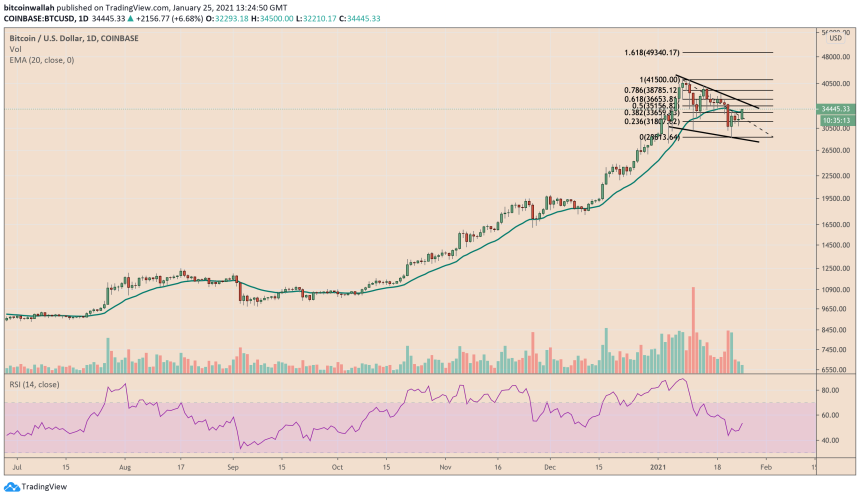 Bitcoin rises amid the US dollar's weakening woes. Source: BTCUSD on TradingView.com
Elsewhere in the crypto market, Ethereum exploded by more than 21 percent to claim a new record high above $1,470. Other tokens, including Litecoin, Bitcoin Cash, and Binance Coin, also surged within the range of 5-6 percent.
Overall, the cryptocurrency market added $40 billion to its reserves in the previous 24 hours.
Bitcoin Meets Stimulus
Bitcoin's gains occurred after Mr. Biden signed two executive orders, one of which would increase spending on the federal food assistance program and streamline the delivery of stimulus checks. The US president has plans to provide at least $1.9 trillion worth of relief funds amid the fallout caused by the coronavirus pandemic.
The mood lessened the demand for the safe-haven US dollar, whose strength against the world's top foreign currencies fell by 0.2 percent overnight. Meanwhile, the net speculative short position on the greenback also grew to its highest in the last decade in the week ending on January 19.
US dollar index pulls back after testing resistance near 90. Source DXY on TradingView.com
That further stressed that the market sentiment for the dollar is bearish. It pushed Bitcoin's popular anti-fiat narrative among speculators thanks to their negative correlation with one another since the coronavirus crash in March.
"Expect max fiscal and monetary stimulus until the current unemployment rate of 6.7 percent drops back to 4 percent—still a long way to go," said Dan Tapiro, the co-founder of DTAP Capital. "Bitcoin and Gold supported."
Fed Meeting
Signs of further upsides for Bitcoin also appear in the form of the Federal Reserve's meeting on Wednesday. In there, the US central bank chairman, Jerome Powell, expects to say that he has no plans to backtrack the Fed's open-ended bond-buying program and ultralow interest rates.
"The process of tapering QE is likely to be a gradual process which could last throughout 2022, and then be potentially followed by the first rate-hikes later in 2023," MUFG currency analyst Lee Hardman wrote.
"In these circumstances, we continue to believe that it is premature to expect the US dollar to rebound now in anticipation of policy tightening ahead, and still see scope for further weakness this year," he added.
The prospects of a prolonged bearish US dollar also raised Bitcoin's ability to hold $30,000 as its long-term support level. Major institutions like Grayscale Investments increase their Bitcoin reserves around the same level.
"There is little doubt that the institutional flow impulse into bitcoin is what distinguishes 2020 from 2017. And there is no better metric to capture this institutional impulse than the flow trajectory of the Grayscale Bitcoin Trust in Figure 6." ~ JPM pic.twitter.com/66ibPoTFEp

— Frank Chaparro (@fintechfrank) January 25, 2021
Bitcoin was eyeing an extended upside run above $35,000 as of this press time.