The story of Laszlo Hanyecz, the programmer who bought two pizzas using 10,000 Bitcoin, will be forever talked about. Not least because at $9k per BTC that equates to $90 million in today's money, and not even due to the changing narrative from one of stupidity to one of a pioneer.
But in doing so, Hanyecz etched the event into history, and now there will always be a "go-to" barometer with which to measure the growth in Bitcoin's value over time. Think of it this way, in five years' time, come the end of May 2025, that $90 million may well have turned into $900 million.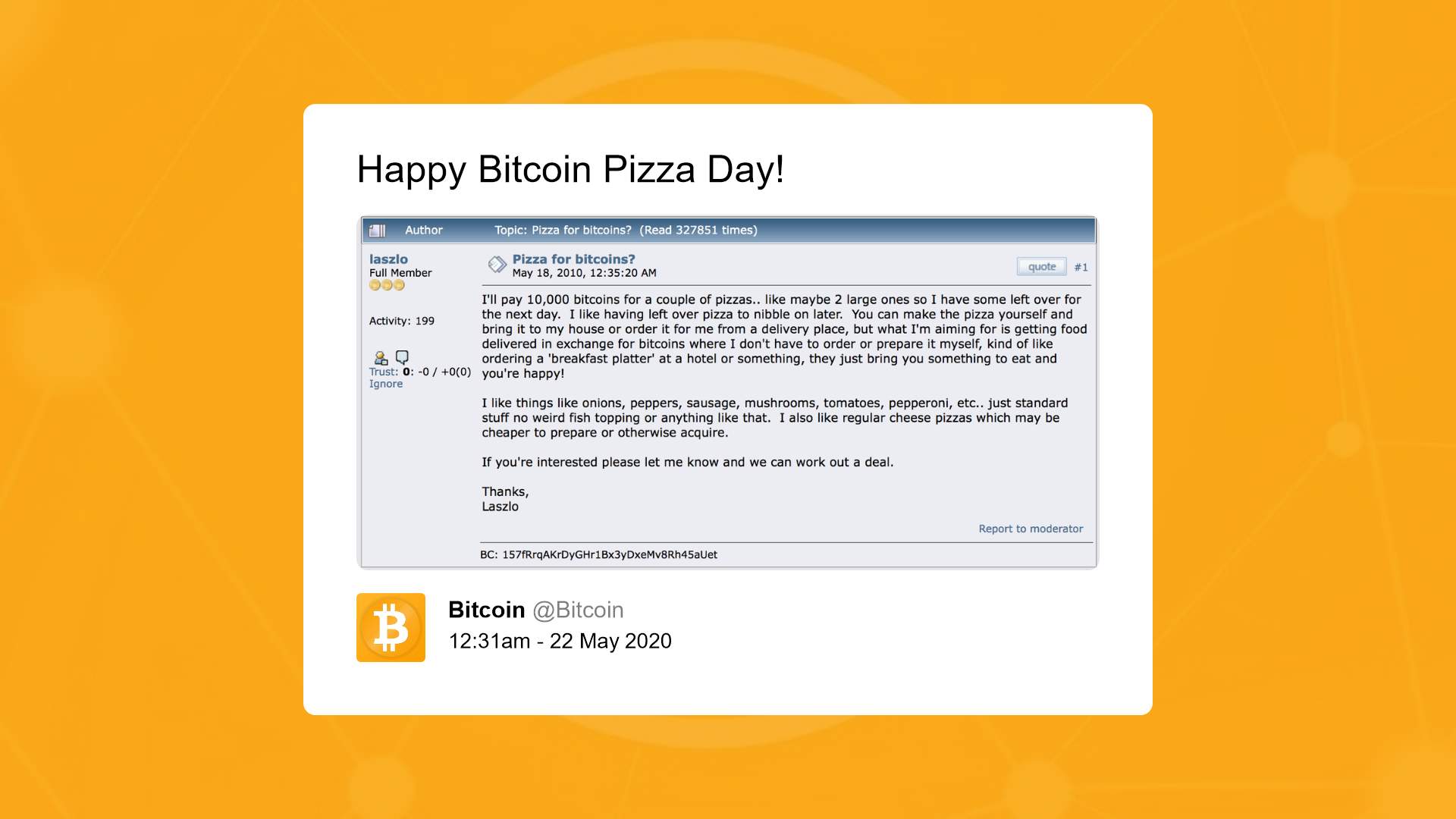 Happy Bitcoin Pizza Day
It follows that early one May morning in 2010, when Bitcoin was just a fledgling project designed to stick it to the system, a hungry Hanyecz was yearning for pizza and posted an advert on bitcointalk.org accordingly.
In it, he was proposing a deal in which he wanted two large pizzas, with "standard stuff… no weird fish topping or anything like that," in exchange for 10,000 BTC.
At the time, one Bitcoin was worth $0.0025, making the deal worth $25 in total. And many balked at the idea of taking magical internet money for precious pizza pie. But someone did, and that transaction became the first documented case of Bitcoin being used as a medium of exchange.
Since then, the event has become enshrined in crypto folklore to celebrate by buying pizza, preferably paying with crypto. But beneath the festivity lies a more meaningful message, and that's to do with the changing of perception.
Although many laughed at Hanyecz for not hodling, the event itself marked the development of an alternative to the fiat system. And while Hanyecz likely had no foresight on just how valuable those internet tokens would become, he still, intentionally or not, laid the groundwork with which an entire industry sprung up from.
With that, in the here and now, the future of Bitcoin, and the wider crypto industry as a whole, is looking bright indeed.
BTC on an Exponential Growth Trajectory
As much as the price of Bitcoin has struggled to crack, and more crucially stay above, $10k, there is still no doubting its exponential growth over the long term.
What's more, considering the monetary suicide enacted by world central banks as a response to COVID-19, the expectation is that the gap between Bitcoin and fiat will only widen further.
While there are no guarantees in this regard, a look at the price in the last week of May since 2015 shows that the Bitcoin project is only gaining traction with each passing year.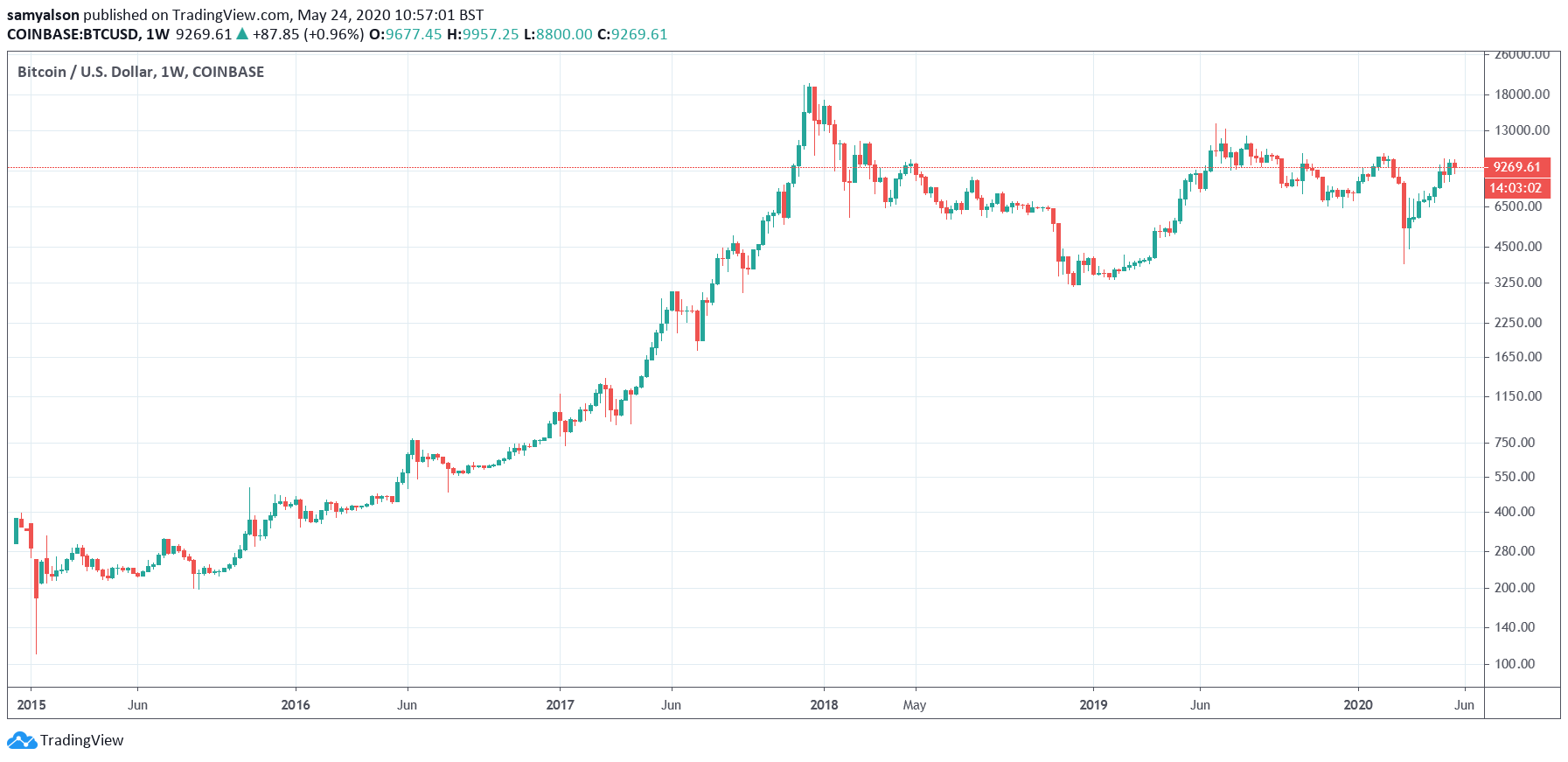 May 2015 – $230
May 2016 – $576
May 2017 – $2,543
May 2018 – $7,705
May 2019 – $8,708
May 2020 – $9,270 (current price as the weekly candle has yet to close at the time of writing)
Although they say past performance is not a guarantee of future events, it can at times rhyme. Taking this into account, it would be interesting to look back in five years to see if this price pattern holds.
And while you may be sick and tired of hearing about Bitcoin Pizza Day, in five years, we may well look back at this story and chuckle at the man who paid close to $1 billion for pizza.