After trading below $9,000 ever since the blow-off top on Wednesday, Bitcoin has been subject to a strong recovery over the past couple of days, culminating in a breakout seen this past hour.
The cryptocurrency, as of the time of this article's writing, is trading for $9,150 — more than 9% higher than the post-rally lows of $8,400 and up approximately 4% in the past 24 hours. Yet BTC is still a few hundred dollars shy of the $9,500 top.
Bitcoin's breakout comes in spite of a number of bearish signals the cryptocurrency has printed over the past few days: 1) a sell wall consisting of 1,000 Bitcoin — worth over $8 million — that on Saturday morning appeared on Binance, and 2) BTC's GTI Global Strength Indicator moving past 70, suggesting exhaustion of the bull trend.
Bitcoin Has Room to Rally
The move past $9,000 is far from the end of the bullish trend, according to top analysts.
One well-known trader remarked that there is a strong confluence of reasons to be bullish on Bitcoin at the moment, even with the aforementioned bearish signals spotted on the charts:
The funding rate on BitMEX, which is the amount longs pay short, and the premium index, the difference people pay for Bitcoin on BitMEX vs. BTC's index price, are "still negative." This suggests longs are not yet overleveraged.
Bitcoin is trading above the yearly volume-weighted average price.
BTC is above the 200-day moving average.
The one-day Ichimoku Cloud has flipped bullish.
Bitcoin's block reward halving is now only 10 days out.
Asserting how strong the current bull trend is, the trader added that while "you might not call and short THE top, you will save yourself a lot of potential headaches by just waiting for a break in the 1D market structure."
The optimism was echoed by other traders, like the one who shared the chart below, indicating that Bitcoin's recent price action is eerily similar to that seen in August 2015, when the cryptocurrency saw a parabolic breakout from macro lows.
Should Bitcoin continue to follow this fractal to a T, it could hit $14,000 in approximately a week, which would line up with the Bitcoin halving and a subsequent sell-off spurred by miners dumping coins.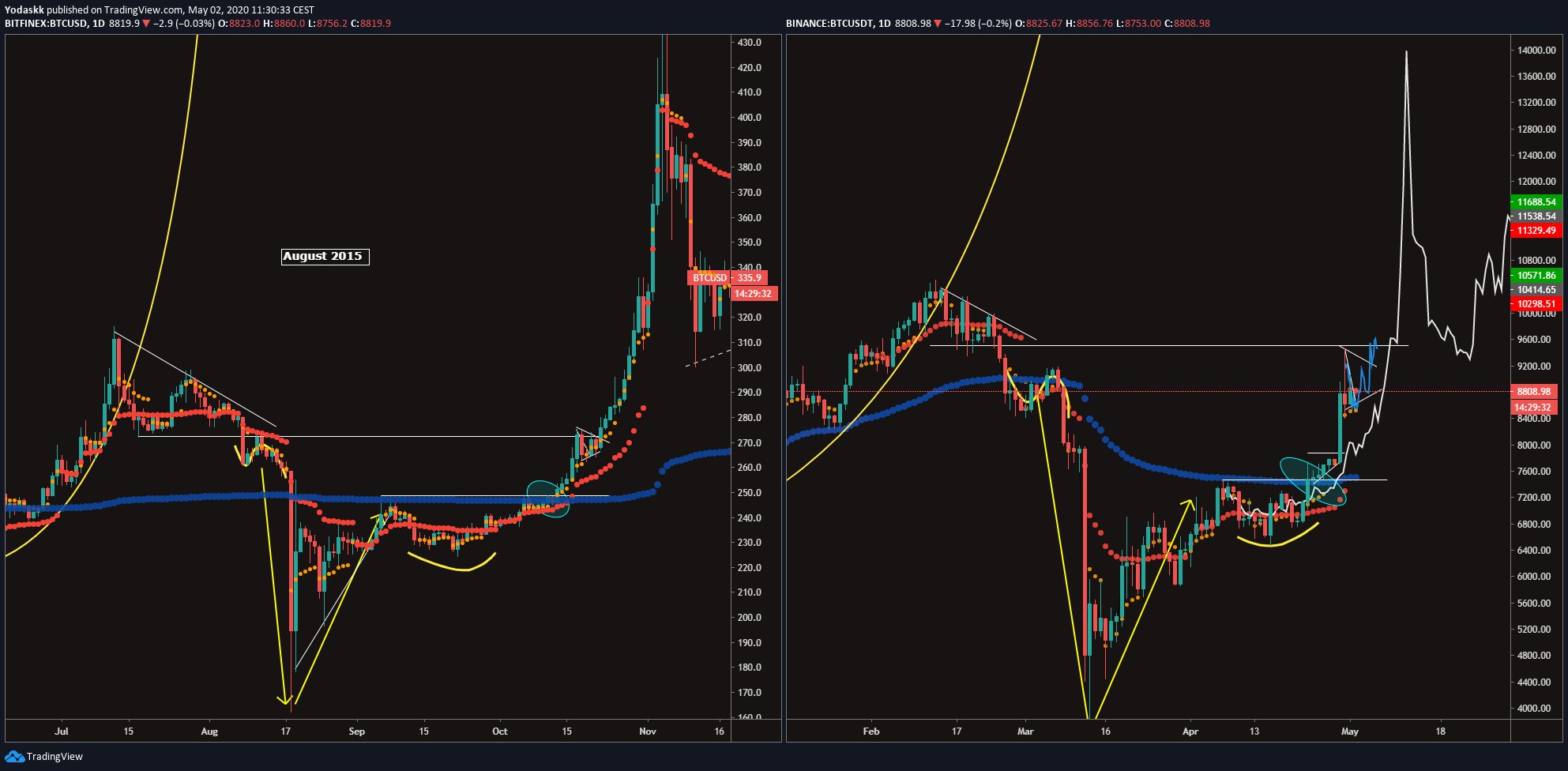 Long-Term Trend Also Shaping Positive
The long-term trend of the leading cryptocurrency is also starting to shape up to be positive.
In a research note on cryptocurrency published Thursday, David Grider — the lead digital strategist at Wall Street analysis firm Fundstrat Global Advisors — said that his firm is bullish on Bitcoin moving forward, specifically citing the halving as a positive catalyst:
"We're bullish over the next 12 months and expect prices may continue moving up into the [halving] and possibly after."
Marketwatch, which covered the note, suggested that Fundstrat sees the cryptocurrency nearly doubling in the coming 12 months to $14,350.
Photo by Olav Tvedt on Unsplash