Bitcoin is seeing some green during this week's market opening and seems poised to reclaim higher levels in the short term. The number one crypto by market cap experienced some of its worst months in history, but the bulls were able to hold the line at around $15,500. 
Now, the macroeconomic outlook is changing and could start supporting further profits for risk-on assets. As of this writing, Bitcoin trades at $17,200 with 2% and 5% profits in the last 24 hours and seven days, respectively.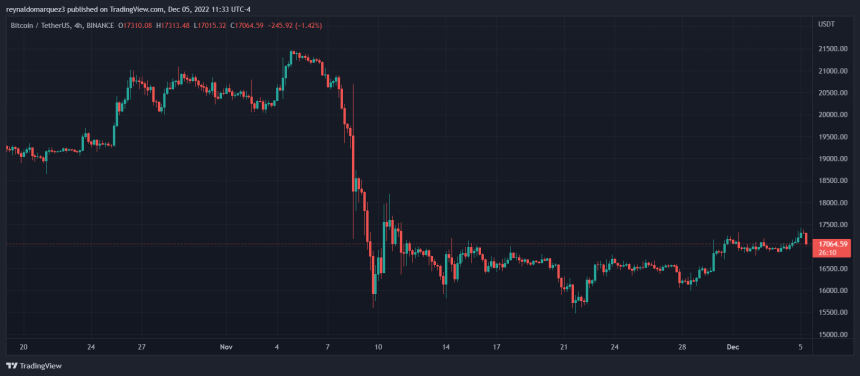 Bitcoin Market Is Getting Back To Normal
Data from crypto derivatives exchange Deribit indicates a shift in market sentiment. Participants are more optimistic about Bitcoin after the collapse of the crypto exchange FTX and the fall from the grace of its co-founder and former CEO Sam Bankman-Fried. 
This event pushed Bitcoin to a new yearly low and back to its 2020 levels. As seen in the chart below, the BTC Open Interest Weighted Annualized Basis shows that the prices of options contracts were in backwardation. 
In other words, options were cheaper than their underlying asset, Bitcoin, following the FTX collapse. The last time BTC saw similar backwardation was in July 2021, during the second capitulation event that triggered a 40% crash in the crypto market. 
However, the chart shows that in July 2021, market sentiment and backwardation were far from their November 2022 levels. In addition, the chart shows that the heavy selling triggered by recent events is decreasing, and the crypto market is normalizing. Deribit stated:
In July 21, the whole curve didn't invert as the longer-dated contracts still traded at a premium. Since 8 November this year, we however see the whole curve trading below spot.
BTC's Price Short-Term Rally Is More Likely
Paired with the above, Deribit claims the BTC 25 put skew, a metric used to gauge market sentiment by looking at the demand for put (sell) options contracts, and their implied volatility is also on the decline. Puts were expensive during the FTX fallout but are returning to their "normal" levels. Deribit said:
A drop in 1 Month Skew indicates the shorter-dated out the money calls are getting more expensive relative to the out the money puts.
In other words, market participants are buying more calls (buy) contracts. These options have a short-term expiration date. Thus, people might be gearing up for a Christmas or end-of-the-year rally. 
As NewsBTC reported, the max pain point, the strike price at which a large portion of the contract will expire worthless, stands at $20,000.