A quant explains why the current high Bitcoin leverage ratio values may mean that more price drop could be coming soon.
Current Bitcoin Leverage Ratio Is At High Values
As explained by an analyst in a CryptoQuant post, the current BTC leverage ratio has high values, and if past pattern is anything to go by, a correction may be coming to the price soon.
The "estimated leverage ratio" is an indictor that's defined as the value of the Bitcoin open interest divided by the reserve of all exchanges.
In simpler terms, what this metric tells us is the amount of leverage that an average user is making use of at the moment.
When the value of this indicator rises, it means investors are taking on more risk as they are increasing the leverage on their positions.
During such a trend, the volatility in the price of BTC may also go up. At sufficiently high values of the ratio, the market may be considered overleveraged, and a liquidation squeeze could follow to wipe out the excess leverage.
Related Reading | Market Re-Enters Extreme Fear Territory As Bitcoin Declines To $36k
In a liquidation squeeze, a big swing in the price causes a cascade of futures liquidations that amplify the price move further.
Now, here is a chart that shows the trend in the Bitcoin leverage ratio over the past year:
Looks like the value of the indicator has been high recently | Source: CryptoQuant
In the above graph, the quant has highlighted the different regions where the Bitcoin leverage ratio sharply dropped. Along with that, the direction of the price following these liquidation squeezes is also marked.
Yellow indicates a long squeeze. During such an event, the price of the crypto declines along with the indicator. Similarly, green marks a short squeeze where the price moves oppositely to the ratio.
Related Reading | Bitcoin On-Chain Demands Suggests That The Market Has Reached Its Bottom
In the period of the chart, most of the liquidation incidents have involved longs. As you can see in the above graph, the ratio has now once again risen to quite high values.
The quant thus believes that we may see another similar yellow region soon as the probability of it has been higher during such bearish market conditions as now.
However, the pattern of another indicator, the Bitcoin volatility index, rather suggests that a short squeeze may be coming next. In such an outcome, the price of the coin will be bullish.
BTC Price
At the time of writing, Bitcoin's price floats around $37.9k, up 4% in the last seven days. The below chart shows the trend in the price of the crypto over the past five days.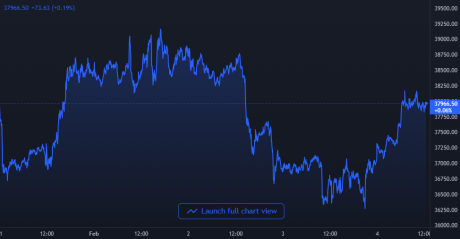 BTC's price has once again surged to around $38k | Source: BTCUSD on TradingView
Featured image from Unsplash.com, charts from TradingView.com, CryptoQuant.com