Conor Ryder, researcher at digital asset data provider Kaiko, has examined the liquidity of the Bitcoin and crypto markets in a new study, finding that the liquidity situation in crypto has deteriorated further this month following the banking scares. Bitcoin liquidity dropped to a 10-month low as market makers lost access to USD payment rails.
What The Liquidity Crisis Means For The Bitcoin Price
Most importantly, this means that the Bitcoin market becomes increasingly volatile when liquidity is low. Prices have less support on both the downside and upside, which Ryder says could explain Bitcoin's rapid rise since the beginning of the month.
Ryder shared the chart below in his analysis, explaining that liquidity in the BTC markets is even significantly lower than it was after the FTX and Alameda collapse. Kaiko refers to the drop in liquidity at the time as the "Alameda gap," which was created by the absence of one of the industry's largest market makers.
"That gap has yet to be filled, and with the banking issues of late, liquidity has taken another blow," notes Ryder, who also observed that the closure of the Silvergate Exchange Network (SEN) and the unwinding of Signet, have resulted in US exchanges being hit harder than non-US exchanges from a liquidity perspective.
This is because market makers in the US are now facing "unprecedented challenges" to their operations. "We can see the difference in reaction between US and non-US exchanges with more severe reactions to some of the liquidity issues of the last month," Ryder said.
But the analyst also has some good news. Liquidity has now recovered to levels seen in early March 2022. Still, he warns that the loss of easy fiat access could have longer-term implications.
According to Ryder, the blow the US crypto industry has taken can be seen in other metrics as well. Spreads for USD pairs are suffering from higher volatility as a result of the uncertainty, as is slippage:
On a $100k sell order, Coinbase's btc-usd pair has increased by 2.5x the slippage it started the month at Binance's btc-usdt pair's slippage meanwhile barely moved.
Ex-Coinbase CTO Balaji S. Srinivasan, who is currently in the spotlight with his $1 million bet on Bitcoin, stated in reference to Ryder's research:
Interestingly, as the liquidity of Bitcoin markets decreases under state pressure, it takes less buying to get USD/BTC to moon.

I don't think the state can close it fully, but we shouldn't wait. Paradoxically, closing the exit makes the exit more desirable in more ways than one.
At press time, the Bitcoin price stood at $28,176, facing the major resistance zone above $28,300.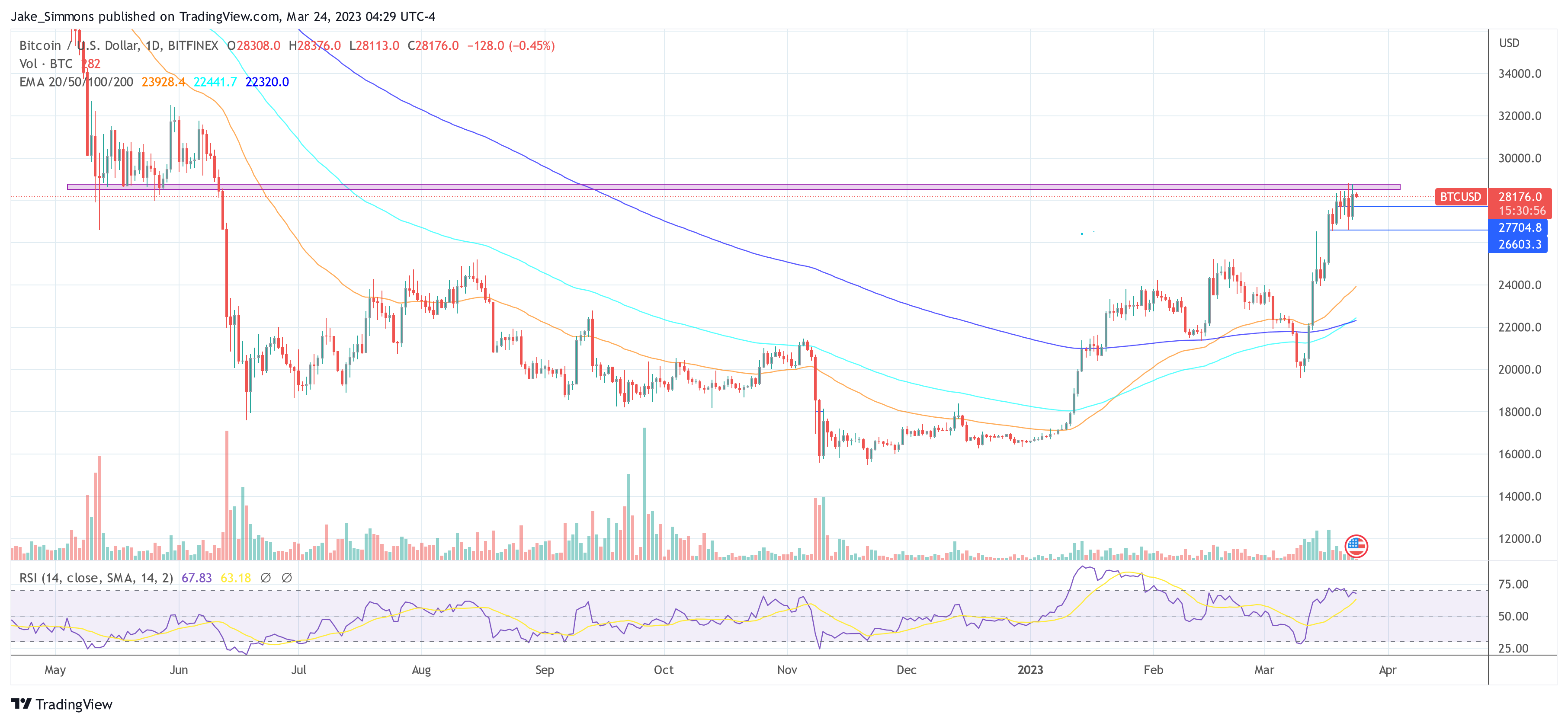 Featured image from iStock, chart from TradingView.com