Since Bitcoin (BTC) started to collapse in July following the multi-month rally from $3,100 to $14,000, investors have been wondering if the cryptocurrency remains in a bull market. According to a prominent on-chain analyst and cryptocurrency fund manager, yes, Bitcoin remains in the midst of a bull market.
It's Just Re-Accumulation; Bitcoin Remains in Bull Market
According to Willy Woo, partner at cryptocurrency fund Adaptive Capital and a noted on-chain analyst, his indicators which track investor activity — correlated closely with market cycles — are showing clear signs that Bitcoin is not in a bear market.
Rather, as Woo continued in the tweet, the indicators suggest that BTC is in the midst of a "re-accumulation" phase of bull markets that always proceeds the blow-off top rally, one that brings Bitcoin an order of magnitude or two higher than where it started.
Are we in a $BTC bear market?

No, we are in the re-accumulation phase of a bull market. pic.twitter.com/OcMyxA4EIY

— Willy Woo (@woonomic) December 28, 2019
History repeating per Woo's analysis will mean Bitcoin will burst higher by the second half of 2020, meaning BTC is likely to set new all-time highs a few months or a year after that.
Woo's latest analysis comes shortly after the prominent trader remarked that Bitcoin's on-chain momentum, per his fund's proprietary indicators, is "crossing into bullish" territory after a multi-month downturn.
With this in mind, he asserted that the "bottom is most likely in," meaning that any move lower than the $6,500 plunge "will be just a wick in the macro view." He added that the unnamed indicator also implies that cryptocurrency investors will start to front-run the impending "halving," the block reward reduction that will be taking place in May 2020.
Bullish Leg Up On the Horizon
It isn't only Woo who is suggesting that Bitcoin's next bullish leg up is on the horizon.
A trader going by Velvet, who called the bullish reversal on December the 22nd, recently stated that he believes Bitcoin "could see $20,000 by March," referencing the fact that prior to previous halvings, BTC always surged, rallying higher on the expectation that a negative supply shock would hit the market.
Just look to the chart below from the analyst, which exemplifies that BTC is showing signs that it will soon undergo a second mark-up rally ahead of May 2020's halving.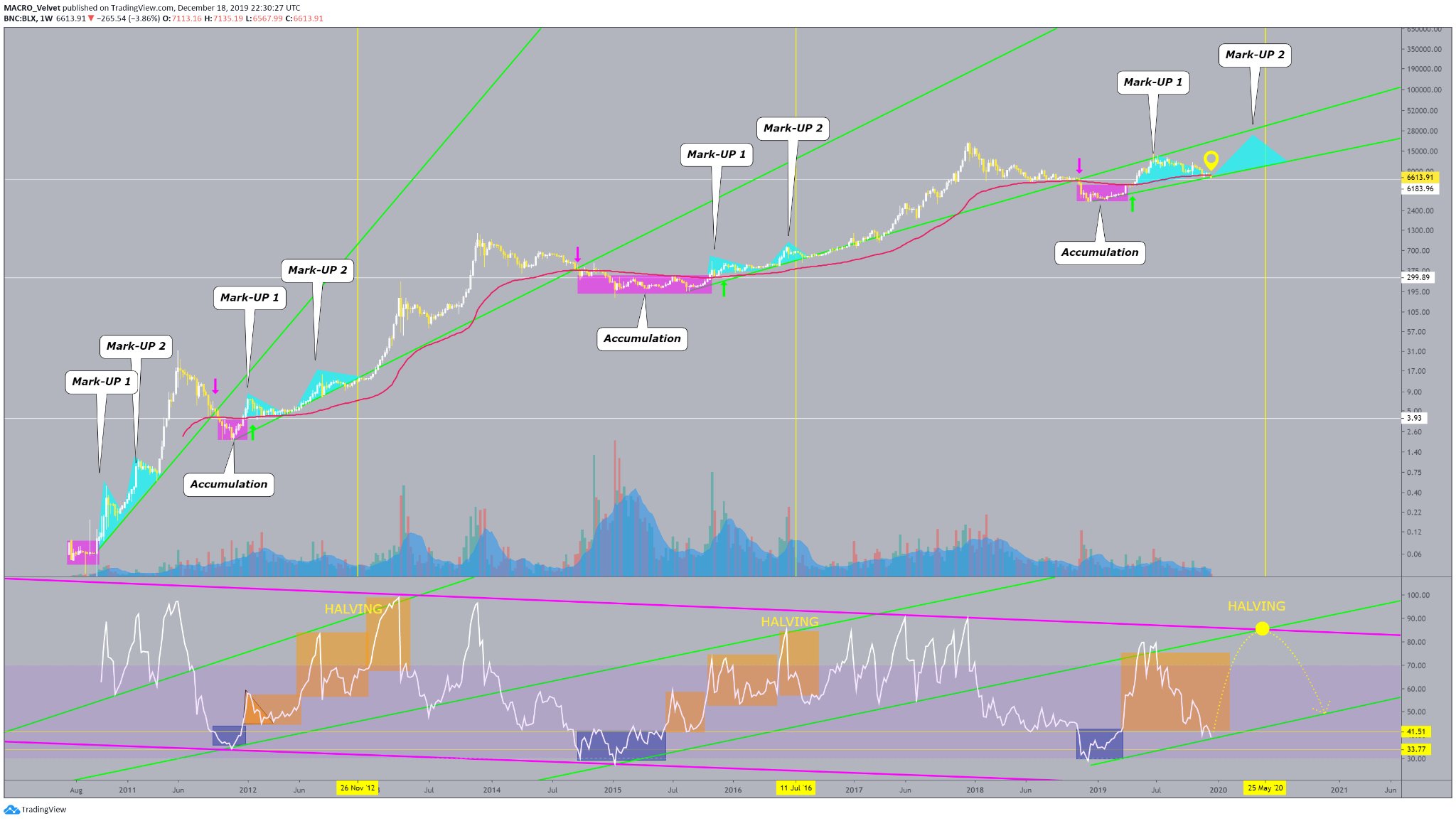 Featured Image from Shutterstock