Following the Bitcoin halving, concerns over miner capitulation have proven unfounded. The week just gone saw the network hash rate reach a new all-time high of 125 million TH/s.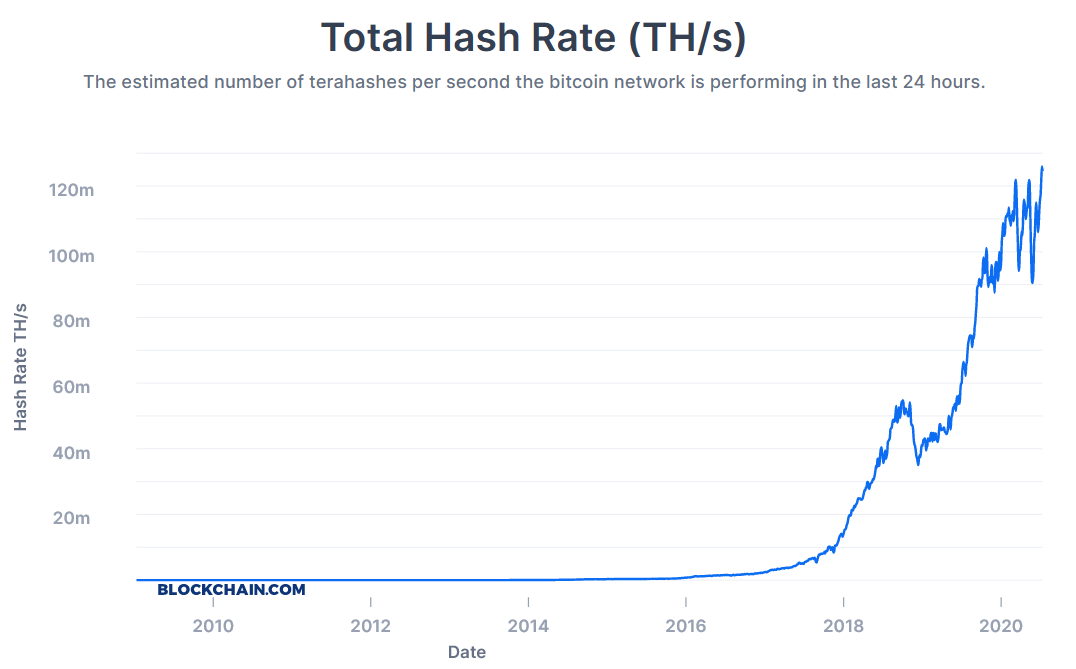 Source: blockchain.com
Significant pullbacks occurred in March and May, sparking fears of the beginning of a miner's exodus. Current data shows the Bitcoin network is strong as ever.
Bitcoin Hash Rate Recovers From Early Year Wobbles
Despite Bitcoin's range-bound performance of late, the network hash rate continues to show strength. This is indicative of high confidence from miners.
However, at around the time of the halving, some industry executives raised concerns that the drop in block rewards, from 12 BTC to 6.25 BTC, would lead to the collapse of the network, as unprofitable miners switched off their rigs.
At the time, Digital Asset Manager at Caprioleio, Charles Edwards, warned of a confluence of factors, including rising production costs and stagnant price, that would trigger a capitulation of miners.
"This will be the most brutal Bitcoin Halving in history. Production cost is about to double to $14,000. 70% above the current price. Last halving, price was just 10% below Production cost, and Price & HR collapsed -20%. Without FOMO now, expect a big miner capitulation. 30%+"
The daily chart of Bitcoin. Source: TradingView.com
Following the halving on May 11, 2020, the hash rate dropped 25% from 122 million TH/s to 91 million TH/s. But rather than continue in a "death spiral," this bottomed in mid-May, leading to recovery.
Director of Business Development at Krakenfx, Dan Held, commented that fears over a miner capitulation were ill-founded. Held even joked about the terminology being inherently FUD inducing.
"sPiraLs are the favorite doomsday word of economists 😉 Ex: dEfLatIoNaRy sPiRaLs"
Bitcoin hash rate just set a new all-time time high.

The Bitcoin halving was 63 days ago.

Miner "Death spiral" FUD debunked yet again.

— Dan Held (@danheld) July 13, 2020
Mining Difficulty Remains an Entry Barrier For Small Independent Miners
As Bitcoin's hash rate reached all-time highs levels yet again, expectations are that the network difficulty will also follow suit.
Mining network difficulty is an inbuilt process that regulates the speed of block-creation. A high hash rate calls for the difficulty to increase so that the homeostatic level of one block produced every 10 minutes is maintained.
At present, network difficulty is 15.8t, which is below its all-time high of 16.5t set in March 2020.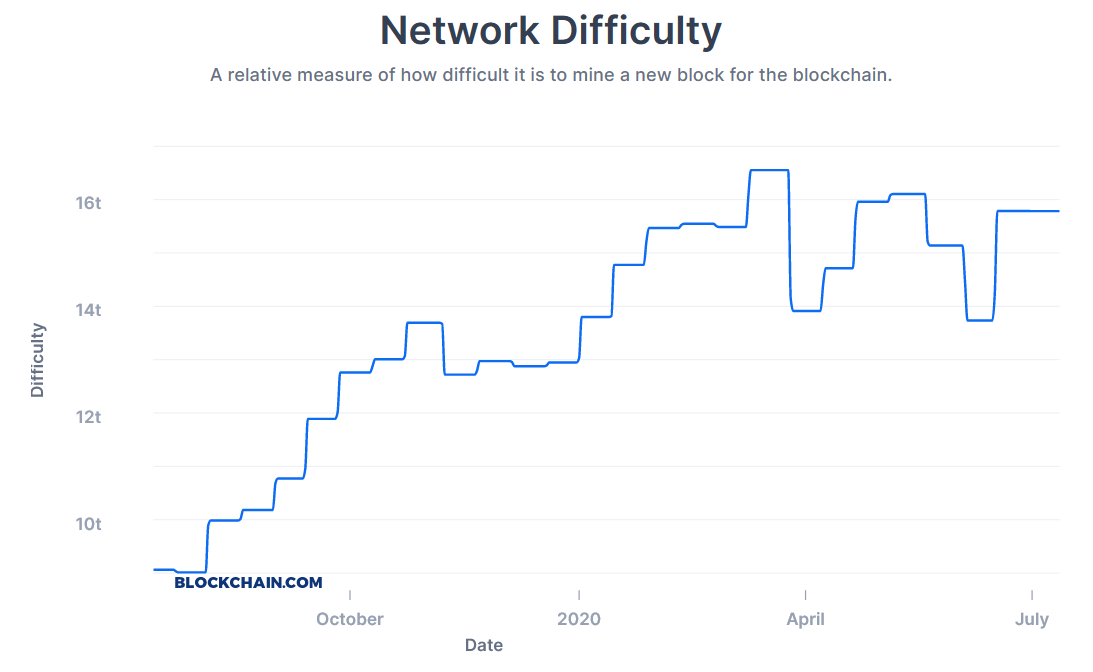 Source: blockchain.com
But, mining pool BTC.com estimates that network difficulty will jump shortly to 17t, surpassing the previous all-time high.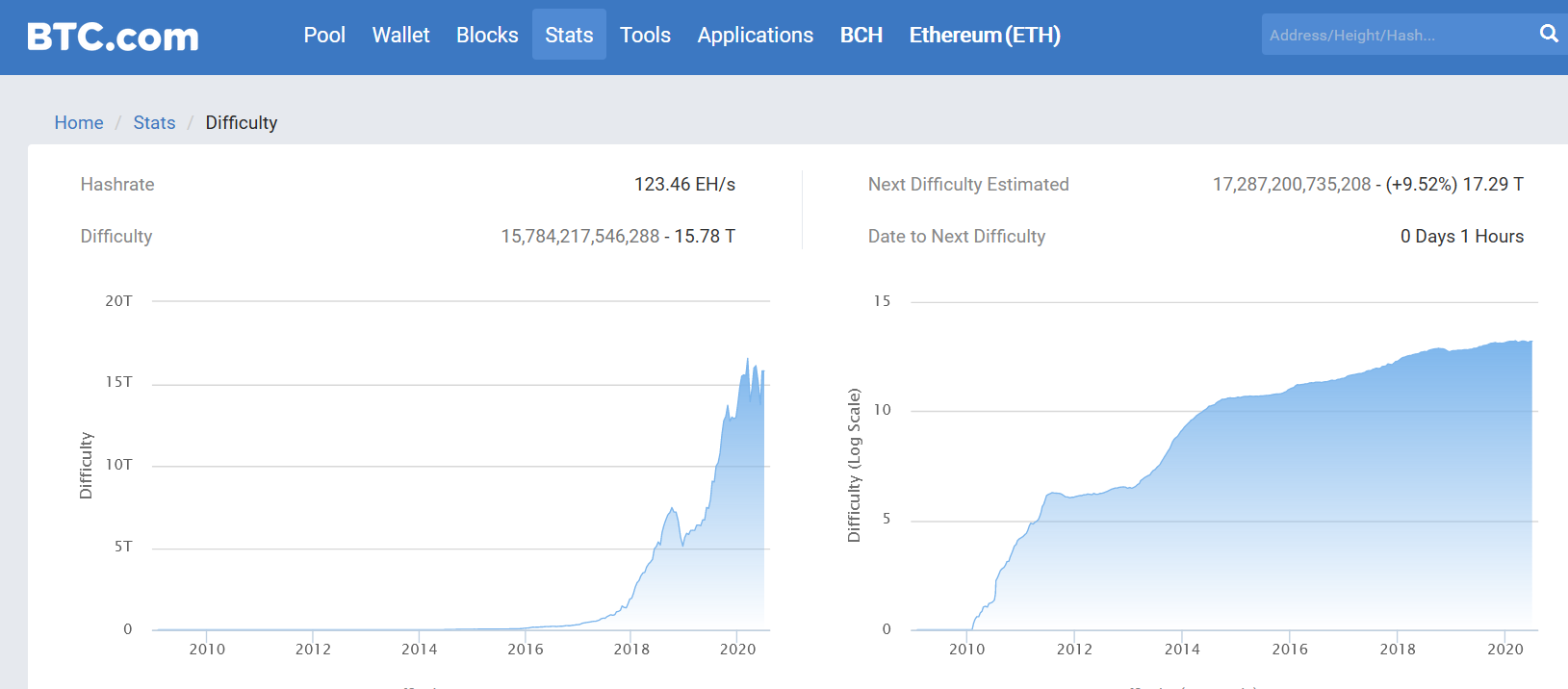 Source: btc.com
Part of the reason why comes down to a new arms race between Bitcoin miners. Tim Rainey, Chief Financial Officer of Greenidge Generation spoke about the next generation miners being so much more efficient than predecessors.
This effect is magnified when taking into account the scale of operations that now dominate Bitcoin mining.
"This difference is twice in the case of market-leading Antminer machines from Bitmain, where Antminer S19 has twice the hashrate of its predecessor Antminer S17. Furthermore, larger bulk orders from industrial-scale data centers, which have been cycling out their older machine models, have catalyzed this process."
Bitcoin mining has often been accused of being elitist, the current state of the landscape will only deepen this gripe.