Data from CryptoQuant suggests that Bitcoin miners might, after all, not care about price and all the fear, uncertainty, and doubt (FUD) in recent days.
Bitcoin Miners Are Not Selling
According to CryptoQuant's Miners' Position Index (MPI), a ratio between the total miner BTC outflows and the 365-day moving average of the same reading, Bitcoin miners have not been sending their coins to external addresses, typically exchanges. 
When writing on March 8, the Bitcoin MPI stood at -0.57, down from +2.52 on March 1.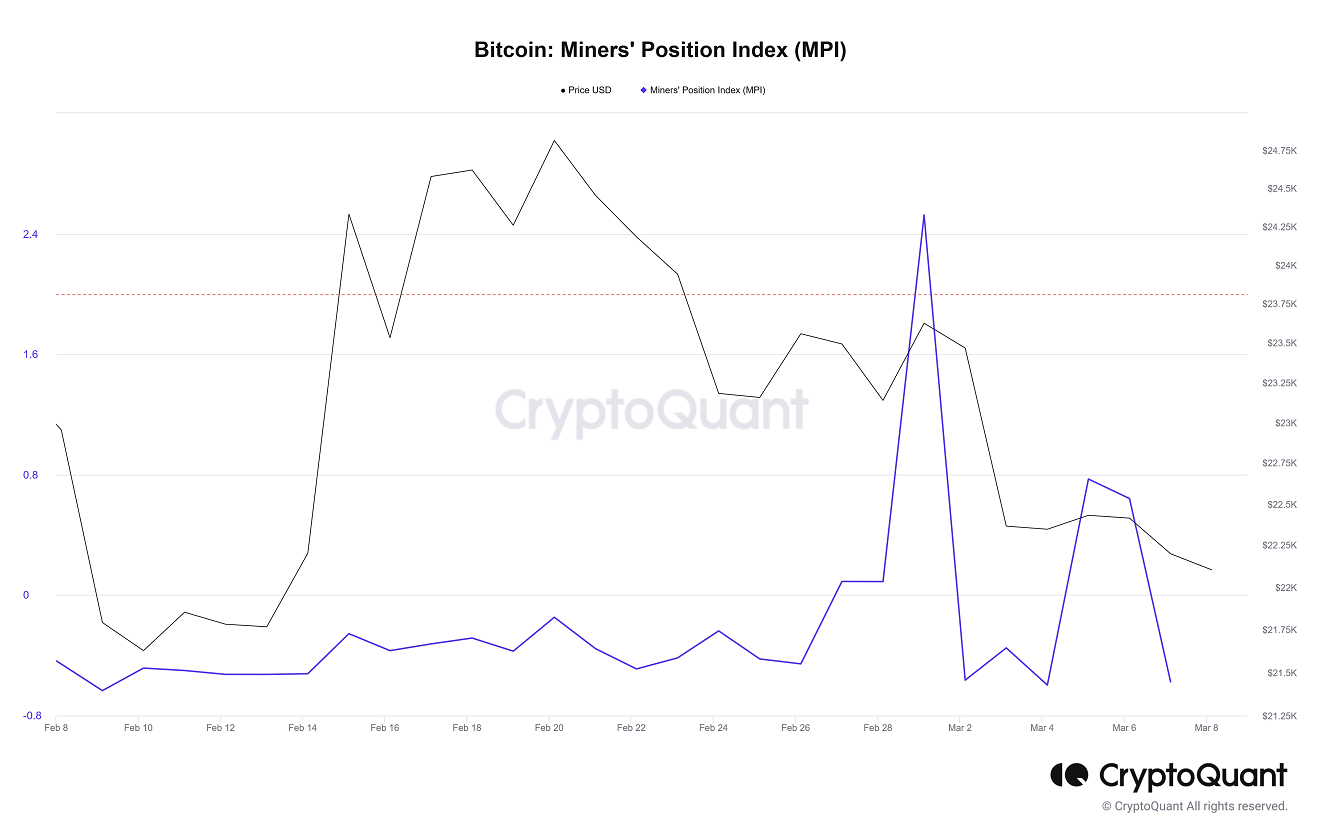 Often, the MPI fluctuates, rising and falling depending on coin outflow. The MPI increases when miners are aggressive, sending their coins to exchanges in bulk. 
As observed over time, this activity precedes a price drop whose effects reverberate across the crypto scene. In the past few days, however, the MPI has been decreasing. This can mean miners have been watching on the sides, holding on to their coins, and not caving into the FUD spewed by bears recently.
Bitcoin miners are critical for the security of the blockchain's infrastructure. They are rewarded for their participation in validating transactions on the network. Most miners liquidate their BTC rewards to cater to operational expenses.
Sentiment Improving
Current sentiment indicates that Bitcoin traders. Per the Bitcoin Fear and Greed index, the prevailing sentiment is "neutral," an improvement over the months, significantly when BTC dropped following the collapse of FTX, a crypto exchange, and several CeFi platforms in the second half of 2022. 
Bitcoin remains under pressure at spot rates, sliding below the consolidation of early this month. It is within a bear breakout formation, with the bearish engulfing bar of March 3 defining the short-term trend. Provided prices are trading below the $23,000 level, or February highs of around $25,000; sellers stand a high chance of pushing prices lower and continuing the trend set in motion by the March 3 bar.
Traders are wary, considering the technical candlestick arrangement and the high probability of a BTC cool-off after expansions in the first part of Q1 2023. 
However, the price drop in the early days of March isn't spooking miners, most of whom are considered whales, to sell their holdings. Decreasing MPI may suggest that miners, after headwinds in the better part of 2022, are liquid enough to cater for operational expenses, including maintenance, upgrades to new efficient rigs, and electricity costs associated with cooling. 
By "HODLing," Bitcoin miners appear confident about what lies ahead. Subsequently, this may help steady prices and overly improve crypto sentiment considering Bitcoin's market share and positive correlation with altcoins. 
Feature Image From Canva, Chart From Trading View