The bulls are given signs of conviction, as Bitcoin reclaims more ground. At the time of writing, BTC's trades at $36,267 with sideways movement in the 1-hour chart and moderate gains in the 7-day and 30-day chart with 14.2% and 4.2%.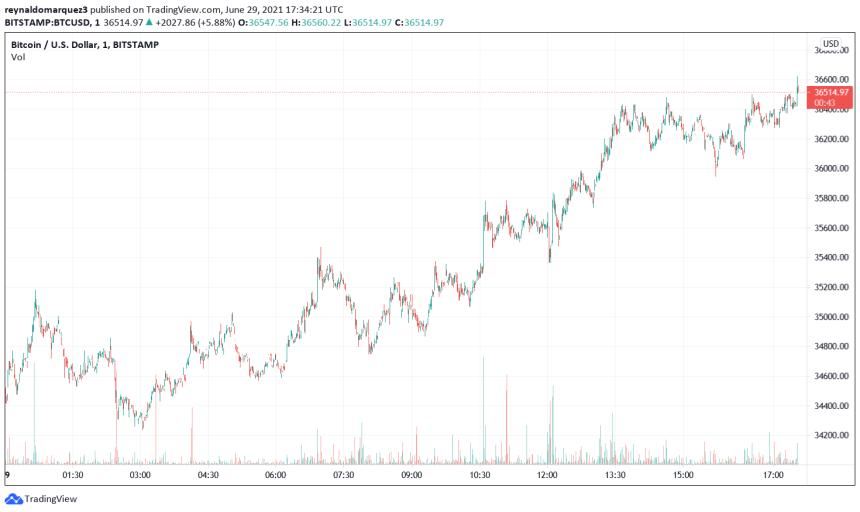 Some traders have begun to flip bullish as Bitcoin printed its first green candle in the weekly chart. The first cryptocurrency by market cap has faced a sell-off during the past 2 months and dropped from an all-time high at $64,000.
Although the outlook seems bullish in the short term, many are worried about an extension of the downtrend. Pseudonym trader "DonAlt" has been looking at Bitcoin monthly candle to find potential support areas.
The trader believes that there are indicators of a potential crash, bigger than the ones seen so far in 2021. Based on the BTC October monthly candle of 2020, $14,000 will act as support if the market "nukes".
IF the market should crash I've got. Decent sized bids around $14000 BTC and $800 ETH. Smaller ones around $20k BTC and $1400 ETH. Not sure I'll ever get filled but those are the only areas that are somewhat close to price that are decent enough to trade off of
$BTC monthly update:

$13.8k came and went in a flash.
HTF breakouts tend to be violent and this one sure was.

$14k is now the best support we've got.
Worst comes to worst I'll be there buying.

Can't really use the monthly for anything else given how far from support we are pic.twitter.com/TT6j6mTcGN

— DonAlt (@CryptoDonAlt) June 29, 2021
Bitcoin Price Short Term Targets And Support Areas
Economist and trader Michaël van de Poppe classified Bitcoin's latest price action as a strong move above resistance levels. Investors should keep an eye on $35,000, if BTC's price managed to stay above these levels, the next target is located around the $38,000 area.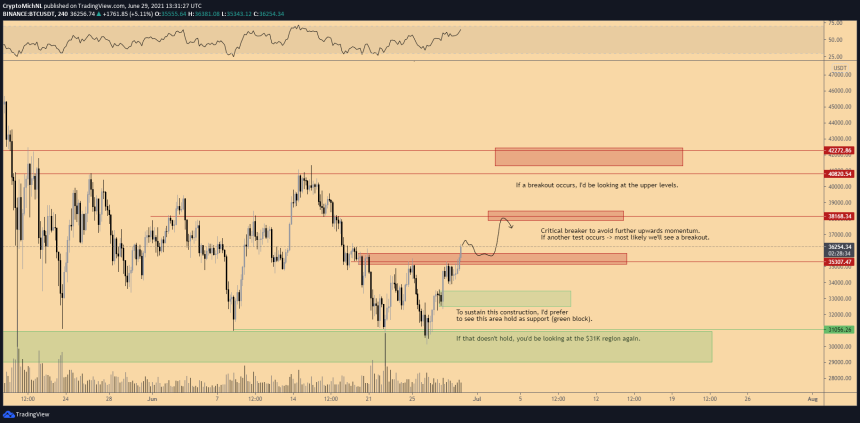 As van de Poppe said, BTC's next resistance could be a "critical breaker" for further upwards momentum. The chances of a breakout around those levels are high and, if the bulls have enough strength, the price could push into the $40,000 to $42,000 area. The trader added:
Funding remains to be negative, meaning that the majority is still eager to short the markets. The sentiment is still on the ground, understandable, through which FOMO can be fueled even more at a later stage. The higher we get -> the more FOMO we'll see with Bitcoin.
However, Bitcoin must hold that area to sustain a move deep into previous highs. During the past weeks, BTC has been rejected precisely around the $40,000 area. Thus, van de Poppe doesn't rule out a re-test of the lows at $30,000.
Now, I'd like to see it hold as support in order to continue moving to $38,000. Preferably even without a retest and just continuation towards those next levels. Overall -> good signals on the markets.
For altcoins such as Ethereum, Cardano, XRP, and others, the outlooks seem less optimistic in the short term. Bitcoin dominance has begun to pick up momentum and it could gain further traction as the market recovers.