Looking at the chart below, it's fair to say that Bitcoin has been on a rollercoaster over the past week. After trading as high as $7,470 last week, the cryptocurrency plunged, first to $6,900, then to $6,550 in a second wave. From the highs, BTC was down 13%.
But, over the past 36 hours, Bitcoin has mounted a quick recovery, trading at $6,940 as of the time of this article's writing — 6% higher than the recent lows and just shy of the key psychological resistance at $7,000.
Analysts are currently divided over what comes next for the cryptocurrency.
Bloomberg: Bitcoin is Losing Steam
According to Bloomberg, Bitcoin is currently leaning bearish, with the outlet citing the "GTI Vera Convergence Divergence Indicator, which measures up and down shifts."
It purportedly shows that the bull trend that started in mid-March is starting to narrow and lose strength, "potentially indicat[ing] Bitcoin may be losing steam and cold retest the $6,500 level."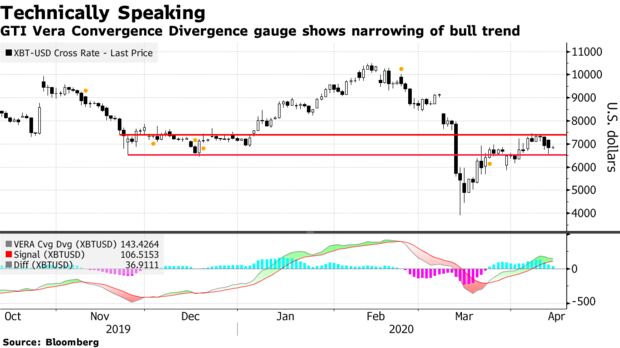 The call for more downside has been echoed by others.
Per previous reports from NewsBTC, trader Eric Thies believes that Bitcoin's "macro RSI [time] frames [are] looking bearish overall, suggesting an incoming drop after one last potential surge higher in the coming week."
Interesting RSI analysis on #BTC

Summary — Macro RSI frames looking bearish overall, suggesting an incoming drop after one last potential surge up in the coming week(ish).

Expecting it it to be in sync with potential stock market dump

(Photos best if read in TF order) pic.twitter.com/fbXoCg52Vy

— Parabolic Thies ♔ (@KingThies) April 11, 2020
Backing this sentiment, he pointed to the fact that despite Bitcoin rallying just over 100 percent from the $3,700 bottom to the local highs of $7,470, it failed to push the RSI, an indicator of trend strength, over historical resistance levels.
Popular crypto trader Mayne, too, has warned against predicting a rally to fresh yearly highs. He specifically noted that BTC is in the midst of registering the exact same bearish chart structure that marked the $10,500 top in February of this year: a rising wedge on falling volumes.
Should the wedge play out as it did in February, the cryptocurrency market could soon be subject to yet another drop lower, which would likely coincide with a return to the $5,000s at the very least.
Some Beg to Differ
Some beg to differ.
Popular analyst "Flood" shared on April 12th that as the cryptocurrency has held the six-hour supertrend, and it thus poised to bounce off this trend level and continue back to $7,400 in the coming four days. In reference to the chart below, he wrote:
"I hate planning out multileg trades but probably something like in the next few days. I'm bull biased here unless we dump below 6.5k. Then it would be pretty clear invalidation."
Not to mention, Tether's market capitalization continues to swell at a rapid clip, with $120 million worth of the stablecoin apparating into the cryptocurrency market yesterday. This, some say, will be a boon for Bitcoin moving forward. 
Photo by Ricardo Esquivel from Pexels