One key on-chain indicator is now signaling that Bitcoin is seeing intense underlying strength despite its recent turbulent price action.
BTC's NVT is a widely respected indicator that weighs the number of unique tokens being transacted on the Bitcoin network with the cryptocurrency's price action.
Because the network is still being heavily utilized by investors, it shows that the benchmark crypto is both fundamentally and technically strong, and it may suggest that it is poised for an upswing in the days and weeks ahead.
It is imperative, however, that BTC firmly gains a foothold within the five-figure price action in the near-term in order for it to see any sustained upwards momentum.
Bitcoin's NVT Indicator Points to Underlying Network Strength
Bitcoin's NVT indicator represents the cryptocurrency's network value to transactions ratio.
It is calculated by dividing Bitcoin's market capitalization by the daily on-chain volume and can offer investors with actionable insights into the cryptocurrency's technical and fundamental strength.
It does appear that this indicator is signaling that Bitcoin is strong in spite of the recent decline from highs of over $9,800 that were set just a couple of days ago.
Data and analytics platform Santiment recently spoke about BTC's NVT, explaining that the number of tokens being transacted on the network is slightly above its May average.
"In spite of BTC's mild -4.4% downswing today, its NVT looks healthy, and our model is showing a semi-bullish signal. The amount of unique tokens being transacted on Bitcoin network is slightly above average for in May, according to where price levels currently sit."
This underlying strength could bolster the cryptocurrency's technical outlook as it hovers just above its key near-term support at $9,000.
BTC Still Remains in Bear Territory Until It Breaks $10,000 
The cryptocurrency's NVT value needs to continue climbing higher in the near-term in order for it to exit bear territory, as one analyst is noting that it remains weak below $10,000.
Josh Rager – a respected trader and analyst on Twitter – spoke about this in a recent tweet, explaining that BTC's recent daily close beneath $9,160 puts it in a precarious position.
"BTC Daily closed under $9160 – and now if price is unable to close back about that price range, could look to move down to mid $8ks. Watching $8500s (VAL) for support bounce and $9500s (VAH) for rejection if price runs up. Until BTC closes above $10k, this is just a lower-high," he explained.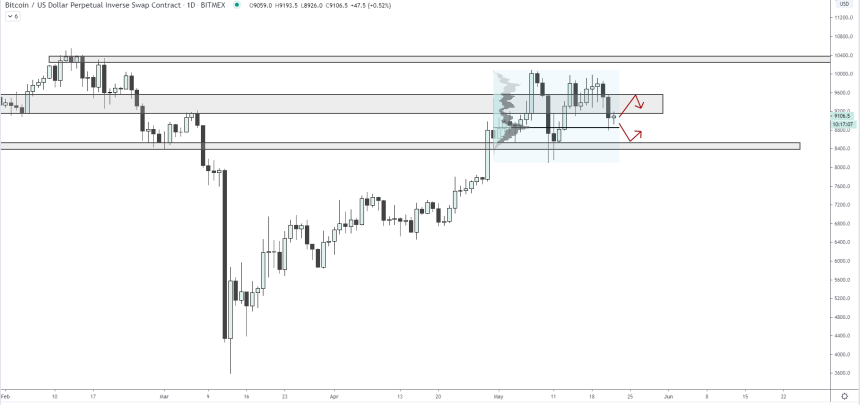 If the cryptocurrency is unable to garner any upwards momentum despite its underlying strength, it is possible that Bitcoin will soon see significantly further losses.
Featured image from Shutterstock.