In the last few hours, the Bitcoin price has experienced the most violent crash since the collapse of FTX. The BTC price crashed by $1,300 within an hour and briefly fell below $22,000. Remarkably, the price drop occurred with the start of the trading day in Hong Kong.
What Are The Reasons For The Bitcoin Price Crash?
Probably the most obvious reason for the Bitcoin price crash is the uncertainty that arose yesterday around Silvergate bank, which plays a major role in providing liquidity to the market by providing a gateway to the fiat money system.
The bank delayed its filing with the Securities and Exchange Commission (SEC) yesterday. The resulting FUD over financial difficulties caused the bank's stock price to plummet by more than 50%. Several crypto companies, including Coinbase, Paxos, Kraken, and Galaxy Digital have subsequently terminated their business relationships with the bank.
However, reducing the price slump, for this reason, would be too simplistic. As analyst Miles Deutscher writes via Twitter, the headwinds for the crypto market are currently piling up. In addition to Silvergate, these include Mt. Gox payouts, the Shanghai ETH unlock, a hot CPI (50bps now a real possibility), mass liquidations, and equity market weakness.
"Note, not all of these necessarily have a substantive basis. But nor do they need to cause de-risking. I think a combination of these factors led to a correction, with liquidations exacerbating price action," Deutscher explained.
In particular, the gigantic long liquidations likely played a significant role in causing the crash to occur as strongly as it did in such a short period of time. According to CoinGlass, long positions of over $205 million have been liquidated in the entire crypto market so far. $185 million in mostly long positions were liquidated within just 45 minutes. Bitcoin recorded the highest liquidations worth $73 million.
Binance Spot Whale Responsible?
Also, analyst Skew observed conspicuity in Bitcoin spot CVD buckets and delta orders and referred to the chart below. According to the analyst, a large Binance spot sale led to the cascade of long liquidations:
As you can see here Binance Spot nuked 1 min before every other spot exchange. Significant size behind this sell off. (Someone probably exited crypto today). Key price $22K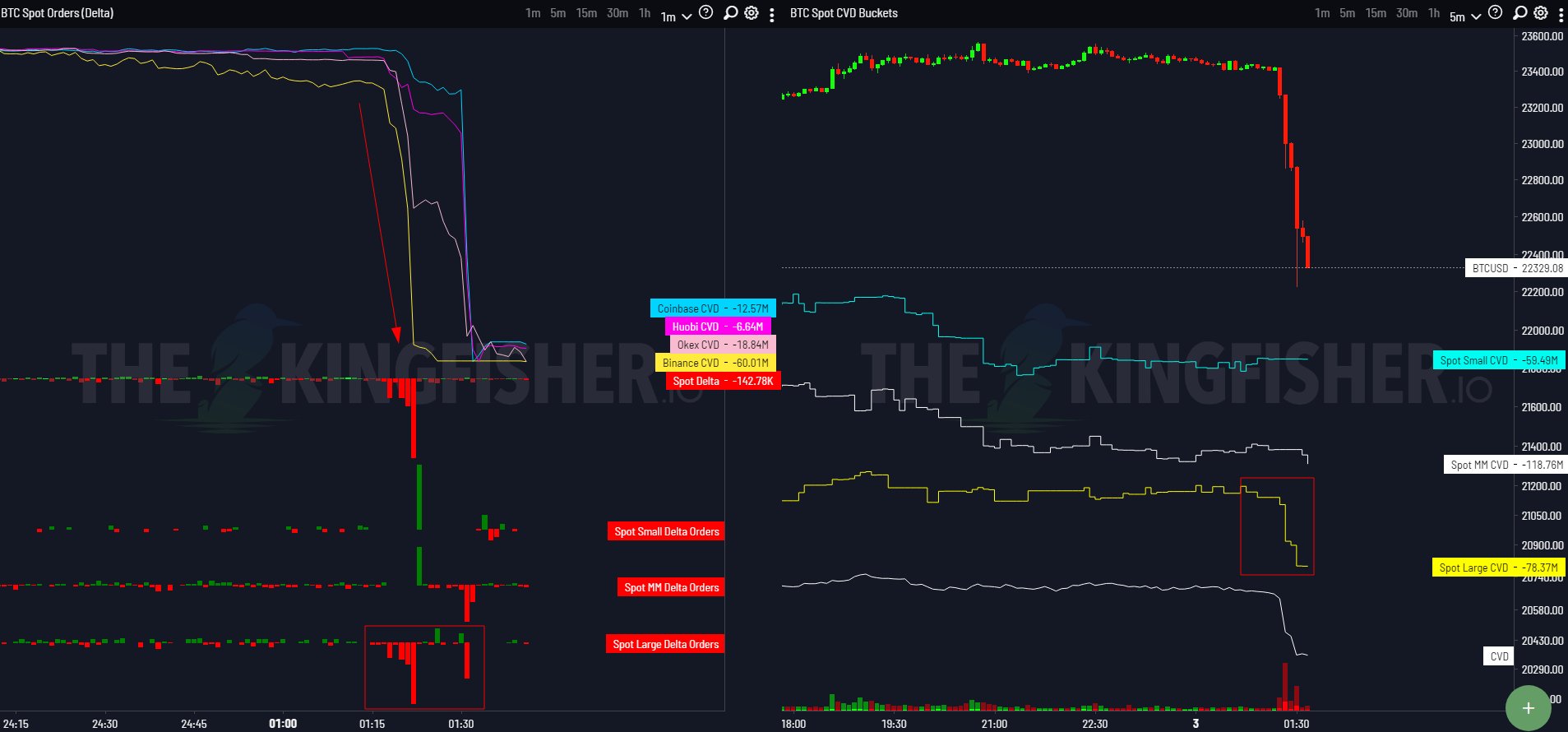 On-chain analysis company Santiment writes that it's been more than 4 months since Bitcoin fell by 5% or more in a single hour. But an hour ago (1 am – 2 am UTC), that streak was broken. "A quick recovery will be dependent on how much worry the crowd shows, allowing whales to scoop weak-handed coins, "according to Santiment.
At press time, Bitcoin was trading at $22,374, down 4.3% in the last 24 hours.
Featured image from iStock, Chart from TradingView.com