After a week of insane volatility in the crypto markets, with Bitcoin price rising and falling in the thousands, and swinging back and forth over the better course of the week, the first ever crypto asset has been stuck in a tight trading range over the last 24 hours, and a break to either side should set the direction of the trend for the coming days ahead.
With Bitcoin price stuck in a tight range between $10,800 and $10,300, there isn't much more room for volatility, and a decision should be made soon enough. Once a breakout does occur, Bitcoin will logically trend to the next level of resistance or support, providing a potential upside and downside target.
Bitcoin Price Trading Range Tightening, Breakout Imminent
Bearish sell pressure has increased across the crypto market, especially for Bitcoin. Between fearing the potential impact looming regulation may have on the industry and asset class, combined with natural profit-taking following a parabolic rally that may be in jeopardy, and there's a recipe for disaster.
Related Reading | The United States' Distrust in Facebook Libra Is Spilling Into Crypto 
But Bitcoin's bullish momentum cannot be stopped, it seems. The price of the crypto asset rose this week from lows around $9200, back up to a high around $10,800 before falling back into the ever-tightening trading range.
$BTC range to watch

As time goes new ranges and price levels will form

Marked out on the chart with $10,850 still the area to close above

A close below $10,189 wouldn't be good and I'd have bear bias with a move below $9800s

Currently at range support pic.twitter.com/1k6fu7xDNb

— Josh Rager ? (@Josh_Rager) July 19, 2019
According to crypto analyst Josh Rager, a break above the current range could lead to a break above the monthly open and daily resistance zone. above $10,800. A break above this range could mean Bitcoin's bull run is back on. To the downside, Bitcoin price needs to break through $10,300 with strength to retest the recent low at $9,200. Should that support break, Bitcoin's parabolic run may be at risk of failure, and a larger drop may ensue.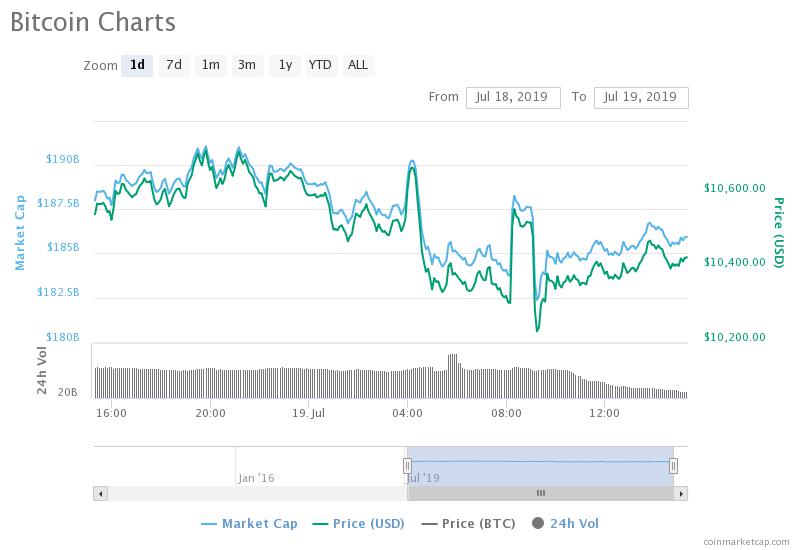 Is the BitMEX Scenario Causing a Lack of Volatility in Bitcoin Markets?
Some of the volatility disappearing from the market is being attributed to empty  order books on BitMEX, the margin-trading exchange known for its long and short positions and up to 100x leverage. The outspoken BitMEX CEO Arthur Hayes got himself in hot water after repeatedly antagonizing Dr. Doom Nouriel Roubini, who asserts that Hayes and his crypto exchange are allowing extensive money laundering to occur on its platform, right under its noses, and is involved in deceiving its clients out of their money and Bitcoin.
Related Reading | Dr. Doom Roubini Fuels Criminal Crypto Concerns With Scathing Bitcoin Op-Ed 
Bitmex will probably get shut down meaning no-one can short BitCoin anymore. Expect to see a fast surge in pricing leaving many people behind as everyone closes their shorts and buys on other exchanges. EoY target has been increased to $140,000. Extremely Bullish.

— Biht Coign (@abztrdr) July 19, 2019
But while BitMEX is indeed in turmoil, and traders are seeking to avoid the platform currently and find greener pastures, other margin trading platforms still exist, and offer the same tools for trading volatility that BitMEX provides.
The platform has become notorious across the crypto industry for "rekt" traders, who lose their life savings in the volatile Bitcoin price movements. With BitMEX in trouble, another platform will emerge to take its place, and continue to to offer traders a way to take advantage of volatility, which in turn keeps the market volatile and lucrative.
Don't fret, the volatility is here to stay in crypto and may only be picking up. It's just the calm before the storm.