So here we are at the final day of the week, and in all honesty, it's been a pretty dull one. There's not been too much tradable action, and that which we have seen has come to the downside, giving us just a few short entries to go at. We're going to close out the week profitably, so it's not too much of a problem, but we want a swift return to the upside next week, and we're hoping that we will see the start of said swift return materialize throughout the session today, and beyond, heading into the weekend.
With this noted, then, let's not waste any time – let's get straight to the key levels and see what's going on.
As ever, take a quick look at the chart below to get an idea where things stand before we get moving. It's a five-minute candlestick chart and it's got our key range overlaid in green.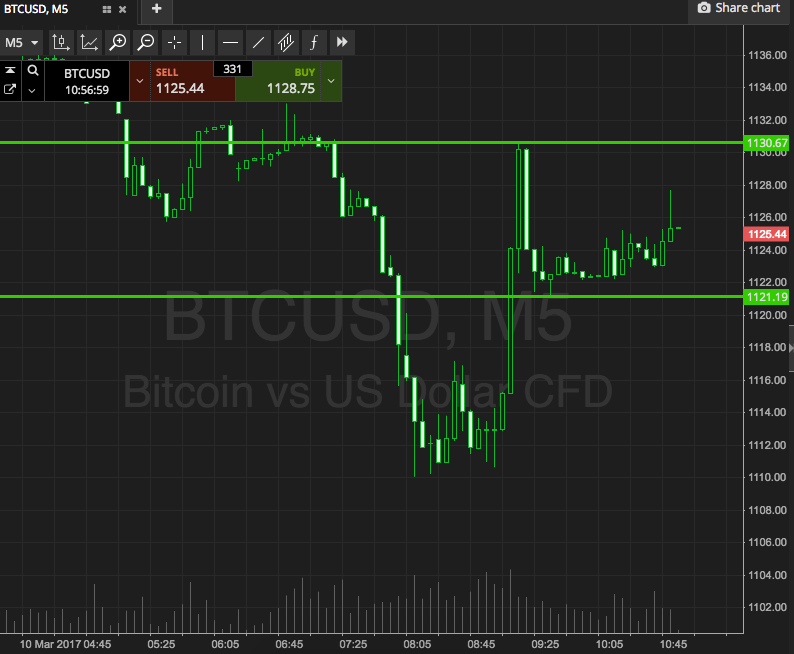 As the chart shows, the range we are going for this evening is defined by support to the downside at 1121, and resistance to the upside at 1130. It's a pretty tight range today, so we're not going to try and force any entries by going at price with an intrarange focus. We probably could, but like we say it would be a bi forced, so it's not worth the risk.
Looking at our breakout strategy, then, we are going to try and get in long on a close above resistance, targeting an immediate upside target of 1140. A stop loss on the trade in and around the 1127 mark will ensure that we are taken out of the position in the event of a bias reversal.
Looking short, if we see price close below resistance, we are going to look to get in with a downside target of 1110. Stop on this one at 1125.
Charts courtesy of SimpleFX