We are pretty much finished now for another week of trading in the bitcoin price and what a week it has been. The emergence of bitcoin into the mainstream conscience has brought with it a huge amount of activity both favorable and not and this activity has – in turn – translated to some real volatility in the markets.
Exactly where price will be as the session closes out today remains to be seen. Realistically, we could be looking at a few thousand dollars either side of current price – be that to the upside or the downside – by the daily close, that's how volatile things have been lately.
Whatever happens, we'll be ready with our intraday strategy to ensure that we don't miss an entry point if and when a signal comes.
So, let's get some levels in place that we can use for the session going forward. As ever, take a good look at the chart below before we get moving so as to familiarize yourself with price and to get an idea how things got to where they currently sit. The chart is a one-minute candlestick chart and it's got our key range overlaid in green.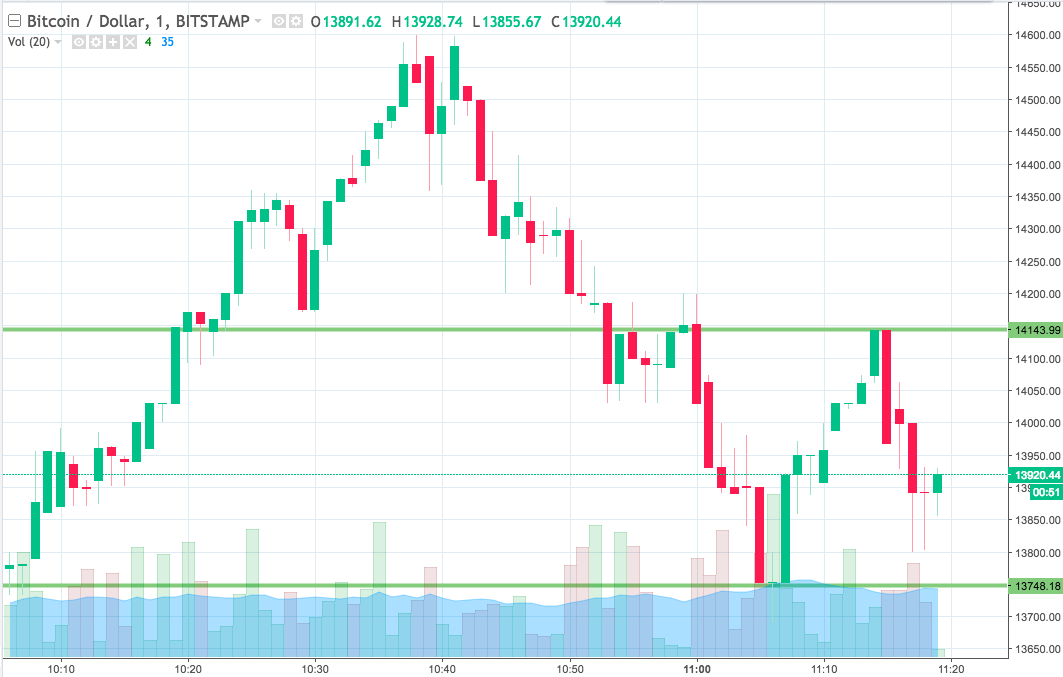 As the chart shows, then, the range we are looking at for the session comes in as defined by support to the downside at 13748 and resistance to the upside at 14143.
We are going at price with a breakout strategy today, so we'll look at jumping into a long trade towards an immediate upside target of 14220. Conversely, if we get a close below support, we'll try and get in short towards an immediate downside target of 13650. A stop on both positions just the other side of the entry will ensure we are taken out for just a small loss if things turn against us.
Let's see how things play out.
Charts courtesy of Trading View