Bitcoin has done extremely well over the past few weeks. Since the start of July, the leading cryptocurrency has gained approximately 30% against the dollar, outperforming a majority of other macro assets.
In rallying 30%, BTC has decisively flipped $10,500 into a level of support. To some commentators, this was the one level that Bitcoin needed to turn into support to confirm the start of a bull market.
Despite Bitcoin doing so, there are some still hesitant to admit that the asset is in a full-fledged bull market. Here's why they think so.
Is Bitcoin in a Bull Market?
Multiple traders recently took to Twitter to argue that Bitcoin is not yet in a bull market. One market commentator said on August 15th:
"I must be the only person on Twitter who is massively exposed to upside in stocks and #bitcoin yet doesn't think this is an actual bull market. Feels more like a hyped top than a bottom and maybe this is 2020 and everything I thought I knew I don't. I just don't like when people tell me 24/7 that fundamentals have never been better. When in fact they were the same today as at both the 3000 bottoms."
This was echoed by other traders in his replies.
The cryptocurrency analyst that predicted at $3,700 that Bitcoin would see a V-shaped reversal said that there's "ground to cover" before he thinks markets are decisively bullish:
"Been saying this for some months too, there is time and ground to cover in to both directions before I'd classify it as a bull market"
And yet another trader put this sentiment into the form of a chart. Arguing that he's "seen enough Bitcoin price action to convince himself the top is in," the chart below was shared on August 14th, and it predicts Bitcoin would revisit the $8,000s.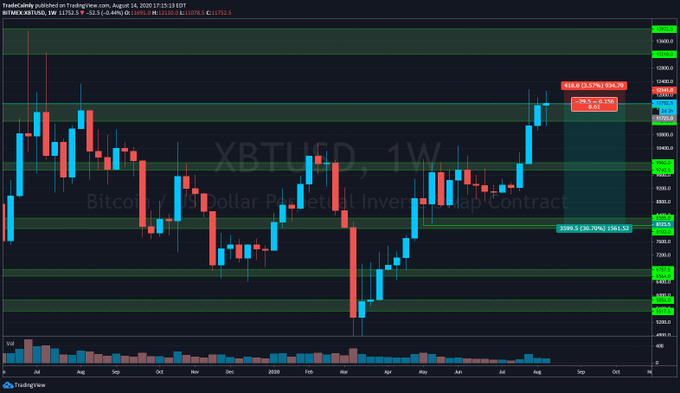 Chart of BTC's price action over the past year by Calmly (@im_Calmly on Twitter). Chart from from TradingView.com
Others Beg to Differ
There are prominent market commentators that do not subscribe to the sentiment that Bitcoin isn't in a bull market.
Raoul Pal, a former head of Goldman Sachs' hedge fund sales and CEO of Real Vision, recently said:
"These are all INCREDIBLY BULLISH long-term chart patterns. The probabilities in the charts suggest that Bitcoin is likely set to be the best performing major asset in the world over the next 24 months and by a big margin."
Pal's contemporary, Dan Tapiero, echoed this, writing in an analysis that Bitcoin could literally go up 5-10x in the coming cycle.
Photo by OWEN Wen on Unsplash
Price tags: xbtusd, btcusd, btcusdt
Charts from TraidngView.com
Is Bitcoin Really In a Bull Market? Here's Why Analysts Think BTC Isn't