The bitcoin price was higher on Wednesday morning as investors prepared themselves for the outcome of the Federal Reserve's meeting later in the afternoon.
At around 07:00 UTC, the BTC/USD instrument established a local high of $9,814.61, up close to 3 percent in the previous 24 hours. Futures on CME were also up by 2.31 percent. Bitcoin's upside also influenced other cryptocurrencies to follow suit, with Ethereum, XRP, Litecoin, and Binance Coin surging in the range of 2-3 percent. Bitcoin Cash, meanwhile, registered profits of more than 5.5 percent, the highest in the top ten crypto index.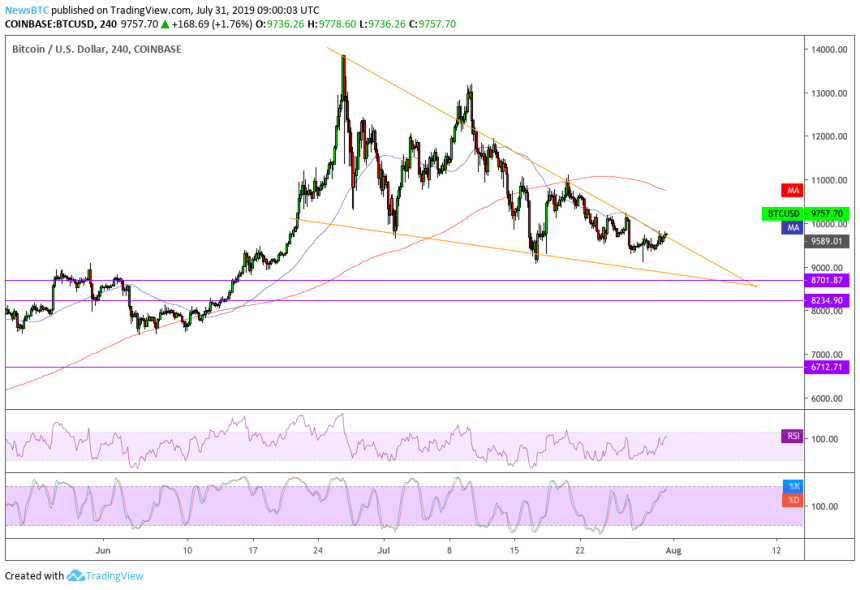 Rate Cut
The US central bank expects to cut interest rates for the first time in a decade. It will likely announce its decision at 14:00 ET with chairman Jerome Powell cataloged to hold a press conference at 14:30 ET. Market expectations indicate a quarter-point rate cut.
The proposed move from the Fed has sent the US stock index futures higher in tandem with bitcoin. Nevertheless, issues arising from the US-China trade war is capping the profits, at least of the US stocks. President Donald Trump said in a string of tweets that China is not keeping its promise to purchase US agricultural products. On the other hand, China denied the accusation, saying it is making those purchases.
China is doing very badly, worst year in 27 – was supposed to start buying our agricultural product now – no signs that they are doing so. That is the problem with China, they just don't come through. Our Economy has become MUCH larger than the Chinese Economy is last 3 years….

— Donald J. Trump (@realDonaldTrump) July 30, 2019
US and China agreed to restart their discussions on the trade war late June. The two nations have slapped billions of dollars worth of tariffs of each others' imports.
Bitcoin, which so far has profited from an inconclusive trade deal between the two superpowers, is battling its own troubles – in terms of regulations. While an interministerial committee in India has proposed a complete ban on cryptocurrencies, matters in the US are also bleak ever since the Treasury Secretary Steven Mnuchin called bitcoin a national security threat during a White House press briefing.
"This is indeed a national security issue," he told reporters at a press conference on July 15. "Cryptocurrencies such as bitcoin have been exploited to support billions of dollars of illicit activity like cybercrime, tax evasion, extortion, ransomware, illicit drugs, and human trafficking."
"I can assure you I will personally not be loaded up on bitcoin" in 10 years, says Treasury Secretary Mnuchin #bitcoin pic.twitter.com/0J5acWQwRO

— Squawk Box (@SquawkCNBC) July 24, 2019
Investors' Call
Fed's dovish cycles have typically resulted in higher annualized returns for the benchmark S&P 500 Index. Strategas noted that the market returned a 20 percent average profits between the first Fed rate cut and the next hike. Investment sentiment didn't fight the Fed but supported it thanks to cheaper lending at banking levels.
Bitcoin, which is gaining momentum in the mainstream owing to spot and derivative products introduced by Bakkt, Fidelity Investments, TD Ameritrade, and whatnot, expects to become one of the investment choices.
Anthony Pompliano, the co-founder & partner at Morgan Creek Digital Assets, said last week that US economy was declining on a quarter-to-quarter basis. He added that the Fed's decision to cut rates or to increase the money supply means investors would hedge into non-correlated assets.
"They don't realize that they're giving Bitcoin the rocket fuel it was built to consume," Pompliano stated. "Long Bitcoin, Short the Bankers!"