Bitcoin just closed the 3rd quarter of the year with its best-ever performance, marking the third of only three quarterly finishes over $10,000.
All good things come in threes, so here are three reasons why this the third time is the charm, and the cryptocurrency will hold strong above the clearly critical level.
Bitcoin Closes 3rd Quarter Above Resistance, Can It Hold Above $10K Support?
The first-ever cryptocurrency had a tremendous second and third quarter of 2020, after plunging to $3,800 as Q1 came to a close.
At the start of the year, Bitcoin once again flirted with $10,000 and held briefly before pandemic fears spilled over into markets.
Related Reading | How Bitcoin's 2020 High Compares To Past Bull Market "Tops"
The recovery spread across the spring and summer months, but with fall here, that's exactly what investors are hoping markets don't do.
Bitcoin price closed Q3 above the key level of $10,000 – making it only one of three quarterly candles to do so. Neither time before has it been able to hold, but this time around, there are plenty of reasons to hope for the best.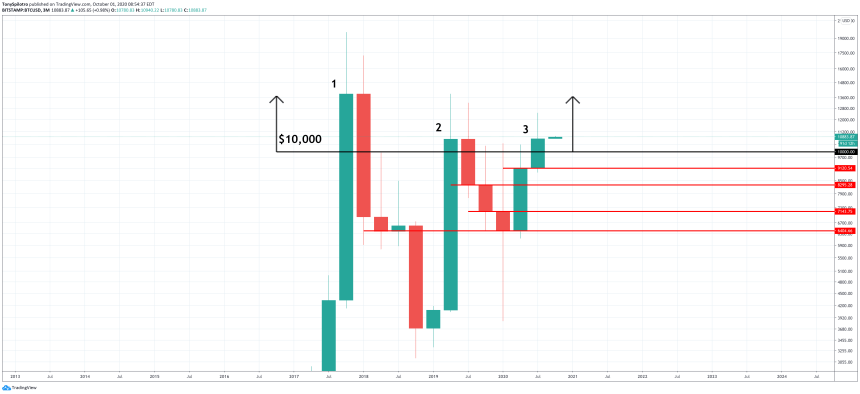 BTCUSD 3M Quarterly Close - One of Three Above $10,000 | Source: TradingView
Third Time's A Charm: Three Reasons Why $10,000 Holds This Time Around
Continued retests of $10,000 and even a fall below it on daily, weekly, or even monthly timeframes cannot be ruled out, but there are several reasons why when the bell rings on Q4, Bitcoin price will be above $10,000.
For one, Bitcoin's bear market is coming to a conclusion. A pandemic and widespread panic that tanked the stock market could not take the leading cryptocurrency by market cap to a lower low. The higher low could have in fact given bulls the confidence to push this high, and aren't going to let the momentum slip.
Related Reading | Bitcoin Fundamental Expert: "Clarity" Comes After "Rocky" Election Ends
Even if some consolidation remains, unless a lower low is set, eventually Bitcoin price will make a new high. And the first step to that was closing the quarter back above $10,000 for the third time. A major support and resistance flip along with a breakout from the "meme" downtrend line from all-time high further add to the positive technical outlook.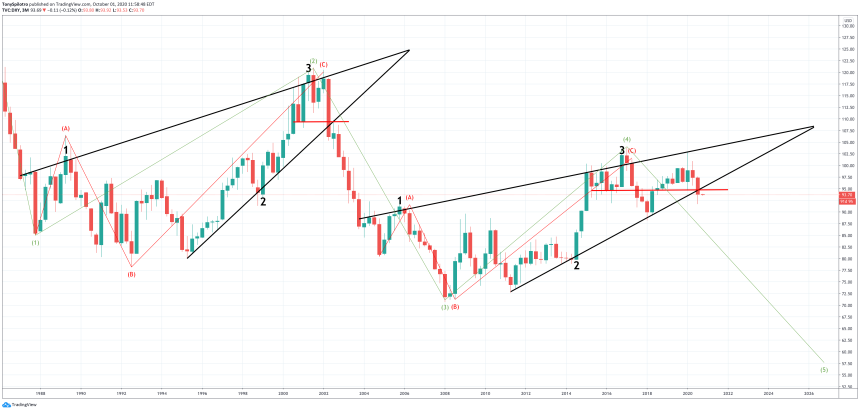 DXY Dollar Currency Index Breaking Down On High Timeframes | Source: TradingView
The next major reason for the cryptocurrency rising is due to the dollar's decline. The DXY Dollar Currency Index demonstrates the dollar's weakness since Black Thursday, and things could get worse as inflation begins to spiral out of control. Due to Bitcoin's 21 million BTC supply, the asset is designed to appreciate as the dollar deflates. The dollar's weakness alone could keep Bitcoin above $10,000 for good.
Last, but not least, is if there is any truth behind supply-based theories like the stock-to-flow model, the fact the halving is now in the past should be enough to keep the crypto asset above the crucial zone for now on. If not, proponents of lengthening cycle theories will be proven right, and the crypto asset could be at risk of a selloff by those who aren't prepared to hold longer than the four years they expected.
Featured image from Deposit Photos, Chart from TradingView