Just 24 hours ago, analysts expected for Bitcoin to gun for fresh highs past $10,100. The cryptocurrency was holding $9,800-10,000, seemingly poised to press even higher than it already had.
Bears, however, had the upper hand, sending Bitcoin crashing by $2,000 within a day's time. It was a move that liquidated $250 million worth of BitMEX positions, as reported by NewsBTC previously.
Since the move transpired, BTC has recovered slightly, now trading at $8,500, a few hundred dollars higher than the $8,100 lows. A V-shaped recovery hasn't formed, that's for sure.
Though a top analyst says that should Bitcoin hold a key level in the coming day, he would be inclined to suggest that the market structure remains bullish.
Bitcoin's Short-Term Futures Depends on This Key Level
It may seem like all hope is lost for bulls, yet one top trader recently shared that this isn't the case.
Bitcoin holding $8,530 in the next 24 hours, a trader argued, will confirm a sweep of liquidity at a "pivotal level." Should Sunday's candle close above this level, it would confirm that a bullish market structure remains somewhat intact.
"Lots riding on the next 24 hours. Want to see 12H, followed by the daily, close above $8530 to confirm a sweep into pivotal level. Close below and we have our first significant HTF break in MS to the downside since the bottom," the trader wrote in reference to the chart below.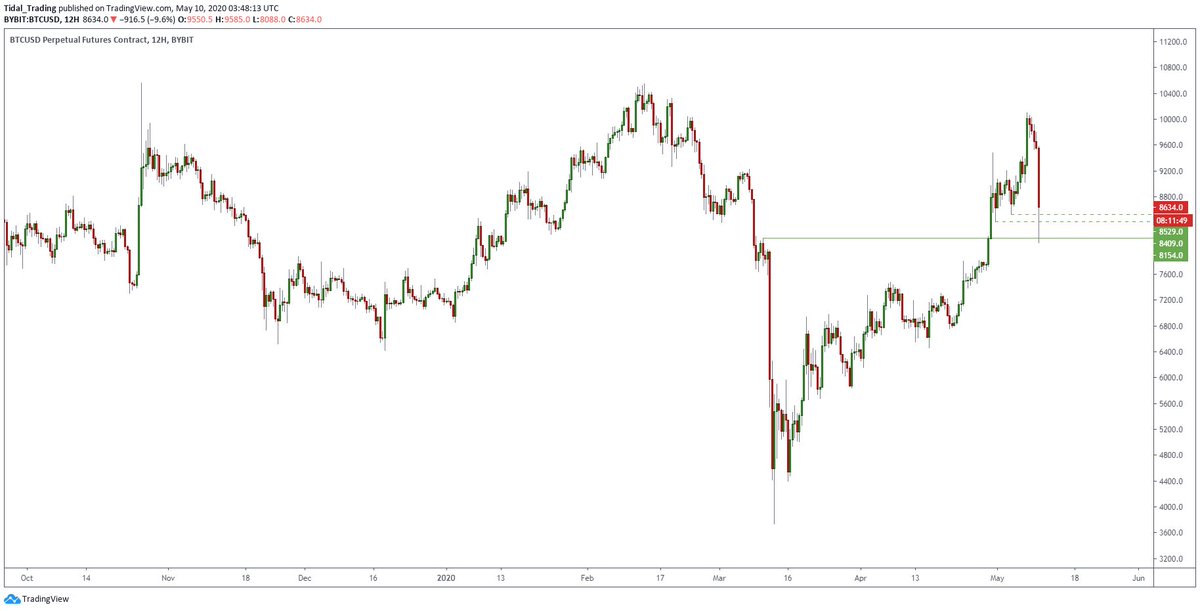 Even if Bitcoin closes below $8,530, analysts say that there are other support levels below BTC that will give credence to the case for upside.
During the move to $8,100, for instance, Bitcoin managed to hold both the 100-day and 200-day moving averages. This is important as these moving averages are inflection points for markets — crypto is no exception.
The importance of the low-$8,000s was echoed by another trader, one that called Bitcoin would fall to that region just a day ago. He wrote:
"Damn only took 10 hours for BTC to get here. Not as I'd imagined and not as fun, that's for sure. In the next few hours, you'll see 1-6k charts again. But eh. Think this is bottom or slightly lower."
Crypto Could Still Flatline From Here
Even if Bitcoin holds the key price point indicated in the chart above, a rapid surge back to the highs and beyond is anything but confirmed.
Mohit Sorout — a partner at Bitazu Capital, a crypto hedge fund — remarked that from how he sees it, with implied volatility "inflated," he expects for BTC to be entering a tight range for the coming weeks.
$BTC looks to be setting up for weeks of ranging from here on.

IVs inflated. Going to short volatility

— Mohit Sorout ? (@singhsoro) May 10, 2020
This can be corroborated by the fact that BitMEX's open interest plunged in the wake of this move, adding to the potential lack of directionality of this market.
Photo by Sarah Lee on Unsplash