Bitcoin price recovered to within $45k after sliding below $44k as analysts indicated probable swings for the flagship cryptocurrency. The release of US inflation rates seems to have had no effect on the king cryptocurrency.
Bitcoin's price rose past a crucial barrier overnight Wednesday, reaching $45,300, before falling as the broader market dipped in early trades after US markets opened.
Bitcoin Unaffected By Inflation Rates
Over the last 24 hours, BTC/USD has moved in a range of $43,402.81 – $45,398.91, exhibiting high volatility. Trading volume has climbed by 16.21% to $28.8 billion, while the overall market cap is around $860.47 billion dollars, leading in a 42% market dominance.
As investors analyzed new US inflation data, which came in at 7.5% year-over-year vs an expected 7.3%, the earlier decline took shape. Risky assets like crypto and equities have reacted negatively, with all eyes on the Federal Reserve's upcoming rate hike in March.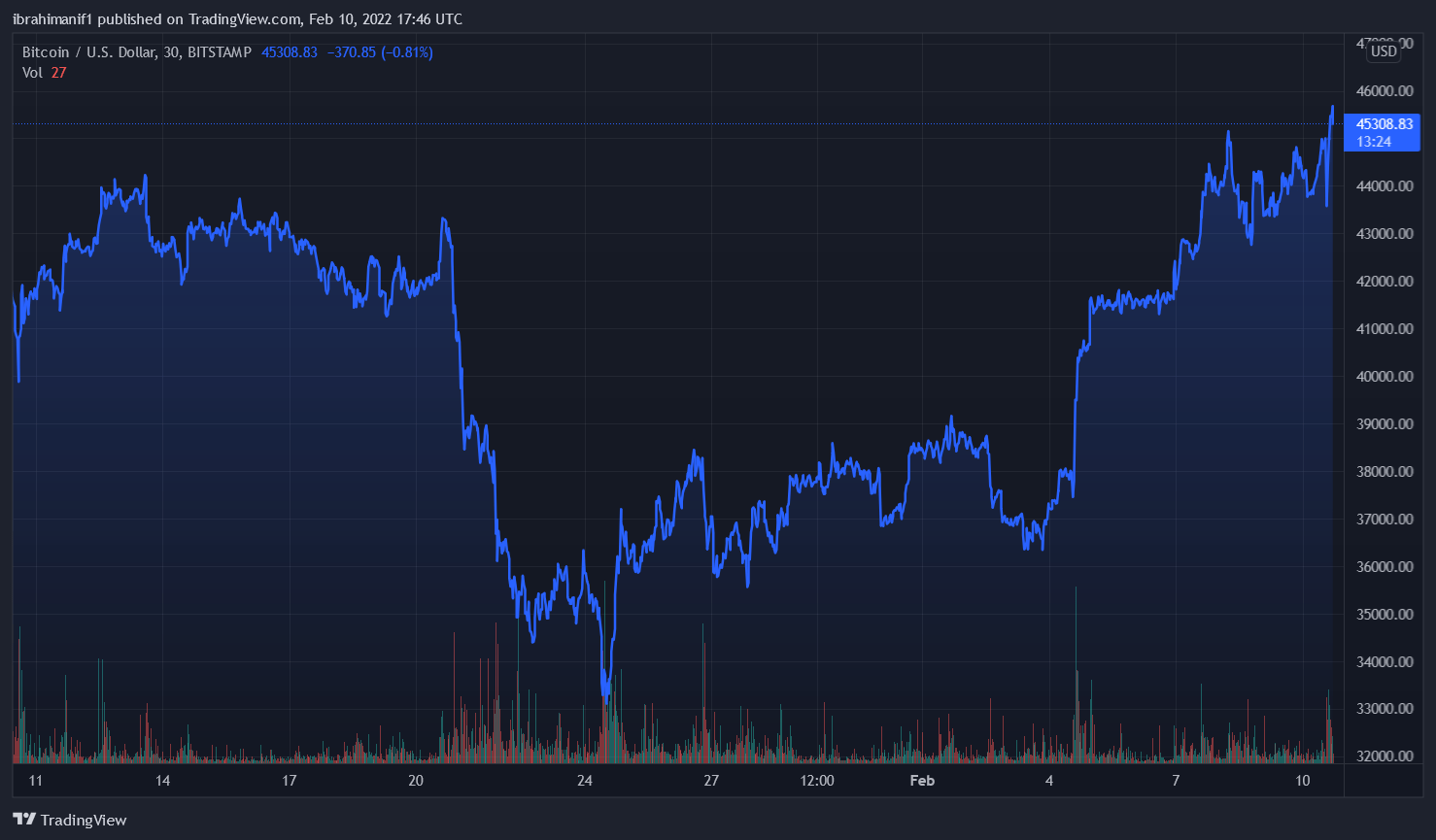 BTC/USD steadies above $45k. Source: TradingView
Despite being 0.2% higher than predicted, rising inflation did not have the same favorable impact on risk assets like Bitcoin as it had in recent months.
The S&P 500 fell 0.23%, the Nasdaq composite fell 0.18%, and the Dow Jones Industrial Average remained barely above the flat line.
According to analysts, the Federal Reserve may now have additional motivation to begin raising interest rates sooner due to the speed of year-over-year price increases.
Crypto trader and analyst Michael van de Poppe observed:
"The Consumer Price Index (CPI) results for the U.S.A. are coming in at 7.5% year-over-year, the expectations were 7.3% year-over-year.$DXY is shooting up and risk-on assets are dropping down like Bitcoin & equities.Likelihood that the FED will start rate hikes in March."
However, for economist Lyn Alden, it was cash savers who had been losing the most from inflation. she noted alongside a chart:
U.S. CPI vs. effective federal funds rate chart. Source: Lyn Alden/ Twitter
"Official inflation currently has its biggest gap over short-term interest rates since 1951. People holding cash in a bank or T-bills over the past year lost over 7% of their purchasing power."
Related article | Investors Take Refuge In Bitcoin As Inflation Rises
BTC Will Hit $50k In Short term
The Fed will be put to the test here, as they had hoped for a steady tightening cycle rather than a hasty tightening that would appear to be a policy blunder. The political pressure on the Biden administration and Democrats will increase as core inflation rises over the Fed's objective and real average hourly earnings fall. Although November is still a long way off, this inflation report shows that price hikes are everywhere, and there is rising opposition to new fiscal stimulus measures that would exacerbate pricing pressures.
As investors predict that pricing pressures may be peaking just before the Fed's March policy meeting, US stocks have regained most of their inflation-related losses.
Given the rise in global bond yields, Bitcoin prices are holding up well. Bitcoin's optimal future environment is risk appetite, which may be tough to achieve until after the Fed's first couple of rate hikes. Institutional investors in Bitcoin are focusing on Treasuries because the momentum trade appears to be quite simple. For the short term, Bitcoin appears to be settling in between $40,000 and $50,000.
Cameron Winklevoss, co-founder of Gemini, feels Bitcoin is still the best inflation hedge, corroborating thoughts from the crypto community and even mainstream investors.
Inflation hit 7.5% in January. Highest in four decades. It continues to accelerate.

The best way to shield yourself from this pernicious, silent tax on your life's work — your blood, sweat, and tears — is bitcoin.

— Cameron Winklevoss (@cameron) February 10, 2022
Related article | Bitcoin Aims For $48K? BTC Reacts Upward To U.S. Inflation Report
Featured image from iStockPhoto, Charts from TradingView.com