It's been a slow past few weeks for the Bitcoin market. After hitting $10,500 at the start of June, the cryptocurrency has entered a short-term downtrend.
While some say that this price action is a precursor to a steep correction, a key trend indicator is about to print a bullish sign. This is important as this indicator has been rather accurate in predicting rallies and corrections over recent months.
Bitcoin's Stochastic RSI Is About to Print a Bullish Signal
As pointed out by a cryptocurrency trader, a crucial indicator on Bitcoin's three-day chart is about to register a bullish crossover.
The indicator in question is the Stochastic RSI, sometimes just called the Stochastic. Investopedia describes the technical indicator as follows: "A stochastic oscillator is a popular technical indicator for generating overbought and oversold signals."
According to the Stochastic, Bitcoin recently reached oversold levels but is starting to reverse higher. The last time this trend was seen was in March, just days after BTC hit $3,700 then began a 150% rally that peaked at $10,500.
Bitcoin three-day Stoch RSI analysis by trader "Fractalwatch" (@Fractalwatch on Twitter). Chart from TradingView.com
The Stochastic RSI on the monthly time frame is also bullish, according to another analyst.
As reported by NewsBTC previously, trader Eric "Parabolic" Thies identified in June that Stochastic RSI on Bitcoin's monthly time frame is also bullish.
He shared the chart below conveying that the indicator looks like it did before BTC rallied from the hundreds to $20,000 from 2015-2017.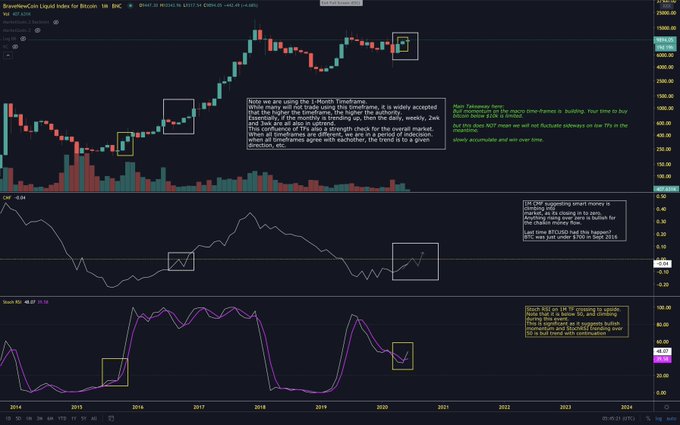 Macro BTC price chart shared by crypto trader Eric "Parabolic" Thies (@Kingthies on Twitter). Chart from TradingView.com
Referencing the chart above, Thies wrote that "your time to buy Bitcoin below $10,000 is limited."
Fundamental Factors Corroborate Technical Trend
The imminent bullish crossover in the Stoch RSI comes as a Bloomberg analyst has identified factors signaling BTC will rally higher.
In a report released July 2nd, Bloomberg's Mike McGlone wrote:
"The number of active Bitcoin addresses used, a key signal of the 2018 price decline and 2019 recovery, suggests a value closer to $12,000, based on historical patterns. Reflecting greater adoption, the 30-day average of unique addresses from Coinmetrics has breached last year's peak."
He added that considering decreasing volatility, money printing by central banks, and adoption of Bitcoin by institutions, the case for BTC to appreciate is strong.
McGlone's analysis and the aforementioned Stoch RSI signal show that both fundamentals and technical suggest Bitcoin has room to appreciate. But where Bitcoin will rally to and when is currently anyone's guess.
Featured Image from Shutterstock
Price tags: xbtusd, btcusd, btcusdt
Charts from TradingView.com
Bitcoin Surged 150% After This Signal Last Appeared. It's Almost Back Again