Bitcoin price has remained around the $19K price for the previous few weeks, leaving crypto investors in a state of skepticism. The crypto market's downturn can be traced to the increase in interest rates and several other factors. However, experts predict that the token will still witness a big bull run.
Briefing On Bitcoin Price Movements
BTC has been devoid of any significant volatility. This price movement continued to rise when the token soared sharply. After that, the sudden bullish trend brought it to its mid-September high.
Since Bitcoin is the forerunner of all cryptocurrencies, several digital tokens like ADA, SOL, ETH, etc., also witnessed recent gains. The present look of the crypto market is pretty encouraging compared to its eyes in the last week. The sudden change in events pushed the overall market cap to $1 trillion.
In the past week, the world's largest cryptocurrency had maintained short movements that appeared stagnant. However, at the time, it kept hovering around the $19K price levels.
However, there was a notable move to the $18,600 price mark briefly. Unfortunately, this didn't last, as the token returned to its raging price of $19K.
BTC Move To $21K Price Mark
At the dawn of Wednesday, there was a shift in the price movement of BTC. This was evident from its move to hit the $20K price mark.
Dating from 20 days back up to now, the crypto market has lost approximately $100 million in liquidation. This was due to the drop in the price of the leading digital currency.
But 12 hours ago, Bitcoin showed sharp movement to the $21K price level. However, it initiated this movement with a short retracement.
What Does This Mean For Altcoins?
The crypto market has not been quite promising for investors lately. The only gainers in the digital currency industry are the crypto traders.
Most digital tokens have also maintained range-bound movements in the past weeks. Among the list of falling cryptocurrencies is Ethereum. The downturn of this token came as a shock against the prior expectations of investors after its Merge.
For several days, Ethereum had remained at $1,300 from its initial $1,600. The dip in its price followed the sell-the-news event that took place at the time. But due to the recent price growth of BTC, the token and other altcoins seem to have gained some green bars.
These positive price movements have brought the crypto market cap to $1 trillion, while Bitcoin gets close to $400 billion.
As per data, Ethereum trades at $1,553 – at the time of writing. On the other hand, BTC is currently trading at a price just over the $20,500 price mark.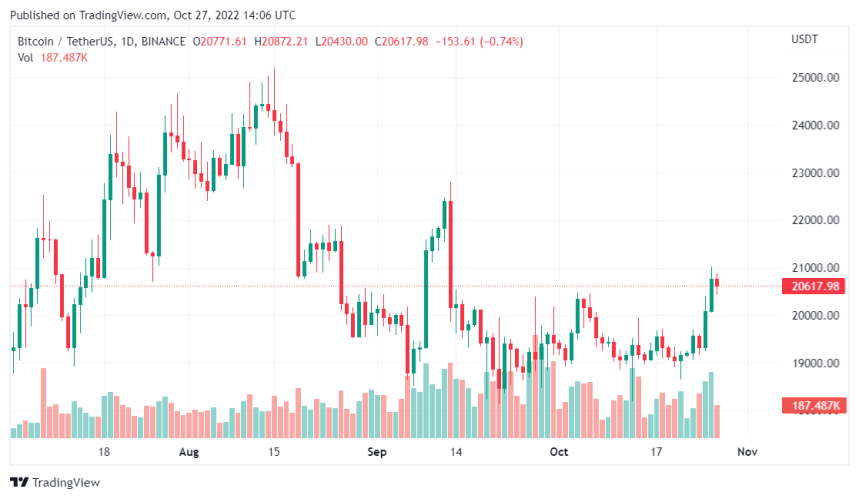 Featured image from Pixabay, Chart: TradingView.com