Bitcoin emerged in 2009, making it a total of 13 years of operations. In all these years, experts have identified interesting patterns from watching its movement closely. Observers suggest that two factors usually evoke these patterns on the network, market conditions and investor sentiment. A change in either of these factors causes many events to unfold in the ecosystem.
The recent observation by these experts points towards a transaction cost reduction every four years. For example, the cost for one Bitcoin transaction was reduced to $56.846 on Thursday, July 14. This reduction indicates a four-year cycle of cost reduction on the network.
Related Reading | TA: Ethereum Outpaces Bitcoin, Why ETH Could Rise To $1,500
Initially, the cost of BTC transactions was usually unpredictable because it is derived using the number of transactions to divide the miner's revenue. But now, the recent Blockchain.com data seem to have proven a more satisfying pattern for crypto enthusiasts.
Bitcoin Data Shows A Predictive Pattern
According to available data on cost movement, July 2022 saw a drop in transaction cost by more than 81%. This percentage was derived using May 2021 high transaction costs of $300.331.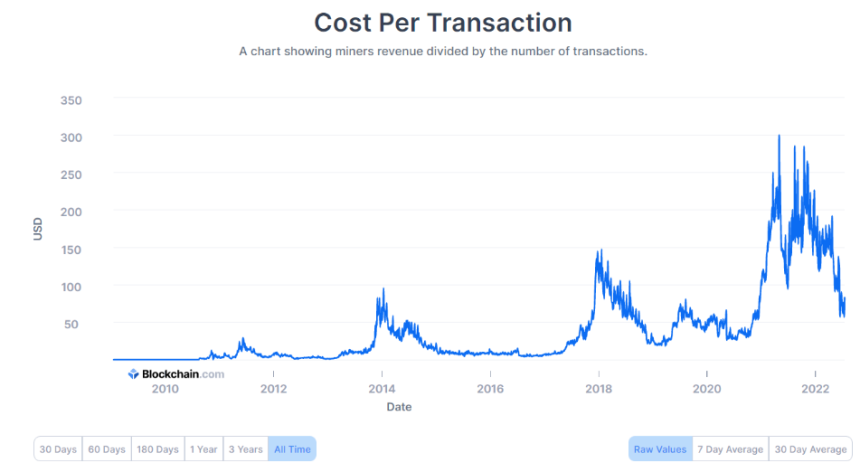 The factors leading to such a spike in transaction costs was the reduction in on-chain transaction and a prolonged bear market. Then, many crypto investors struggled to operate amid regulatory challenges permeating the industry.
But now, it is clear that the upward and downward trend in transactions occurs every four years. Data revealed that this pattern first emerged in 2014, then the next one occurred in 2018, and now another one in 2022, showing a 4-year cycle.
Based on these data, experts predict that by 2026, another cycle will occur and might cause a fall to $50. On the flip side, miners are losing revenue, which has worsened since 2022. According to reports, July 2022 has been the worst miners have seen in 2 years.
Market Crash Affects Miner's Revenue
It's not surprising that miners recorded a loss in revenue in July 2022. The crypto market hasn't performed very well since the announcement of a rate increase, activation of the rise, and the crash of the Terra network.
Related Reading | Liquidations Cross $230 Million As Ethereum Barrels Past $1,400
These events have contributed terribly to the falling market prices. As a result, miners now spend more on operating costs in Bitcoin mining.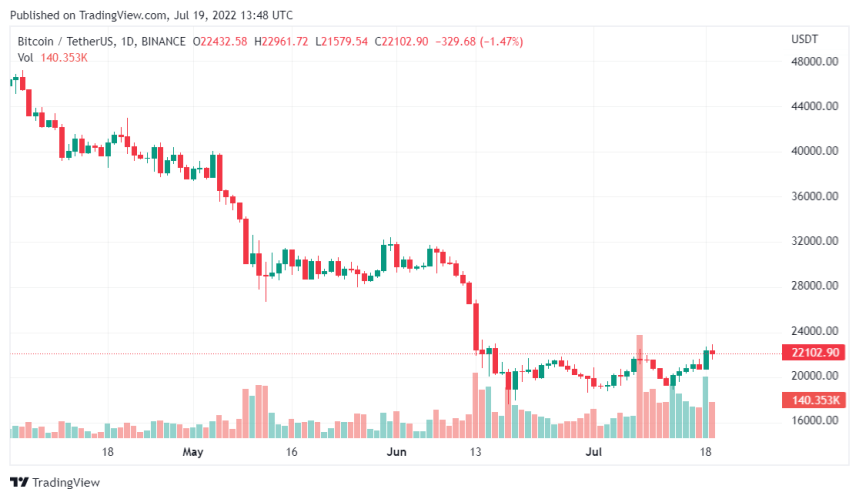 Thankfully, the market saw a fall in GPU prices, providing a ray of hope for miners. By that, miners can get hardware at affordable prices, reducing operational costs.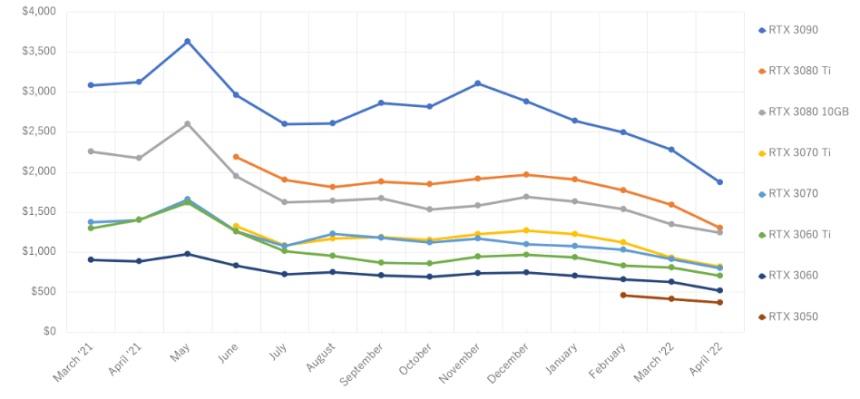 The price at which miners buy their hardware fell by 15%. This is because many card manufacturers started operations again after closing shop for some time due to a chip shortage. Now, the supply of these graphic cards is higher than its demands causing many cards to sell below MSRPs to fight cut-throat.
Featured image from pixels, charts from TradingView.com