After two weeks of incessant sell pressure and analysts giving up on bulls, it seems like BTC/USD sellers are exhausted. Notice that BTC is finding minor support at $3,600 or Nov 25 floors and if today close higher then we might see a temporary recovery towards $4,700. On the flip side and Vinny Lingham projections will be valid.
Latest Bitcoin News
10 months after the unfortunate hack that saw $530 million worth of NEM siphoned off from Coincheck, the Japanese exchange is back in operation after reinstating deposits and purchases of XRP and Factom (FCT). This now means users can deposit and withdraw in fiat—Yen and crypto. That's aside from allowing sign ups. Its lending service is now back in operation though traders won't leverage their trading neither will they be able to deposit fiat from convenience stores.
Read: Report: Blockchain Market to Be Worth over $28 Billion by 2025
As Coincheck gears up, BitMex Insurance Fund now holds 18,851 BTC. According to the exchange, the fund is used to prevent auto-deleveraging traders' positions and the fund grows from market liquidation executed at a better price than at bankruptcy level. Because of this, online commentators now think this minor Bitcoin accumulation would help shore prices after two weeks of turmoil that saw BTC sink $1,500 hours after the disastrous hash rate war between Bitcoin Cash SV and ABC.
Read: CNBC Tech Correspondent: Bitcoin's Survival Hinges on People Believing in It
While it would be the perfect shot in the arm if bulls find a way and bounce above $5,000, market analysts are shying away from bullish comments. While talking to CNBC Fast Money, Vinny Lingham of civic talks of Crypto winter where he projects that Bitcoin prices will be trapped within a tight range between $3,000 and $5,000 till end of Q2 2019. During this time, he says, there will be a lot of short-term buys which will surely help in recovery.
BTC/USD Price Analysis
Weekly Chart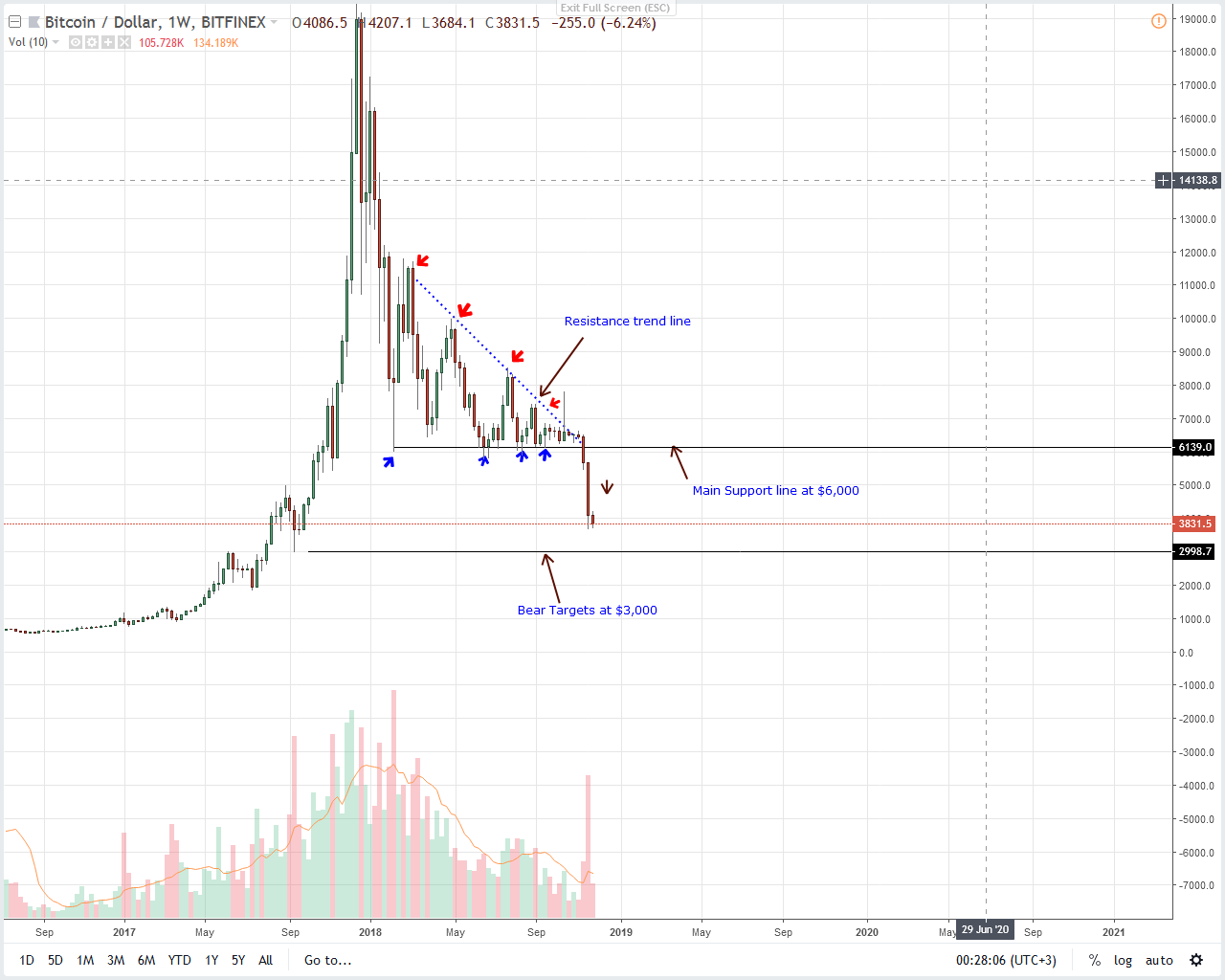 At spot prices, BTC/USD is down 23 percent in the weekly chart and unfortunately for bulls, bears are not slowing down.
Though we expect a temporary pullback, the past two weeks draw down has shaken coin holders to the core and with the emergence of a new faction—the sodlers, we could as well see a temporary reprieve offering these sellers another opportunity to unload their stash further fueling this sell frenzy.
Unless otherwise there are strong bulls driving price above our minor resistances at $4,700 and maybe $5,000, we shall retain a bearish outlook expecting prices to test $3,000 by the end of the week as price action complement week ending Nov 18 bear breakout pattern.
Daily Chart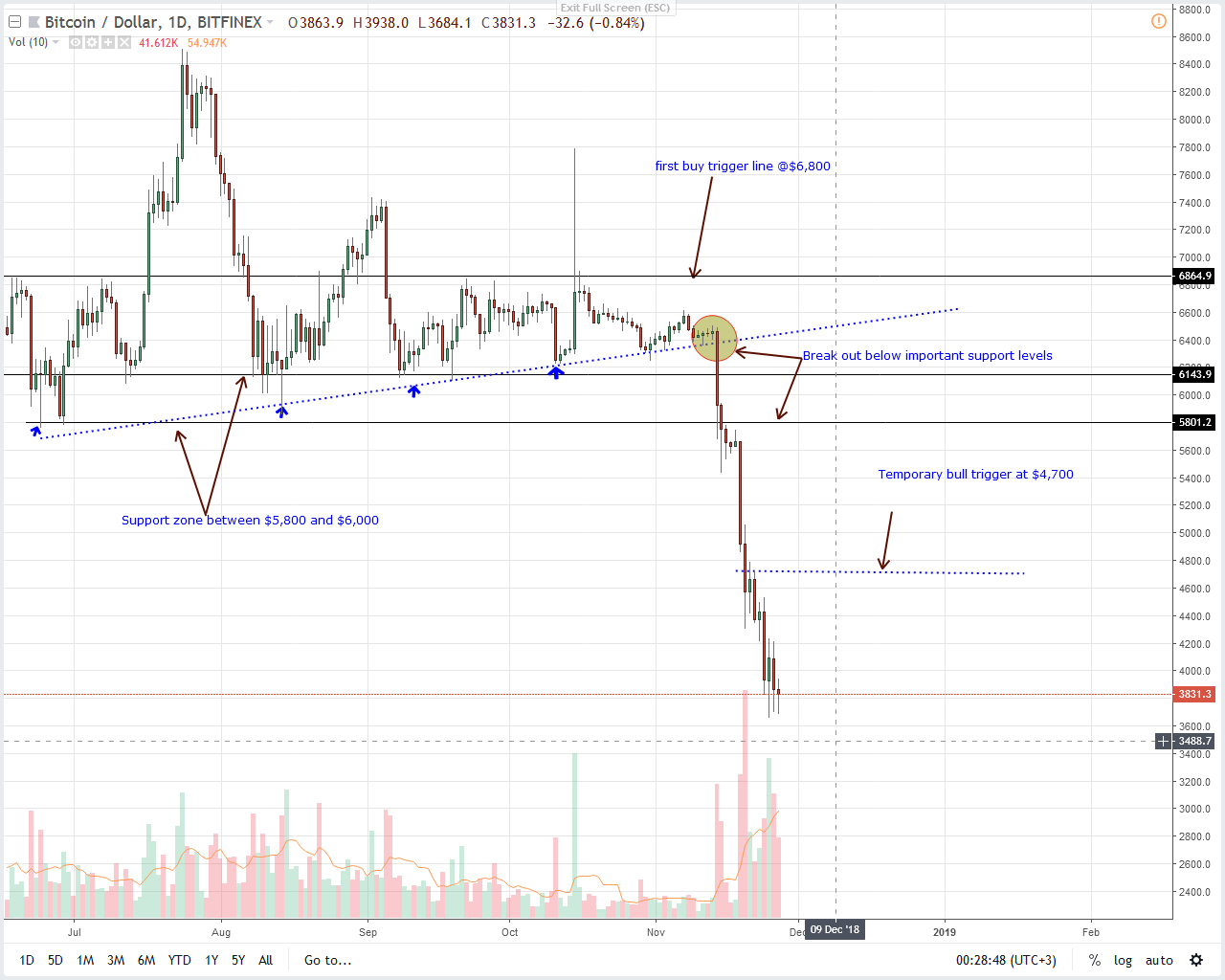 In line with our last BTC/USD price analysis, sellers are clearly in control and as mentioned above, aggressive traders can take every opportunity to unpack their BTC holdings more so if bulls fail to clear the $4,700 mark assuming prices bounce back from spot.
After all, they may now that BTC is finding short-term floors at $3,600 or Nov 25 lows. However, if buyers breach and close above $4,700 then we may see a temporary rally towards $5,000 and even to $5,800 as the market sparks back to action.
All Charts Courtesy of Trading View
Disclaimer: Views and opinions expressed are those of the author and aren't investment advice. Trading of any form involves risk and so do your due diligence before making a trading decision.