Google Trends can be a helpful tool to watch to spot sudden changes in crypto market sentiment. For example, searches for Bitcoin peaked back in 2017 when the asset ballooned to $20,000 before the bubble popped.
Nearly three full years later, search queries for the term "buy crypto" has reached the highest level since the Bitcoin bubble and resulting burst in 2018.
Altcoins Outperform Bitcoin, Total Cryptocurrency Market Comparative Data Shows
The total cryptocurrency market cap is up 80% year to date. Bitcoin, however, is only up just over 50% on the year. The discrepancy in the data suggests that altcoins have vastly outperformed the first-ever cryptocurrency.
Bitcoin still dominates the market, with over 60% of market share – but that number was recently much higher.
2019, was the year of Bitcoin. The cryptocurrency's safe haven narrative taking shape early on caused too strong a rally, and eventually, another correction resulted. But before that happened, Bitcoin's parabolic surge eviscerated altcoins. Alts tanked on their BTC ratios.
Related Reading | Bitcoin Rally, Altcoin Season Take Crypto Market Recovery To Pre-Bear Market Levels
But so far in 2020, its been the year of the altcoin. Unlike 2019, Bitcoin isn't hurting due to altcoins soaring, however, these battered and beaten crypto assets are finally catching up on their BTC trading pairs.
It has led to not only the total altcoin market cap outperforming Bitcoin as is pictured below, but it also has caused an interesting anomaly in Google Trends data.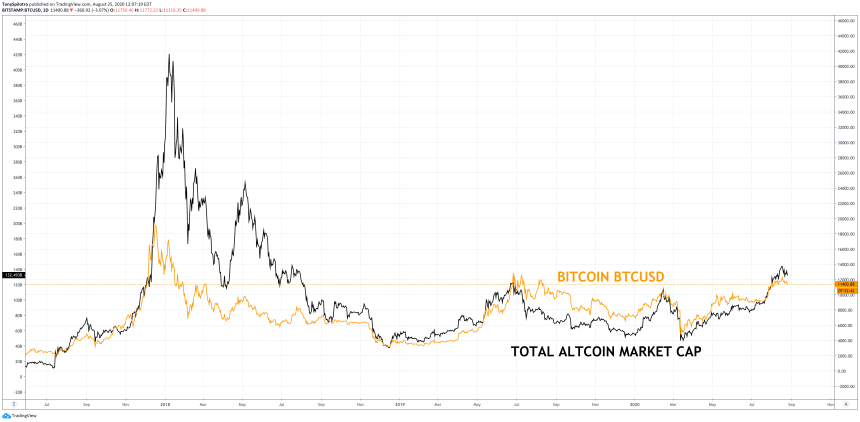 BTCUSD Versus CryptoCap-Total 2 (Total Altcoin Market Cap) Chart Comparison | Source: TradingView
"Buy Crypto" Search Terms Revisit Highest Level Since 2017 Bubble
The massive burst in queries from FOMO-driven searches scrambling to "buy Bitcoin" in 2017 can be seen in the Google Trends chart below. In early 2020, just as Bitcoin rose above $10,000, the metric saw another small peak. But it was nothing compared to the surge at the peak crypto bubble exuberance.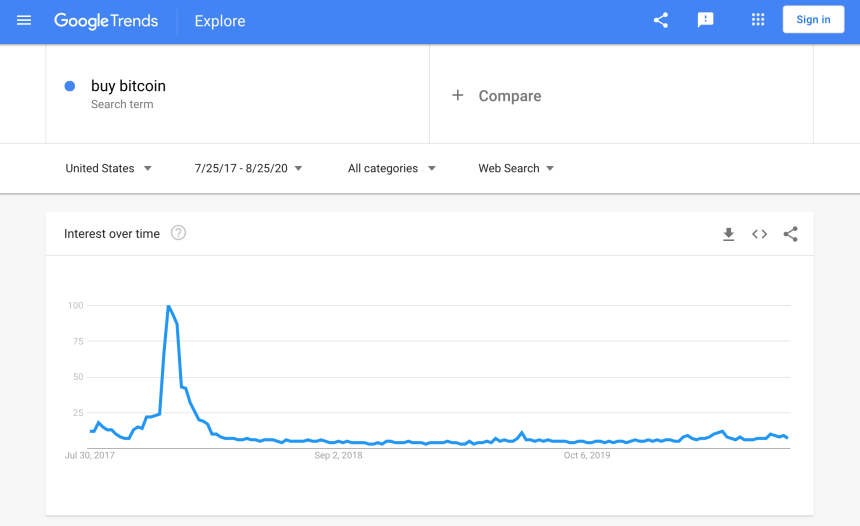 As the comparison chart between the total altcoin market cap and Bitcoin clearly shows above, altcoins have outperformed BTC significantly. That same overperformance can also be seen on Google Trends charts for "buy crypto."
Related Reading | Crypto Is Up Over 80% in 2020—and Google Users Are Taking Notice
Search queries for the term "buy crypto" have reached the highest level since the crypto bubble of 2017. Bitcoin, however, has still yet to set a new high beyond February 2020's tiny peak.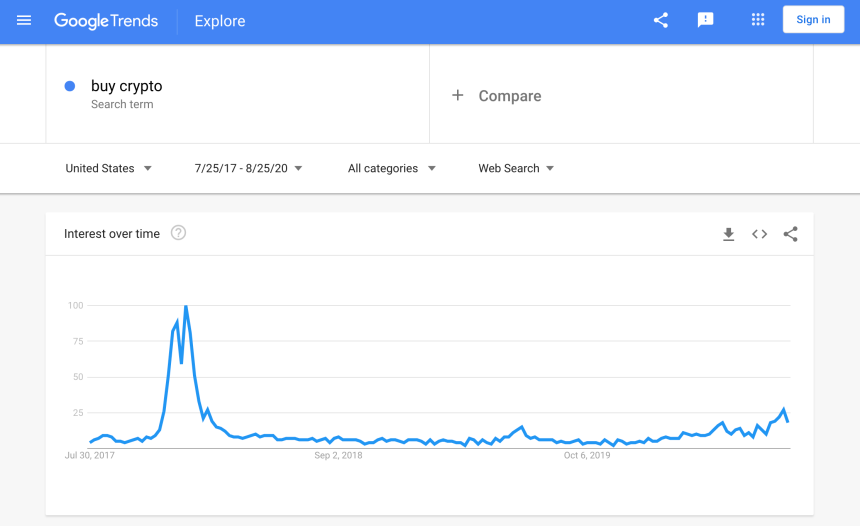 But looks can be deceiving, and this is where BTC dominance stands out the most. A direct comparative look in terms of total search volume, tells a very different story.
While interest has certainly reached a point that more closely matches the crypto bubble search demand for "buy crypto," directly compared to "buy Bitcoin," the term is barely a blip on the Google Trends chart.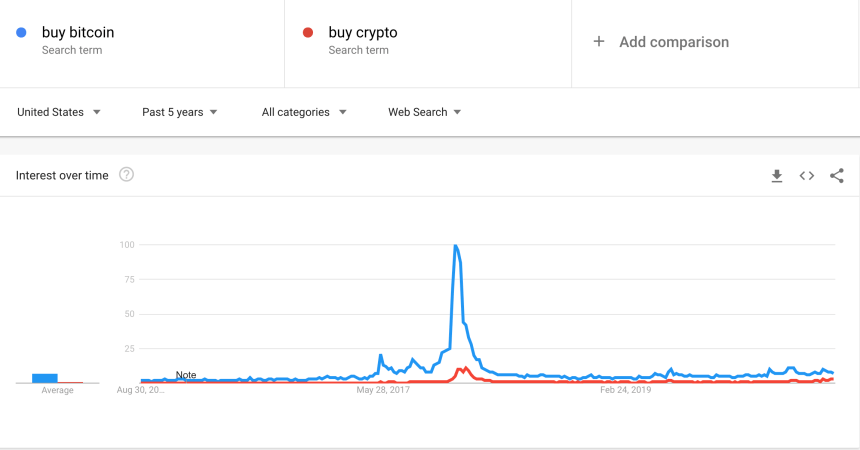 Despite a greater rise in overall interest in the general "crypto" term, Bitcoin proves once again why it is the most dominant asset in the cryptocurrency market.