While the current quarter in the crypto market has been bad for many companies as Bitcoin dropped, it has been successful for some. Core Scientific has proven that market lows can be beneficial if the right opportunity is identified.
The U.S-based crypto mining company produced 1,334 BTC in August and sold over 1,125 Bitcoin for $25.9 million in approximate.
According to Core Scientific's August Production and Operational updates, it operated 25,451 ASIC servers for colocation and self-mining. Also, data shows that the hash rate produced was about 21.54EH/s (hash rate per second).
Core Scientific confirmed that August was a highly successful one for the firm. It increased its self-mining hashrate by utilizing thousands of new ASIC servers.
Core Scientific Mints 1,334 Bitcoin via 17,000 New Servers
The firm's CEO, Mike Levitt, said that their total hashrate and self-mining hashrate are the largest operating capacity of any listed company in North America.
The firm revealed that it deployed about 17,000 new ASIC servers in August. The massive deployment resulted in the generation of 1,334 Bitcoin. The company stated its plan to deploy 43,000 ASIC servers before the end of 2022.
In August, Core Scientific got about $26 million by selling 1,125 BTC at an average price of $23,014 per coin. By the end of August, it held 1,409 BTC, which is approximately $28 million at today's market price and approximately $47.2 million in cash.
Core Scientific is among the biggest publicly traded blockchain computing data center providers and miners of digital assets in North America. The company has operated blockchain computing data centers since 2017. It uses its facilities and intellectual property portfolio for collocated digital asset mining and self-mining.
To enter the National Association of Securities Dealers Automated Quotation (NASDAQ), it struck a $4.3 billion SPAC (Special Purpose Acquisition Company) deal with Power and Digital Infrastructure Acquisition Corp.
CORZ shares Drop By 85% During The Bear Market
In 2021 when Core Scientific joined the global online marketplace, its stocks (CORZ) were around $10. Recently, because of the bear market, the stock value dropped. According to Yahoo Finance, the CORZ shares were trading at $14.32 but went down to $2.09 on November 15.
The decline of more than 85% in the CORZ shares followed the Bitcoin 70% price decline. Following the price chart, Bitcoin price went down from $63.557 on November 15, 2021, to $18,767.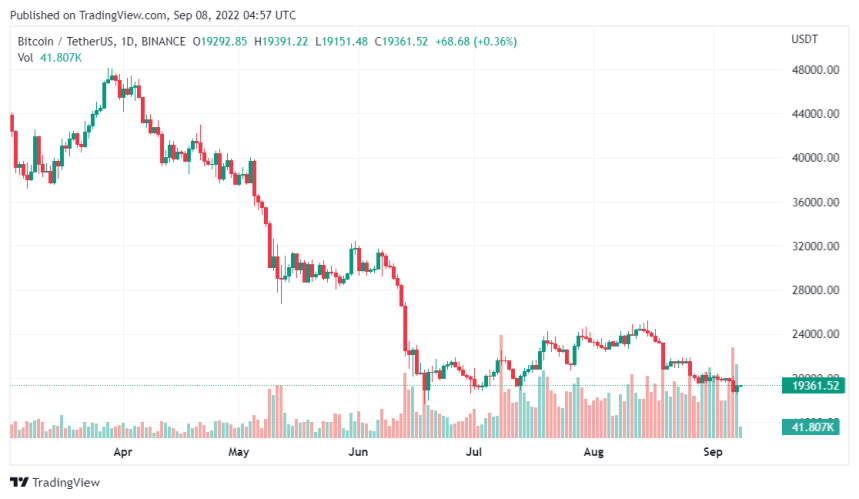 In August, Core Scientific reportedly severely powered down Texas and other data center operations. This reduced the August energy grid to 11,057 megawatts hours.
The Company's data center facilities in Georgia, Kentucky, North Carolina, and North Dakota still operate at full capacity. It is still building additional capacity in Texas.
Featured image from Pixabay, charts TradingView.com