It's been a challenging few months for crypto investors since Bitcoin fell from its all time high of 69k; on top of that, many coins have followed in BTC's price action footsteps.
The entire crypto market has shed more than $1 trillion in value since, and many experts believe more is to come and that this will not be the last of the wave; many people scramble to get a grasp onfwhat's to come and if we will fall into another dreaded crypto winter.
Related Reading | Downward DOGE: Descending Dogecoin Pattern Predicts Deadly Drop
Cold World For Crypto…
The entire crypto market has lost roughly $1 trillion in value since November, around the time of bitcoin's all-time high, and other tokens such as ether and solana followed the number one digital currency to trade sharply lower. Ethereum has more than halved in value since reaching its peak in November, while Solana has suffered an even steeper decline, falling 65 percent. Back in 2018, bitcoin went through what many now refer to as 'crypto winter,' which saw witness to an 80 percent drop in bitcoin; could this be another case of the current price action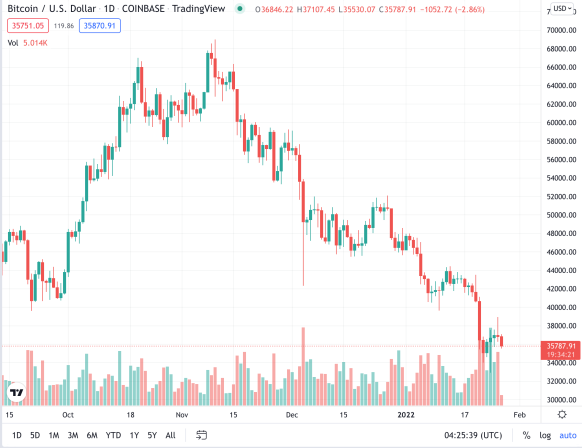 BTC: Bitcoin fighting to break 40k after hitting all time high in November 2021. | BTC:USDtradingview.com
David Marcus, the former head of crypto at Facebook (now Meta), appeared to suggest that he believes a crypto winter has already arrived. In a tweet earlier this week, he said: "It's during crypto winters that the best entrepreneurs build the better companies. This is the time again to focus on solving real problems vs. pumping tokens."
Nadya Ivanova, chief operating officer at the BNP Paribas had an opposing thought on a crypto winter, stating that "over the last year — especially with all the hype in this market — a lot of developers seem to have been distracted by the easy gains from speculation in NFTs (non-fungible tokens) and other digital assets. A cooling off period might actually be an opportunity to start building the fundamentals of the market," Ivanova told CNBC's "Squawk Box Europe."
Hopes Of A Better Day…
Many coins are suffer the same fate as equities as large suffer, most notably the stock market; many investors are faced with fears of hard federal regulations and interest rate adjustments that might hurt more that help if you came up big this last year. The U.S. central bank is considering making such moves in response to surging inflation, and some analysts say it could result in the end of the era of ultra-cheap money and sky-high valuations — especially in high-growth sectors like tech, which benefit from lower rates since companies often borrow funds to invest in their business.
Vijay Ayyar, vice president of corporate development and international at crypto exchange Luno, thinks the recent slump in crypto is more of a "correction" than a sustained downturn. He also stated that looking ahead, a key level to watch for bitcoin is $30,000. If it closes below that point in a week or more, "that would definitely indicate high likelihood of a bear market," he said. A decline of around 80 percent from bitcoin's recent peak would indicate a price of less than $15,000. Ayyar doesn't think such a scenario is on the table.
Related Reading | Tesla Report Shows Bitcoin Holdings Remain Unchanged At $1.2 Billion