After a prolonged period of stability and sideways trading within the $11,000 region, Bitcoin finally witnessed an influx of selling pressure that put an end to this consolidation.
This caused the cryptocurrency to plummet down to lows of $9,900 earlier today, at which point buyers stepped up and slowed its descent.
From here on out, where it trends in the near-term should depend largely on whether or not the $10,000 region is defended.
Data shows that a good portion of this selling pressure came from recent buyers who panic sold at a loss. These "top buyers" have now been flushed out, which may indicate that the bulk of this downside movement has already been completed.
This possibility is further enhanced by data regarding long-term holder's trading activity throughout this recent dip.
Analytics platform Glassnode explained that long-term BTC investors are not cashing out of their positions despite this decline.
Short-Term Bitcoin Buyers Sell for a Loss as BTC Dips to $10,000
At the time of writing, Bitcoin is trading up over 2.5% at its current price of $10,450. This is around the price at which it has been trading throughout the past 24-hours.
This marks a massive decline from its multi-day highs of $12,400 that were set at the peak of the recent uptrend.
This decline was perpetuated by intense selling pressure from short-term investors who bought between the upper-$11,000 region and the lower-$12,000 region.
Data from Whalemap reveals this trend, showing that this group of traders seems to be employing the "buy high sell low" strategy.
"A lot of panic selling yesterday from HODLers who were quite successful in buying tops. Their strategy seems to be – buy high sell low."
Image Courtesy of Whalemap.
This Data Metric Shows Long-Term Investors are Holding Steady
Data from analytics platform Glassnode shows that the cryptocurrency's long-term investors were not fazed by this recent selloff.
Specifically, their Coin Days Destroyed indicator shows that long-held BTC was not moved throughout this $2,000+ price decline.
"Coin Days Destroyed (CDD) is an indicator for movements of large & old stashes of BTC. Currently, it is showing no signs of long-term investors cashing out. In fact, CDD is less than half compared to last year when Bitcoin was at the same price level."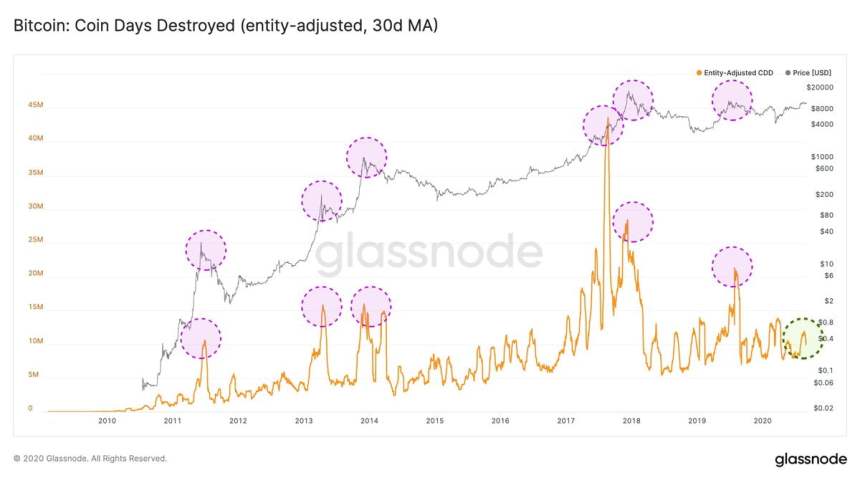 Image Courtesy of Glassnode.
Because short-term investors were one group behind this decline, the downtrend may soon start losing its momentum.
Featured image from Unsplash.