Bitcoin price exploded through resistance at $10,000 and has flipped it into support that's thus far held strong. The support level has proven just as unbreakable as it was on the way up, fending off three major negative news events in one week.
But despite the lack of downside, there's also been limited upside, taking historical volatility down to lows. When volatility dips this much in Bitcoin, a decisive move tends to follow. The remaining question is: which way?
Bollinger Bands, Historical Volatility Point To Massive Decisive Move In Bitcoin, But Which Way?
The cryptocurrency asset class has earned a notorious reputation for its explosive volatility that can send prices soaring or crashing to extremes.
Bitcoin is a prime example of this, rocketing from under $1,000 to over $20,000 in just a year. Hardcore crypto believers expect the asset to repeat this performance with each halving, which some discrepancy of course.
The first step in that journey was taking out $10,000 – something that took more than a year to do again after losing the level in 2019. Bitcoin spent weeks gearing up for the move, taking volatility to historic lows before an over $1,000 move in 24 hours brought the cryptocurrency to $12,000.
BTCUSD Daily Bollinger Bands & Historical Volatility | Source: TradingView
That same sort of tranquility and dwindling volatility is back – but is this time to send Bitcoin crashing down back through the key level, or is the cryptocurrency about to depart from that support level for the last time?
Related Reading | Bitcoin Price Has "12 Weeks" Left To Validate Four-Year-Cycle Theory
It is impossible to say, and the results are mixed each time volatility has fallen this low in the past. The direction of the breakout typically heads toward whichever side the price action is on compared to the mid-BB.
Bitcoin price is currently trading exactly at this mid-point, suggesting today's close could decide which way the major move heads.
Indecision Even Comes Down To The Candle, Renko Shows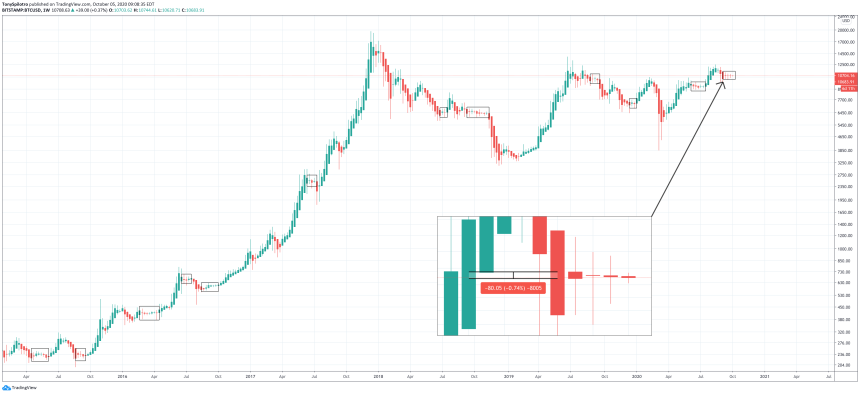 BTCUSD Weekly Renko Indecision Examples | Source: TradingView
Further demonstrating this indecision, is Bitcoin price weekly charts, when switching traditional Japanese candlesticks to Renko.
Renko cuts out noise and more clearly shows the trend at hand – or in this case that there isn't one with a handful of red doji. When the series of doji candles finally breaks up or down, some of the crypto asset's largest moves result, and the trend is set for weeks to come.
Related Reading | How Bitcoin's 2020 High Compares To Past Bull Market "Tops"
Bitcoin just opened a fourth doji candle within less than a 1% range in the candle body of the rest of the cluster. As soon as this range breaks, there could be a decisive move. But again, in which direction? It's not clear, but one analyst says that the move will be at least "$1K" in whatever direction it is.
Featured image from DepositPhotos, Charts from TradingView