Earlier this week, Bitcoin surmounted $12,000 as global markets surged as the U.S. dollar saw a notable collapse. The world's reserve currency, though, has since reversed, dragging down global markets with it.
Like the stock market and precious metals, BTC has recently sustained a heavy correction. The cryptocurrency has plunged around 12% in the past 48 hours, shedding notable price support levels.
Analysts note that all hope is not lost yet.
Here are levels that the leading cryptocurrency must hold in the near future to maintain its technical uptrend as per these analysts.
Bitcoin Drops Rapidly Towards $10,500 Support Level
All hope is not yet lost for the BItcoin market.
One trader shared the chart below on September 3rd, noting that BTC remains above some important technical levels on a high-term time frame. This may suggest that bulls remain in control.
"Enough with the shitposting, this is the HTF chart I'm watching. Bulls don't want to fall back into the old range below $11500, they've got a few days to push it back. $10600 is support, but it's uncomfortably deep back in the range, wouldn't want a close there."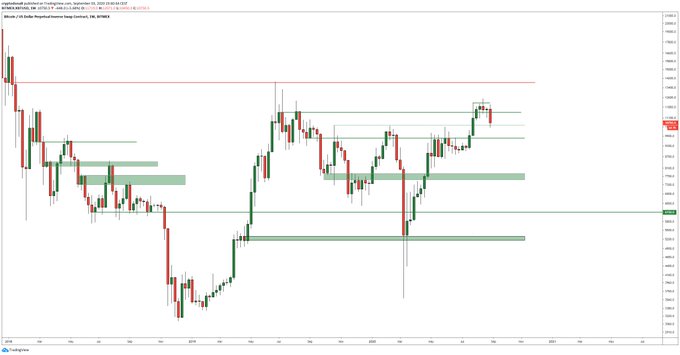 Chart of BTC's macro price action since the start of 2018 with price level analysis by crypto trader DonAlt (@CryptoDonAlt on Twitter). Chart from TradingView.com
$10,500-10,600 is a level that many are watching because it has held as macro support and resistance over recent months.
Most notably, $10,500 marked three separate Bitcoin rally highs over the past year: one in October, one in February, and one in June.
U.S. Dollar, Take the Wheel
It seems, though, that the price action in the Bitcoin market comes down to the movement of the U.S. dollar. As aforementioned, BTC's rally and subsequent decline over the past week was triggered by movements in the value of the world reserve currency.
The dollar is rallying, resulting in other markets to slip. It could also be that global markets dropping are causing the U.S. dollar to rally.
Whatever the case, not everything thinks that the U.S. dollar will continue to rally.
With the Federal Reserve announcing that it may let inflation run above 2% in the future, many think that fiat monies will continue to slide, resulting in rallies in gold and Bitcoin.
Featured Image from Shutterstock
Price tags: xbtusd, btcusd, btcusdt
Charts from TradingView.com
Here Are the Levels to Watch After Bitcoin Plunged $1,500