After falling as low as $6,500 this week seemingly due to stock market weakness, Bitcoin has mounted a strong comeback over the past 24 hours, rallying as high as $7,200 as bulls have taken over. Other cryptocurrencies have registered even more impressive gains.
$8,000, some analysts say, is next for Bitcoin as the technicals suggest that the rally is done yet.
Bitcoin Hitting $8,000 is "at Hand"
Ever since the $3,700 bottom, Bitcoin has mounted an impressive comeback, rallying as high as $7,500 last week as global markets have also seen a similar recovery to pre-crash levels.
But the rally might not be done yet. Crypto trader LightCrypto, or just Light, recently remarked that it "feels like $8,000 is at hand," referencing his sentiment that the cryptocurrency could soon rally just under 15% from current levels to $8,000.
As to why this is the case, he remarked that with the potential of new buyers "absorbing profit-taking [by longs] and miner selling," there's a good chance $7,000 will be "accepted," which could result in another strong leg to the upside.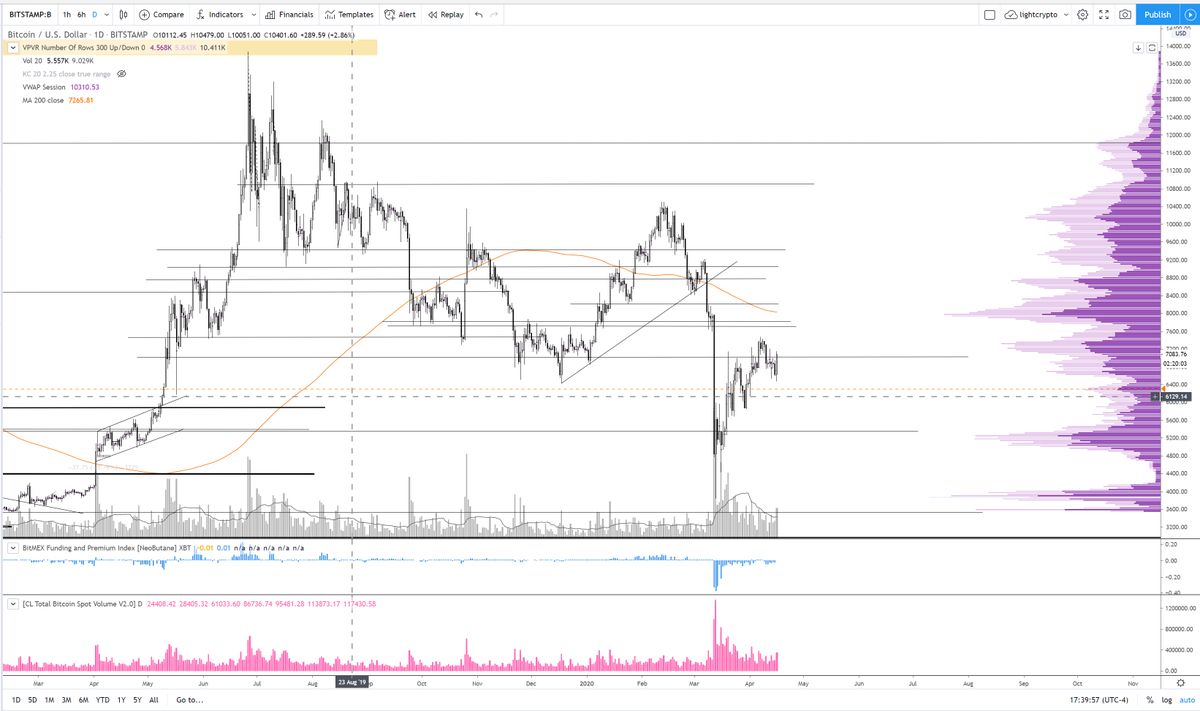 Chances Are, Buyers Will Win the Tug-of-War
Although Light's statement made it certain that $8,000 is not a certainty, there are signs that buyers will win, that buyers will manage to wrest Bitcoin to $8,000 as opposed to a reversion to the downside.
Firstly, as the trader mentioned above indicated in his chart, $7,000 is a key point of interest for the leading cryptocurrency, with certain analysts branding it a "decision point" for the market. Bitcoin managing to close Thursday's candle above this resistance and it continuing to do so in the coming days, into the weekly close, will add credence to the bull case.
Secondly, buyers are currently involved in this nascent market in a seemingly bigger size than sellers, or at least the buyer sub-set is increasing to a point that prices will naturally start to gravitate higher, sort of how they did just before and after 2016's block reward halving.
A case in point of this: crypto-asset fund/vehicle provider Grayscale Investments, in its latest quarterly investment report, revealed that it took in a record $503.7 million worth of investment in Q1 of 2020.
As reported by NewsBTC previously, a good portion of this capital went to Ethereum, but most of it was allocated to Bitcoin. The raise amount is especially notable as it is approximately double the inflows Grayscale exhibited in Q4 of 2019, and much much more than any quarter before that.
It is representative of a larger trend in the crypto markets suggesting that both retail and institutional buy-side volume is bubbling as the halving approaches, for it is now under a month out.
These two trends add credence to the idea that Bitcoin will rally to $8,000. To reiterate what Light said:
"Acceptance of this price level comes from new buyers absorbing profit-taking and miner selling. Feels like $8,000 is at hand."
Photo by Michał Mancewicz on Unsplash