Bitcoin has been stalling around the high-$10,000s over the past few days despite the surged earlier this week. The coin now trades at $10,850 as of this article's writing, a few percent shy of the local high.
Analysts are certain that investors should be favoring longs right now. Here's why they think so.
This Is Why Bitcoin Is Primed to Move Higher
One cryptocurrency trader shared the chart below, noting that he thinks sellers (short position holders) may be "trapped" right now. This may likely lead to a situation where Bitcoin spikes higher, thereby liquidating or stopping out these sellers.
He posted the chart below, writing the following to explain why he thinks this is the case for Bitcoin:
"I keep seeing bears talking about trapped buyers here. I am seeing the opposite. Basis still favoring opening up a long. CVD showing more of a turn than price, and I would not look at it as leading but as being sellers absorbed, taking a "101" level backside short. $BTC."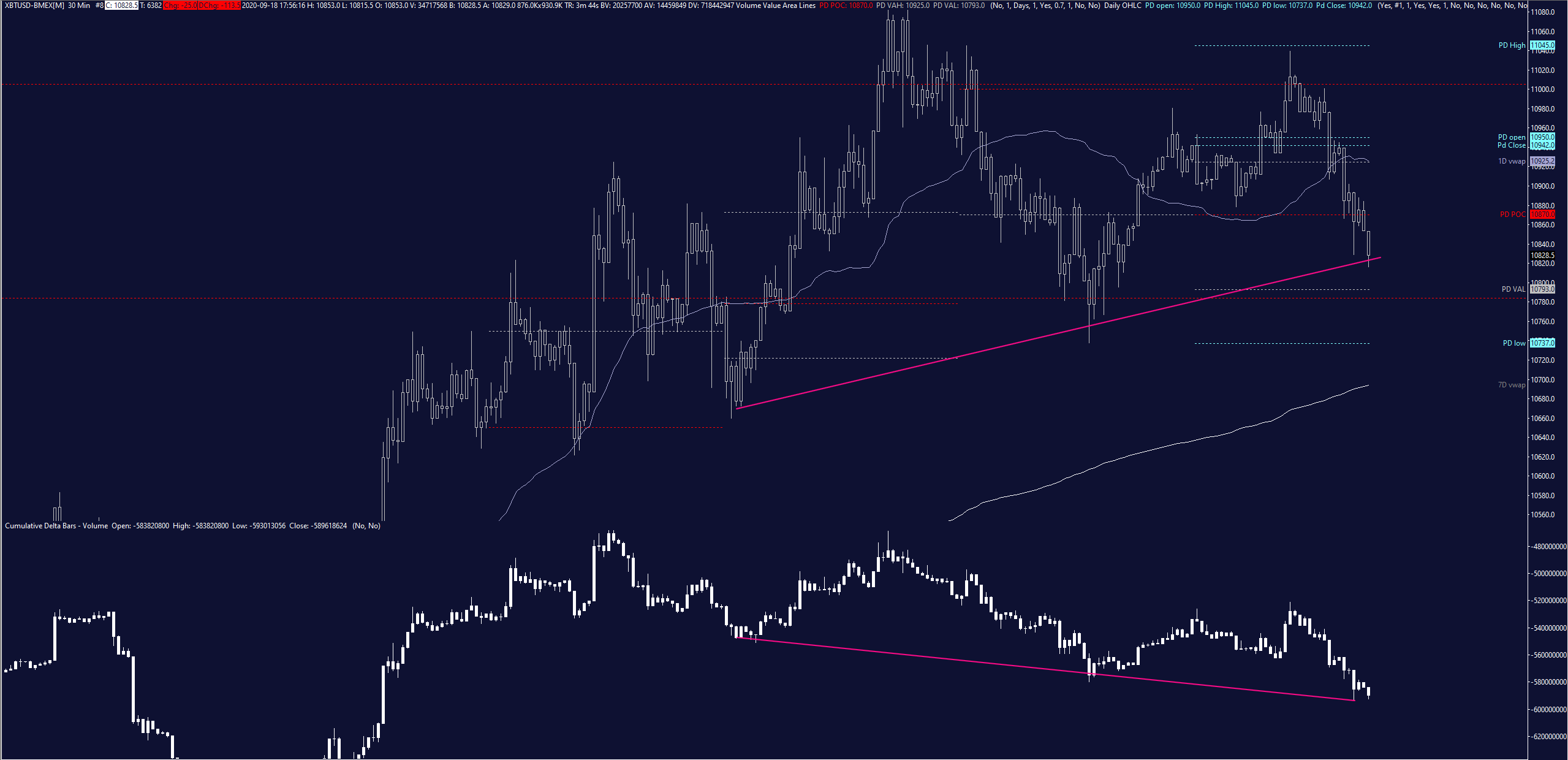 Chart of BTC's price action over the past few hours with CVD analysis by crypto trader Cantering Clark
Not the Only Sign Suggesting Upside Is Imminent
Corroborating the expectations of upside is the state of Bitcoin futures funding rates. The funding rate of a crypto derivative is the fee that long positions pay short positions to ensure that the price of the derivative trades in line with the price of the index, which derives its price from spot markets.
According to ByBt, a crypto derivatives tracker, the funding rates of leading Bitcoin futures markets are negative across the board.
This includes Binance, BitMEX, OKEx, Huobi, and ByBit.
While this may suggest to investors that Bitcoin's prevailing trend is bearish, negative funding rates are often seen before the trend reverts higher.
Negative funding rates suggest to some that sellers are too aggressive, making a reversion to mean likely.
Featured Image from Shutterstock
Price tags: xbtusd, btcusd, btcusdt
Charts from TradingView.com
Here's Why Bitcoin Traders Should Be Favoring Longs Right Now