In early-March, Bitcoin incurred some of the roughest price action it has ever seen, with the benchmark cryptocurrency finding itself caught within a capitulatory decline that led it from over $8,000 to lows of $3,800.
This meltdown occurred concurrently with the global equities market seeing a massive selloff as investors began growing aware of just how serious the Coronavirus pandemic was.
In the time since this occurred, however, Bitcoin has been caught within a steady uptrend that has allowed its price to nearly double from these lows, leading one analyst to call it the "most resilient asset in the world."
These Characteristics of Bitcoin's Ongoing Rebound are What Makes it so Resilient
The investment world has been captivated by the recent selloff seen in the oil market, with the commodity's May futures expiry leading its price to decline into negative territory for the first time in decades.
This subsequently led the price of spot oil to similarly plunge, creating shockwaves that have gravely impacted companies and countries that are oil-reliant from a revenue perspective.
Some spot oil exchange traded funds even saw their trading halted in an effort to stop investors from panic selling.
Bitcoin – which can't ever go negative but can see capitulatory declines like that seen in early-March – doesn't have the same regulatory features as highly regulated markets like commodities, which means that the market must regulate itself.
This has led Luke Martin – a highly respected cryptocurrency analyst – to explain that Bitcoin's subsequent recovery from its recent lows makes it highly resilient.
"Take a step back think about how BTC has almost completely recovered from the 50% drop in March. •No limit down or trading halted •No emergency meetings of producers to cut/alter supply •No government pledges to start buying. The most resilient asset in the world," he noted, pointing to a chart showing Bitcoin's nearly full recovery.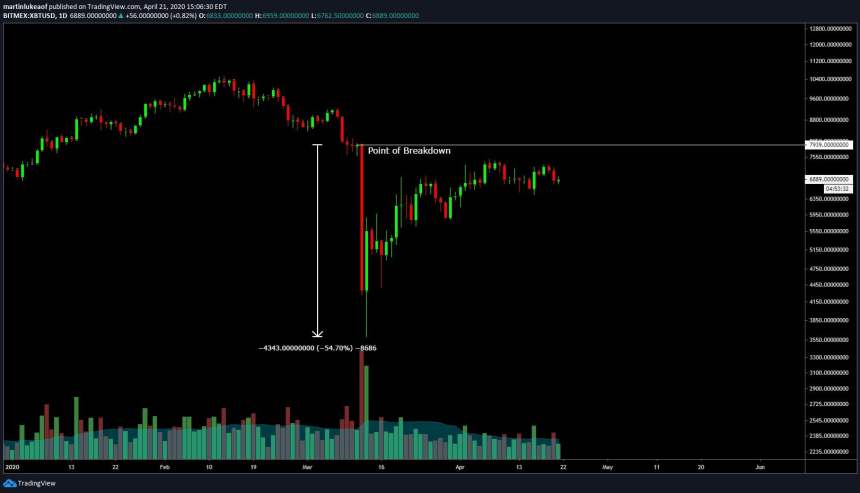 The Future is Bright for BTC
Analysts don't seem to think that this ongoing rebound will end anytime soon either, as one pseudonymous trader on Twitter recently noted that he doesn't believe Bitcoin will decline much below $5,000 before setting fresh all-time highs.
"Speculative but I don't think we get BTC much cheaper than mid 5000s before ATH. Dips are for buying imo," he explained.
The fundamental strength shown throughout the past five weeks is certainly an overtly bullish sign for Bitcoin, and this coupled with technical strength could mean major gains are imminent in the months ahead.
Featured image from Unsplash.