Following Bitcoin's big breakout weeks ago, its never been easier to make money across the crypto market. The same is being said by JP Morgan analysts about the stock market, based on one key strategy. Could the same strategy the investment firm advocates for stocks also work well in the cryptocurrency space?
JP Morgan: It's "Never Been Easier To Make Money"
When the pandemic first hit in early 2020, markets erupted with volatility and panic. The stock market crashed, and so did everything else across the world of finance.
Bitcoin, which was just about to break out into a new bull market, collapsed back down to $3,800.
Both the crypto market and the stock market have made a strong recovery since. Tech stocks took the Nasdaq to new highs, while other major stock indices the Dow and S&P 500 have dragged behind.
Related Reading | Economist: Early Days of Bitcoin Uptrend Are Here, Breakout Has A Long Way To Go
Due to the economy getting back to some semblance of normalcy, and stimulus money flooding the market one analyst claims its "never been easier to make money."
JPMorgan's Global Head of Small and Midcap Equity Strategy Eduardo Lecubarri explains that one in five small or mid-cap stocks are still down 30% or more. He expects these assets to stop lagging and recover similarly to majors.
Other analysts have called the recent rallies jumping from one class of assets or index to the next, is a sign of a "great rotation" of capital – something that is also happening in the crypto space. But could JP Morgan's same strategy work to make more money in crypto?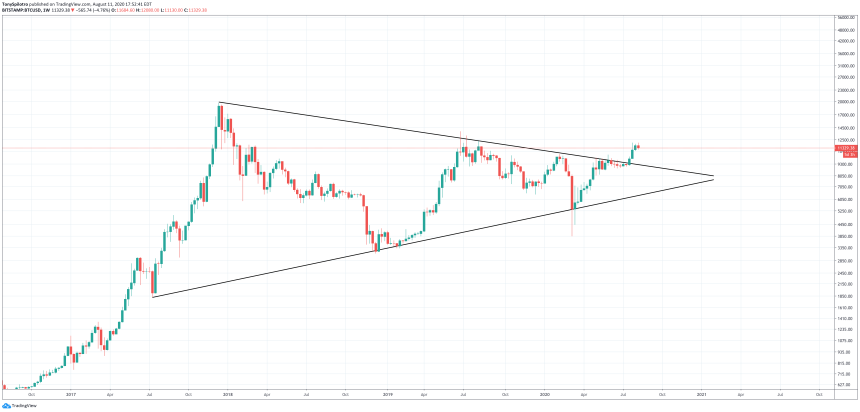 BTCUSD Daily Price Chart Breakout | Source: TradingView
Can The Stock Market Strategy Translate To Big Money In Bitcoin and Crypto?
In addition to the overall cryptocurrency market cycle, Bitcoin and altcoins also go through cycles of their own. Occasionally, when Bitcoin rallies, altcoins tank, while other times they climb right alongside the asset, just as they have recently.
Major cryptocurrencies like Ethereum, XRP, and Chainlink have had the breadth of the capital flow and growth, leaving plenty of small- and mid-cap altcoins behind.
Certain categories, such as DeFi or decentralized oracles are the exception to this rule, otherwise, most of the attention has been on Bitcoin and the top ten.
Related Reading | Crypto Is Up Over 80% in 2020—and Google Users Are Taking Notice
It is only now, that just as JP Morgan suggests is happening in stocks, investors are realizing that there are plenty of small and mid-cap altcoins out there still down 99% or more from all-time high prices.
Crypto and Bitcoin also have a lot more going for it than stocks. Rather than just recovering from a pandemic-related selloff, Bitcoin is starting a new uptrend.
Crypto bull runs often begin with an altcoin season, which leads to profit-taking into Bitcoin. It is this flow of capital into Bitcoin that gets the ball rolling and FOMO thriving. Eventually, Bitcoin rallies and profit flows back into major altcoins, as we've seen recently.
What's next, should be easy money as JP Morgan claims, all across small- and mid-cap crypto and stocks.