The past few weeks have seen Bitcoin push higher and higher every few days, establishing higher low after higher high after higher low on the back of an influx of buying pressure. But, according to a number of crypto traders, BTC is preparing to see a correction as the charts signal caution.
This Exact Formation Was Seen on Bitcoin's Chart Prior to a Dump
One crypto trader recently remarked that despite Bitcoin's rally, the chart of the cryptocurrency is currently looking somewhat precarious.
Pointing to the chart that can be seen below, he suggested that the price action that has transpired over the past five weeks has created a very similar formation to that seen at the start of March 2020.
The formation is marked by a number of things: 1) a number of bearish relative strength index (RSI) divergences at the top; 2) an extended rising wedge pattern, which is textbook bearish; and an ascending triangle that fails, breaking lower.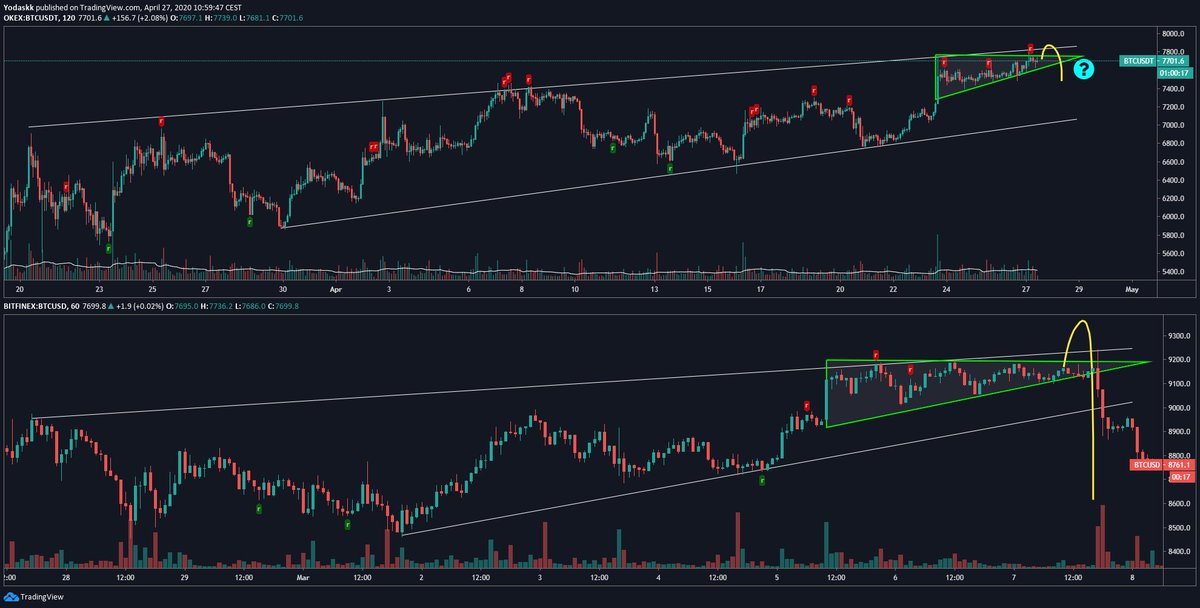 This formation is important as it formed just prior to a drop from $9,300 to $8,700 and then $7,700 just days later — a 20% crash in the four days after this formation formed. Should this formation play out as it did last time, there's a good likelihood Bitcoin will fall to the low-$6,000s in the coming days, just days prior to the halving.
Adding to the bearish confluence, the trader observed a confluence of key resistance levels in the current BTC's range, which would suggest the rally is soon to come to an end.
Technically important levels in the current range include but are not limited to:
The yearly volume-weighted average price
The 200-day exponential and simple moving average
The 21-week exponential moving average
A key order block level
And the 61.8% Fibonacci Retracement, or "Golden Pocket"
The top of a descending triangle.
Not the Only Bearish Sign
This isn't the only bearish sign.
According to crypto trader "Moe," the four-day chart of Bitcoin and Ethereum have just printed a harrowing sign as of April 26th: the Tom Demark Sequential — a time-based indicator that prints "9" candles near or at trend reversals — is forming a "9" candle on the current candle.
This means that should the two cryptocurrencies close anywhere around the low to high-$7,000s, a "9" candle will be confirmed on the current four-day candle for BTC and ETH.
Photo by frank mckenna on Unsplash