From the all-time high of $1,400, Ethereum is down by approximately 80%.
Due to a collapse in the ICO bubble and the narrative shifting from altcoins to BTC, the -80% performance ETH has registered is much worse than that of Bitcoin. From its all-time high of $20,000, BTC is down less than 50%.
While there are many believing the leading cryptocurrency will continue to outperform altcoins, a prominent investor is throwing his weight behind Ethereum.
Ethereum Poised to Outperform Bitcoin?
Bitcoin's performance may be impressive, but even more impressive is that of Ethereum.
The second-largest digital asset is up more than 22% in the past week alone, according to data from Coin360.com. Over that same time period, BTC is up "only" 14.45%.
Real Vision chief executive Raoul Pal, who commented on the chart of ETH/BTC after the recent breakout, said in reference to the chart below:
"It even looks like Ether will outperform Bitcoin at some point (no position yet). Please remember: No tribal attacks about bitcoin vs ethereum. They are two different things and two different ecosystems."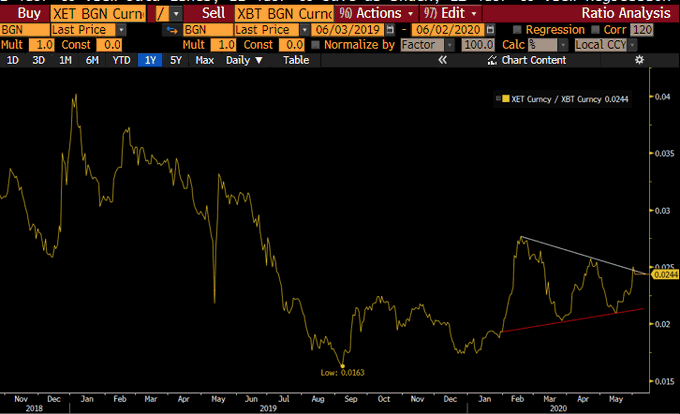 The chart shows Ethereum breaking out of a crucial resistance against Bitcoin that formed after the February highs.
Pal's optimism about Ethereum's prospects, especially against Bitcoin, has been echoed by a limited set of other market participants.
Per Mohit Sorout — partner at crypto hedge fund Bitazu Capital — it is "quite possible that ETH has printed a major cycle low [against Bitcoin]," pointing to the chart seen below. He claimed in late April that the chart shows a bullish "weekly market structure."
As to why exactly the chart signals that upside is likely, he pointed to two factors:
ETH/BTC has begun to print consecutive higher lows and higher highs, indicative of a reversal
And the directional movement index (DMI) indicator has recently crossed bullish.
Quite possible that $ETH/ $BTC has printed a major cycle low.

Weekly market structure is bullish? pic.twitter.com/0lYYK1V7zP

— Mohit Sorout ? (@singhsoro) April 25, 2020
There Are Reasons to Be Bullish on Ethereum
Pal and Sorout are some of the only prominent crypto analysts to have said that ETH has a good chance at outperforming Bitcoin in the next bull run. Yet there are strong fundamental reasons to be bullish on the cryptocurrency.
As reported by NewsBTC previously, data site DeFi Pulse has shown that there is now $953 million worth of assorted crypto assets locked into DeFi applications.
It's a trend that shows DeFi is growing, and as a result, so should Ethereum. The founder of Ethereum-based app MakerDAO said:
"4 million Dai was just minted with WBTC in a single transaction. This really showcases the latent demand for non-ETH assets, and it's the beginning of a broader trend of DeFi acting as an economic vacuum that will eventually attract almost all value to the Ethereum blockchain."
Featured Image from Shutterstock