Bitcoin has slid lower as legacy markets have undergone a strong correction over recent days. This was evident when BTC crashed around 8% when the S&P 500 slid by around 3% in a single trading session.
The leading cryptocurrency seems primed to move lower if stocks continue to drop. But according to a macro analyst, if stocks slip lower, gold and Bitcoin may be able to hold up well.
Bitcoin Could Hold Up If Stocks Drop: Macro Analyst
Dan Tapiero, the co-founder of 10T Holdings, DTAP Capital, and Gold Bullion International, thinks that there is one crucial "worrying data point" about the stock market.
He shared the chart below, which shows that retail investors are more bullish on the S&P 500 than they have ever been. Tapiero believes that this situation will need to be unwound at some point, which could have a negative effect on share prices:
"Unfortunately, most worrying data point have seen in a while for #StockMarket from short term perspective. Certainly an extreme of epic proportions hit on this indicator. Does not seem to be something that can be corrected in just a few days.
While recent knowledge would suggest that Bitcoin would drop as stocks slip lower, Tapiero doesn't see it that way. He said that "gold and Bitcoin should hold up," seemingly referencing a situation where the stock market slips or slows due to an unwind in retail call positions and institutional positions.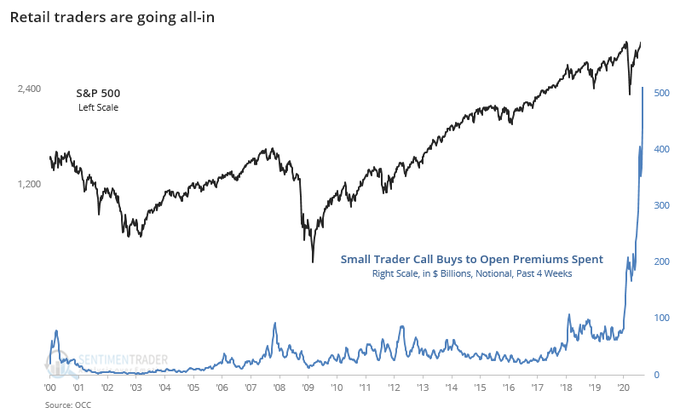 Chart of S&P 500 chart with small trader call buys to open premiums spent metric shared by macro analyst and Bitcoin bull Dan Tapiero.
Long-Term Outlook Bullish
Tapiero's long-term outlook for Bitcoin remains extremely bullish, even discounting a scenario where Bitcoin drops if the stock market pulls back.
Referencing the chart below, which shows that Bitcoin's recent price action means the asset is moving above macro resistances, the investor said:
"Tremendous long term Log Chart of #Bitcoin projects up 5-10x on this run. Just breaking up NOW. Should last a few years as 2.5yr consolidation is fantastic base for catapult up. Break of old highs will have explosive follow through. Time to sit and be patient."
The investor says that the current macroeconomic environment is almost certain to drive Bitcoin higher.
Like many others, Tapiero thinks that the ongoing monetary stimulus attempts will drive the asset up over time.
Featured Image from Shutterstock
Price tags: xbtusd, btcusd, btcusdt
Charts from TradingView.com
Macro Investor: Bitcoin and Gold Should "Hold Up" if Stocks Drop